Happy birthday to Marilyn Monroe, that star of stars.  She continues to bewitch us nearly a half century after her death.  Yet another movie about her is currently in the works, with Michelle Williams as the former Norma Jean Baker.
I hope you have all seen "Some Like It Hot, " the American Film Institute's number one funniest American movie of all time.  And everyone should watch "The Seven Year Itch" and "Bus Stop," both classics.  I'd also suggest:
Let's Make Love
Marilyn does a sizzling performance of "My Heart Belongs to Daddy" in this charming story of a zillionaire who tries to stop a satiric off-Broadway revue because it makes fun of him and then ends up trying out to play himself because he wants to get to know the beautiful star of the show.
There's No Business Like Show Business
This often-forgotten film is a sudsy excuse for using a lot of Irving Berlin songs, but it has a knock-out cast, including Ethel Merman and Donald O'Connor, and Monroe is sensational in "We're Having a Heat Wave."
How to Marry a Millionaire
Lauren Bacall, Betty Grable, and Monroe are three models with a plan to marry rich. As the nearsighted girl with a warm heart, and in one of two performances opposite David Wayne (the other is "We're Not Married"), she is pure delight.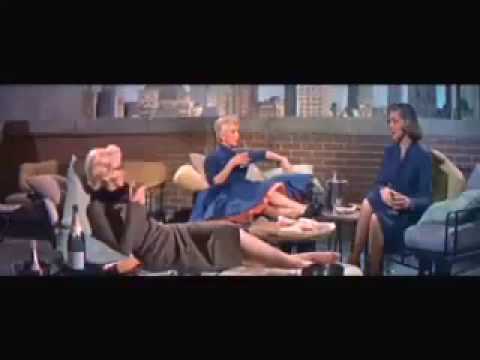 Gentlemen Prefer Blondes
Madonna based her "Material Girl" video on "Diamonds Are a Girl's Best Friend" from this movie about two free-wheeling showgirls. I also love her song, "Bye Bye Baby."