As we observe the 150th anniversary of the Civil War, a defining moment for good and bad in American history, it is a good time to watch some of these great films that show how we continue to try to make sense of its causes and its consequences.
1. Glory Denzel Washington won his first Oscar in this story of the doomed 54th Massachusetts Volunteer Infantry, one of the first black units to be made up of black soldiers.  Writer-director Edward Zwick is sensitive to the many levels of the story but above all it is a compelling and heart-rending drama of honor and courage under the most devastating circumstances.
2. The Red Badge of Courage A young soldier learns courage does not mean lack of fear; it means not letting the fear stop him from doing what needs to be done in this movie based on the classic book by Stephen Crane.  It stars two real-life WWII heroes, tthe  most decorated soldier, Audie Murphy and Bill Mauldin, who won a Pulitzer prize for his Stars and Stripes cartoons about the men on the front.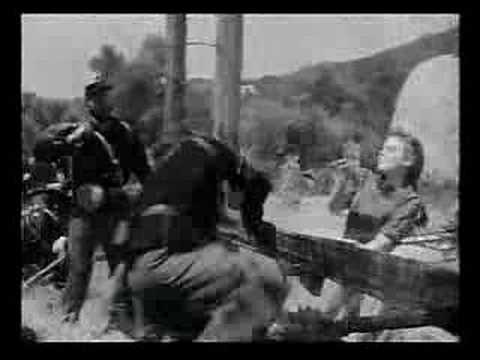 3.  The Civil War – A Film by Ken Burns
This spell-binding documentary tells the story from the first bullet fired to the surrender by Robert E. Lee, with indelible images and unforgettable readings from the people who were there.
4.  Friendly Persuasion Gary Cooper and Anthony Perkins star as a Quaker father and son, farmers who must decide how their faith guides them in the midst of a war that literally comes to their doorstep. This is a beautiful film, and a rare portrayal of faith that is respectful and sincere.
5.  Shenandoah James Stewart plays the father of sons he insists have no reason to get involved in the war, until his youngest is taken prisoner.
6.  Gods and Generals It is a bit stuffy, but its sincere respect for its subject and diligence about historical accuracy makes this story of Stonewell Jackson worth watching.
7.  The Andersonville Trial
This is the story of a court-martial trial that revealed the horribly abusive conditions of the notorious facility where Yankee prisoners were kept and explores the question of when an immortal order may be disobeyed.  The outstanding cast includes William Shatner, Martin Sheen, Cameron Mitchell, and Richard Basehart.   (A more recent film, Andersonville
, is the story of the prisoners.)
8. The General
Buster Keaton stars in this silent film about a Confederate soldier who goes on a daring mission to rescue the two things he loves most, a girl and a train.  Unquestionably one of the funniest and most exciting films of all time.
9.  Gone With the Wind Still the biggest box office champion of all time, this is a movie about love and war and power but mostly about survival.
10. Sherman's March
A documentary film-maker plans to make a movie about the enduring impact of William Tecumseh Sherman's devastating attack.  But just before he was to begin, his girlfriend dumped him, so instead he made a movie about why his love life was such a disaster, with intermittent references to Sherman. 

There are dozens more, featuring everyone from Clint Eastwood and John Wayne to Nicole Kidman, Elvis Presley, and Shirley Temple.  Each is as much a reflection of its time as of the era it depicts.  But together they form a mosaic to help us understand and, we hope, to preserve the union.