"Family Movie Night," sponsored by Proctor & Gamble and Walmart, has produced another fine film for all ages.  Candace Cameron Bure ("Full House," "Make It or Break It") stars in "Truth Be Told," the story of a marriage counselor who is not married.  When she has a job opportunity that requires a husband, she tells a lie, and enlists an old friend and his children to pretend to be her family.
I spoke to Candace about the role and about her work and her ministry, speaking about her faith and giving back to the community.
Tell me about "Truth Be Told."
I couldn't have been more excited when I was sent this script.  I had seen some of the Family Movie Night shows and said to myself, "I want to do one of those!"  When I read the script, it was absolutely perfect.  I fell in love with Annie Morgan, the character I play.  She's a family and marriage counselor.  It was something I can totally relate to, and family and marriage are so important to me.  I do a lot of speaking at conferences and churches about family and marriage, so it was a topic I am passionate about.  The premise is that one little lie snowballs into this huge mess and honesty is always the best policy.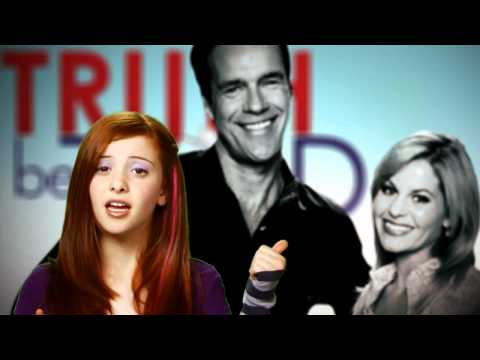 That's what I love about this series.  These are not kids' films that adults can tolerate or movies directed at adults without offensive content but true family movies with characters and situations that everyone in the family can understand and will want to talk about later.
I appreciate it as a mom.  I have 12, 11, and 9 year-olds. I loved the fact that Proctor & Gamble and Walmart teamed up to give us this time on a Friday night when we can sit down with our families and watch a movie that we don't have to worry about.  It gives us things to think about and to open up some conversations with the family.  "What happens if you tell a lie?"  Depending on the age of your kids it can be a very simple conversation but you can turn it to a situation you and your family have recently experienced.  I can open the door for something else your child has been struggling with.  You use it as a platform for whatever dialogue needs to be exposed in your family at this time.
What happens in the film?
My character is offered a job at a radio station and because she is a marriage counselor, they assume she is married.  And family is very important to the man who owns the company.  She is probably not going to get the job unless she has a husband.  She runs into an old college friend who is a widower and convinces him and his children to pretend to be her family for the weekend.  The relationship develops — it is definitely a romantic comedy.
What is your experience like as you speak to groups about your faith?
I've been speaking and sharing my Christian faith for seven or eight years, and now I am speaking to the bigger groups like Extraordinary Women and Women of Joy.  I actually just got back from a conference with Extraordinary Women.  Sometimes there's anywhere from 1500-15,000 ladies I will speak to.  It is an amazing opportunity for me to share my faith and what is important to me and ultimately the gospel of Jesus Christ.  I think I am as encouraged or maybe even more to see that God allows me to be used in that sense.  These ladies will tell me they are encouraged by hearing my story and yet I am in awe that I am just a person getting this opportunity so I feel very privileged.  It's a very different thing from being on television.  Most people would think that you would automatically be comfortable if you're an actress to go up on stage to speak but it is actually very different.  It's not the number of people that scares me.  The more there are, the easier it is for me.  But it is a very different thing to open your heart and share your heart and be exposed in that way, not reading a memorized script or acting a different character.  I get much more nervous speaking live at an event.  You throw a camera on me and I am comfortable!
You have written about your faith as a way to manage food issues.
I had an emotional attachment to food.  I ran to food for comfort, to fill a void instead of realizing I had to run to God for those things.  I learned to honor my body by eating healthily and exercising but really by putting my faith into the forefront of my relationship with food by honoring my body as a temple God gave me and learning to run to Him for those needs and not to turn to food for it.  I don't enjoy getting up at 5 am some mornings but I see it as a necessity to take care of my body.  To eat healthy, that's all about the choices I make whether in a restaurant or the grocery story.  The food's not making it for me.  There are so many tools out there to get us on the right track and help us make better choices.  We don't value those choices as much as we should.  One choice a day, one choice an hour.  If you look at it this way, it's not so overwhelming.
Do you have a favorite Bible passage?
I don't like that question because there are so many good ones!  But the one that's been on my computer desktop recently is Philippians 1, Verse 6.  I just go, "God's good work is in all of us and He will carry that on."  I don't need to worry about it, I don't need to stress over it.  I know God has a plan set before me and I need to obediently just follow the footsteps that he's laid out and keep my eyes focused on Him and He will carry out that good work to completion.  And whatever that is, it might not be my own expectation but He knows what that is.
It's everything.  We read the Bible together and we talk about verses that can help us focus for that day.  If we have a need or a worry for that day we find verses where it talks about it.  We go to church.  My kids are involved in Awana and youth group. My daughter has started leading worship and singing at her chapel.  They go to a Christian school.  So it is in every aspect of our lives but most important, my husband and I try to be that example, to show them that it is not just words but by our own actions and what we do.
Truth Be Told