My DVD pick this week is one of my favorites for Halloween. "Honey, I'm home" takes on a cheerfully creepy new meaning in "Monster House," a fresh, fun, and deliciously scary animated film produced by Robert Zemeckis ("Back to the Future") and Steven Spielberg ("Jurassic Park," "Jaws") and it is a great choice for a Halloween treat.
Every neighborhood has that house. You know, the one the little kids tiptoe past and the one where the bigger kids dare each other to touch the front door. In D.J's neighborhood, it's the house across the street, owned by mean Mr. Nebbercracker (voice of Steve Buscemi). He yells at any kids who come near the house or anyone who touches his lawn.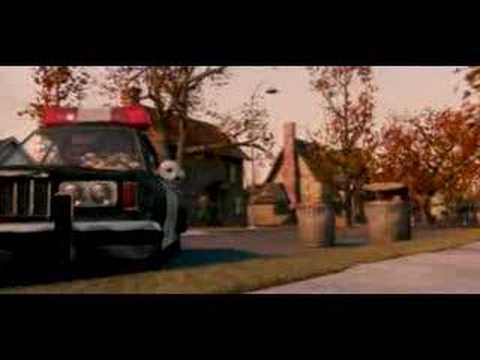 It's just before Halloween, Mr. Nebbercracker is taken to the hospital, and D.J. (voice of Mitchel Musso) has been left with Zee (voice of Maggie Gyllenhaal), a teenage babysitter who pretends to be sweet and responsible in front of grown-ups, but who, once she knows D.J.'s parents have left, tells him to stay out of her way so she can hang out with her slacker boyfriend Bones (voice of Jason Lee).
D.J.'s best friend Chowder (voice of Sam Lerner) comes over, and they begin to observe the increasingly scary things happening at the Nebbercracker house. When Jenny (voice of Spencer Locke) comes to their neighborhood selling cookies and starts up the front walk to Mr. Nebbercracker's house, D.J. and Chowder try to stop her. (She crisply informs them that if they are mentally challenged she is certified to teach them baseball.) But she discovers that the house is as dangerous as they say, and they decide to investigate.
This follows in the grand tradition of adventure stories with middle-school-aged heroes (and heroines), the big, scary world of the story standing in as a metaphor for the big, scary world of adolescence and adulthood. Jenny, D.J., and Chowder get no help from parents or the babysitter, not even from the police (voices of Kevin James and Nick Cannon). They have to learn to rely on skills they did not know they had. They show themselves and each other that they have the wisdom, curiosity, determination, loyalty, and courage to take on whatever lies beyond home, family, and all that is familiar.
The clever and involving script, the fluid and realistic movement of the characters (using the same rotoscope-style techniques developed for The Polar Express), and the unaffected and appealing voice talents of the young actors keep us on the side of the young adventurers. The house itself is imaginatively anthropomorphic. And the mystery is solved with a satisfying resolution that is sad and even a little scary but less spooky and more reassuring than the usual thriller.
Parents should know that this movie is intense, especially in its 3-D format, and may be overwhelming for young kids or those who are easily scared. Even though most of the frightening stuff is in the "boo!" or fun-scary category, it still may be overpowering for some audience members, even though by the end of the story almost everyone comes out of it as well as possible. There are some graphic images and some jump-out-at-you shocks. A character steals medication to sedate the monster. The resolution of the mystery may be reassuring to many in the audience but may be disturbing to others. Spoiler alert: the source of the house's destructive power comes from an overweight woman whose cruel treatment led to madness and death. Parents should also know there is brief crude humor and potty jokes that should appeal to kids and a sweet kiss.
Families who see this movie should talk about how bullying and teasing can have profoundly damaging consequences. They should also talk about things that they once found scary and then discovered not to be so scary after all.
Families who enjoy this movie will also enjoy scary comedies like "The Cat and the Canary" and "The Ghost and Mr. Chicken." More mature fans of scary movies will enjoy "Poltergeist." Classic movies that beautifully evoke a child's point of view on creepy neighborhood houses include "To Kill a Mockingbird" and "Meet Me in St. Louis." Older audience members might appreciate the way producer Zemeckis made the same house look both inviting and terrifying in the otherwise unimpressive thriller "What Lies Beneath."