Snow White (voice of Adriana Caselotti) is a sweet girl whose step-mother, the Queen (voice of Lucille LaVerne), is vain and cruel. Snow White dreams of a prince to love, and meets the Prince of her dreams when she is fetching water for the castle. Meanwhile, each night, the Queen looks into a magic mirror and asks who is the fairest one of all. The mirror tells her that it is she, and she is satisfied. But one night, the mirror tells her that Snow White has become more fair, and the Queen, consumed with jealousy, tells her huntsman to take Snow White to the forest and kill her.
The tender-hearted huntsman cannot kill her and instead tells her to run away. Racing through the forest terrified, she collapses in tears. But she makes friends with the animals, who live in the woods and they lead her to a small cottage. Once inside, she cleans up the mess, singing "Whistle While You Work." She thought, when she saw the small beds, that children lived in the house, but it turns out that it is the home of seven dwarfs, who work each day digging jewels from a mine.
When they come home, they are surprised to find her stretched out across their beds, sound asleep. But they soon make friends and are delighted to have her stay and take care of them.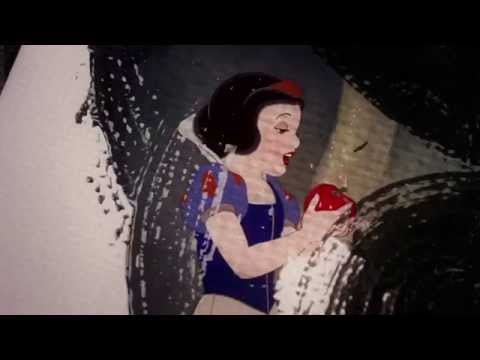 Eventually, the Queen discovers that Snow White is still alive. The Queen makes a poisoned apple and turns herself into an old hag so she can deliver it to her. Snow White at first follows the dwarfs' advice not to speak to strangers, but finally takes a bite of the apple and collapses. The Queen runs away and falls into a steep ravine.
The dwarfs are heartbroken and create a beautiful crystal bier for her to lie on. The prince discovers her there and gives her a kiss, which awakens her, whereupon he carries her off to live happily ever after.
Children used to today's Disney stories may be surprised by a more passive heroine and by a score more classical than pop. But in addition to its historical value as the first animated feature, it is still a delight, with memorable songs and characters. It is hard to remember that before Disney the dwarfs in the Snow White story had no names and no individual characters. Sneezy, Sleepy, Grumpy, Dopey, Doc, Happy, and Bashful are all vivid characters, and their dance number with Snow White is a highlight.
This movie provides a good opportunity to discuss jealousy, and how to handle it. And, of course, it raises issues about women and beauty, about women's role in the home, and about finding happiness only through dreams of "Someday My Prince Will Come." Blended families are often sensitive about the traditional fairy tale villain being the "wicked stepmother," and some children will need reassurance.
Extras in this edition include Disney's own comments about the film and a feature about the influence of this groundbreaking animated feature, plus never-before-released storyboards of a deleted scene where the prince meets Snow White.
Talk to kids about how characters like Snow White might be different if they were created today, and make sure that they see a range of alternative role models. Note: The movie is very scary when Snow White is running through the forest (though reassuring when the animals turn out to be friendly) and when she bites the apple; the Queen is especially scary when she turns into the old hag. By today's standards, Dopey might well be considered an insensitive stereotype of a developmentally disabled person.
Families who see this movie should discuss these questions: Why is the Queen jealous of Snow White? Why is being beautiful so important to her? Why did Snow White stay at the castle? Why did the huntsman disobey the Queen's orders? Why did the dwarfs love Snow White so much?
Families who enjoy this movie should watch some of the other versions of the Snow White story, including the Faerie Tale Theatre production with Elizabeth McGovern.
Disney's new Signature Collection release of its first animated feature film on Blu-Ray is gorgeously restored and filled with behind-the-scene extras and a wonderful opportunity to catch up with the one that is still "the fairest of them all."