Part 12 of series: The Stations of the Cross for Lent and Holy Week
Permalink for this post / Permalink for this series
John 19:25-27
25 Meanwhile, standing near the cross of Jesus were his mother, and his mother's sister, Mary the wife of Clopas, and Mary Magdalene. 26 When Jesus saw his mother and the disciple whom he loved standing beside her, he said to his mother, "Woman, here is your son." 27 Then he said to the disciple, "Here is your mother." And from that hour the disciple took her into his own home.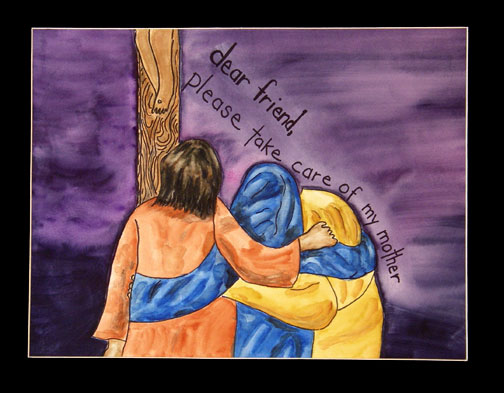 Copyright © Linda Roberts, 2007.
For permission to use this picture, please contact Mark D. Roberts
Reflection
Though most of the men who followed Jesus deserted him at the cross, His female followers remained to observe his death. All four New Testament gospels mention this striking fact (Matt 27:55-56; Mark 15:40-41; Luke 23:49; John 19:25). John alone specifies that Mary the mother of Jesus was among the women who remained near him until the end.
In the Gospel of John, Mary was standing next to "the disciple whom [Jesus] loved," believed traditionally to be John, one of Jesus' closest disciples and the source of the gospel that bears his name. Observing these two, Jesus said to His mother, "Woman, here is your son," and to the beloved disciple, "Here is your mother" (19:26-27). The writer of the gospel adds, "And from that hour the disciple took her into his own home" (19:27). The basic meaning of Jesus' statement is clear. He was entrusting care of His mother to one of His most intimate friends and followers. He was making sure that she would be loved and cared for after Jesus's death. Jesus knew He could trust His beloved follower with an extremely important responsibility. (We don't know much about the relationship of Jesus and His natural siblings at this point. Earlier in his ministry they seemed to have been less than fully supportive of His ministry [see Mark 3:21]. Later, Jesus' brother James became one of the main leaders of the Christian church.)
Commentators throughout the ages have rightly noticed Jesus' attention to the needs of others, in this case Hiw mother, even in Hiw hour of excruciating suffering. This is a fine observation and surely fits with everything else we know about Jesus.
But for many years I have been struck by the thought of what Jesus's mother must have experienced as she watched her son being crucified. I can only begin to imagine her pain. When my father was dying slowly from cancer, his mother (my grandmother) was still alive. Her anguish over her son was palpable. At one point she said to me, "I'd give anything to change places with Dave. No mother should ever have to see her son suffer like this." I expect Mary could have said similar words as she stood near the cross of Jesus.
Yet Mary might have understood that the death of her son was part of God's mysterious plan. The gospels don't tell us too much about her experience or faith at this time. She surely knew from the very beginning that Jesus was extraordinary and that God had something very special in store for Him. And there were moments when she probably understood that Jesus's destiny would not be an easy one, for Him or for her. For example, in Luke 2 when Simeon praised God upon seeing the baby Jesus, he delivered a chilling prophecy to Mary, "This child is destined for the falling and rising of many in Israel . . . and a sword will pierce your own soul too" (2:34-35).
I found Mel Gibson's portrayal of Mary in The Passion of the Christ to extremely moving, partly because he didn't overplay his hand in depicting Mary's grief. Though her loving sorrow for her son is obvious, Mary doesn't weep and wail and carry on. She seems to know that something like this was coming, that Jesus is doing that for which He was born. As a mother, she wants to run to Him, and at one point she is able to do so. But she also understands that she cannot rescue Jesus from His fate and that, in a profound sense, she must not even if she could. Jesus has chosen to lay down His life of His own accord, believing that this is the cup His Heavenly Father has given Him to drink (John 10:18; Mark 14:32-42). Mary's strength and reserve seems to respect what her son and, indeed, what His Heavenly Father, have chosen.
As we reflect upon the meaning of Christ's death this week, Mary's presence at the cross reminds us of the deeply human drama that is occurring, while it points beyond to the majesty and mystery of God's plan for salvation.
Prayer
When I think of Your mother, Lord, I remember that You weren't just the Son of God bearing the sins of the world. You were also the son of Mary, the boy whom she loved. Mary gives us a touching reminder of Your humanity, Lord. Because You were truly human, because You truly suffered, You did indeed bear the sins of the world, and mine as will. All praise be to You, Lord Jesus! Amen.
Part 11 of the series: The Stations of the Cross for Lent and Holy Week
Permalink for this post / Permalink for this series
Luke 23:39-43
39 One of the criminals who were hanged there kept deriding him and saying, "Are you not the Messiah? Save yourself and us!" 40 But the other rebuked him, saying, "Do you not fear God, since you are under the same sentence of condemnation? 41 And we indeed have been condemned justly, for we are getting what we deserve for our deeds, but this man has done nothing wrong." 42 Then he said, "Jesus, remember me when you come into your kingdom." 43 He replied, "Truly I tell you, today you will be with me in Paradise."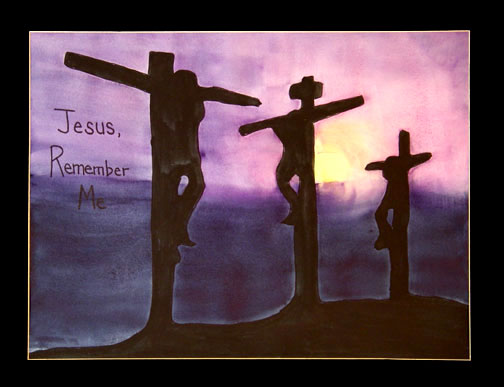 Reflection
Three men being crucified, suffering excruciating pain, literally. (The word "excruciate" comes from the Latin cruciare, "to crucify.") One man joins in taunting Jesus, sarcastically calling out for salvation he knows Jesus can't deliver. The other, sensing something that he has never felt before, defends Jesus as an innocent victim. Then, in desperate hope, he cries out: "Jesus, remember me when you come into your kingdom." In response Jesus says a most astounding thing, a most encouraging thing, a most curious thing: "Truly I tell you, today you will be with me in Paradise."
It's easy to imagine the jeers of the crowds at this point as they made fun of Jesus's silly wishful thinking. After all, He'd only been on the cross for an hour or two. Most crucifixions lasted several days before the victim finally died from exhaustion, exposure, loss of blood, and suffocation. Today in Paradise? What a joke! All Jesus and the stooge beside him will experience today is ultimate pain and ultimate disgrace. If they are lucky, perhaps tomorrow they might die. And even then, Paradise? Hardly!
The word "Paradise" comes from a Persian word meaning "garden." It was used to describe a place of beauty, peace, and joy. In Jewish thought, Paradise represented the Garden of Eden, and could stand for the joys of heaven. Paradise was just about as far as one could get from crucifixion. Yet, in spite of the apparent absurdity of it, and in spite of the spiteful laughter of the crowd, Jesus promises that the thief will join Him in Paradise even this very day.
Luke 23:39-43 has often perplexed Christians who believe that salvation comes only by explicitly confessing Jesus as Savior and Lord. "Jesus, remember me when you come into your kingdom" hardly fits the bill here. Whatever the desperate thief believed about Jesus, it's unlikely that he prayed the sinner's prayer while on his cross. And we have no reason to believe that Jesus straightened out the thief's theology before offering the promise of Paradise. No, what we have in the text of Luke is a cry of minimal faith and maximal desperation. And what we have from the mouth of Jesus is a response of extraordinary mercy.
It would be unwise to build a whole theology of salvation on the basis of this single passage from Luke. And it would be unwise to build a theology of salvation without taking seriously this passage. Whatever else, it reminds us that God is "rich in mercy" (Ephesians 2:4). God saves us, not because we earn it, not because we deserve it, not becuase we say the right words and pray the right pryers, and not even because we get our theology right, but because God is full of mercy, mercy revealed and poured out through Jesus Christ, mercy that says to a thief: "Today you will be with me in Paradise."
If this crucified criminal could have hope, then perhaps you and I can as well. We hope, not in our goodness, not in our good intentions, but in the matchless mercy of God. As I reflect on Jesus's response to the thief, I'm reminded of a marvelous hymn by Frederick William Faber, "There's a Wideness in God's Mercy." It turns out that this hymn is actually an excerpt from a longer piece written by Faber, called "Souls of Men! Why Will Ye Scatter." I'll close today with all of Faber's verses:
Souls of men, why will ye scatter
like a crowd of frightened sheep?
Foolish hearts, why will ye wander
from a love so true and deep?
Was there ever kindest shepherd
half so gentle, half so sweet,
as the Savior who would have us
come and gather round his feet?
There's a wideness in God's mercy,
like the wideness of the sea;
there's a kindness in his justice,
which is more than liberty.
There is no place where earth's sorrows
are more felt than up in heaven;
there is no place where earth's failings
have such kindly judgment given.
There is welcome for the sinner,
and more graces for the good;
there is mercy with the Savior;
there is healing in his blood.
There is plentiful redemption
in the blood that has been shed;
there is joy for all the members
in the sorrows of the Head.
For the love of God is broader
than the measure of man's mind.
and the heart of the Eternal
is most wonderfully kind.
But we make his love too narrow
by false limits of our own;
and we magnify its strictness
with a zeal he will not own.
Pining souls, come nearer Jesus,
and O come not doubting thus,
but with faith that trusts more bravely
his great tenderness for us.
If our love were but more simple,
we should take him at his word:
and our lives would be all sunshine
in the sweetness of our Lord.
Prayer
Dear Lord, how I thank and praise You for Your mercy. You give us, not what we deserve, but infinitely better. Thank You for hearing my cries to You, and for responding to me much as You did to the thief who sought Your help. Thank You for remembering even me, and for the promise I have of Paradise beyond this life. There's much I don't understand about the afterlife, but what I know is that I will be with You, seeing You face to face. And in Your presence there will be fullness of joy. That's more than enough for me! Amen.
Part 10 of series: The Stations of the Cross for Lent and Holy Week
Permalink for this post / Permalink for this series
Luke 23:33-4, 47
23:33 When they came to the place that is called The Skull, they crucified Jesus there with the criminals, one on his right and one on his left. Then Jesus said, "Father, forgive them; for they do not know what they are doing." And they cast lots to divide his clothing.
23:47 When the centurion saw what had taken place, he praised God and said, "Certainly this man was innocent."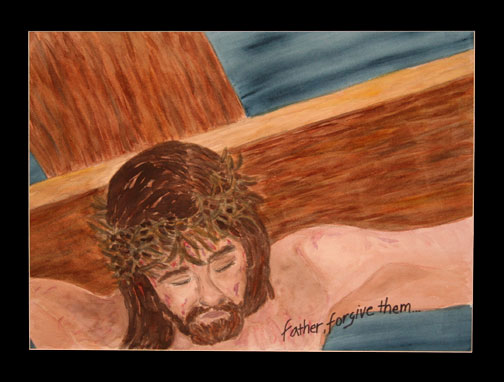 Reflection
 
 

Above: The Church of the Resurrection in Jerusalem. Golgotha is believed to be under the large dome.

Below: Inside the Church of the Resurrection. The actual place of Jesus's crucifixion is on the left side of the photo.Bottom: Gordon's Calvary does look a bit like a skull, but Golgotha probably got its name, not from this rock formation, but from the fact that so many people were crucified there.These photos are all from Holy Land Photos, a fantastic source of pictures. Used by permission.
 
 
According to Luke, Jesus was crucified at "the place that is called The Skull" (23:33). The other Gospels mention that it was called Golgotha, the Greek transliteration of the Aramaic word Gûlgaltâ that means "skull." We get the English word "Calvary" by way of the Latin calvariae locum, which means, "place of the skull."The precise location of Golgotha is not clear from Scripture. It was near Jerusalem according to John 19:20, and therefore, by implication, not in the ancient city proper. Hebrews 13:12 mentions that Jesus "suffered outside the city gate." John 19:41 adds that there was a garden in the place where Jesus was crucified.
From the earliest days Christian tradition has identified the location of Golgotha in a place that is now within an ancient church in Jerusalem (the Anastasis Chuch, or Church of the Resurrection, also called the Basilica of the Holy Sepulchre). This church is now located near the center of Jerusalem. But in the first century this location was actually outside of the walls of the city.
Modern archeology has substantially confirmed the accuracy of traditional Christian belief about the location of Golgotha (Note 1). Since the nineteenth century, an alternative location for Jesus's crucifixion has been popular. The so-called Gordon's Calvary (near the Garden Tomb) does look somewhat like a skull, but most scholars don't believe it was the location of Jesus's death for a variety of sensible reasons.
Christians throughout the ages have made pilgrimages to Golgotha, walking along the Via Dolorosa, and pausing to remember the Stations of the Cross along the way. Since I've never been to Jerusalem, I've not yet had the chance to visit the place where Jesus died. I hope to do so at some point in my life.
Why? Why would I join the millions of Christians who have made a pilgrimage to Golgotha?
There's something about being in the actual place where something momentous happened that makes the event more real. When I was in college, I used to ride my bike to Concord, Massachusetts, to the North Bridge, the place where "the shot heard round the world" began the War for Independence in 1775. As I leaned on that bridge and looked upon the peaceful countryside, I'd think about the men who died that day, and about the freedom I enjoy because of their sacrifice. I'd leave Concord with deeper gratitude for blessings I usually take for granted.
Sadly, I also can take the freedom I have in Christ for granted. For over four decades I've known that Jesus died for my sins. And, even though I've staked my life upon this good news, there are times when it can almost seem old hat. I expect that a visit to Golgotha, like to the Concord bridge, would retool my perspective. I'd remember that the death of Jesus really happened, in a real place at a real time. There the Lord of Glory suffered and died for the sins of the world . . . and for my own sins. I yearn to experience the truth of Jesus's death more profoundly, and thus I hope to visit Golgotha someday.
In the meanwhile, I'm thankful for the Stations of the Cross that allow us to approximate a pilgrimage to Calvary. The images and verses of the Via Crucis invite us to follow Jesus to the cross, that we might experience deeper gratitude for the blessings we can so easily take for granted.
Prayer
Gracious Lord, how can I ever thank You for dying on the cross for me? Your death has given me life. Your sacrifice has led to my blessing. Yet I confess that I can sometimes take Your death for granted, forgetting what You did for me and neglecting its significance. Forgive me, Lord. And even though I can't go to the actual place of Your crucifixion today, my the reality of Your sacrifice press itself upon my mind and flood my heart.
All praise to You, merciful Lord, for Your cross!
Notes:

I have found three fairly helpful online discussions of the location of Golgotha: "Mt. Calvary" in The Catholic Encyclopedia, "Calvary" of Wikipedia, and "Where Was Golgotha?" from the Worldwide Church of God website.