Today I'm launching my redesigned website. My hope is to make this site even friendlier and more functional for my readers (and bit friendlier for me too).
Improvements: I've integrated WordPress software into my main site, which allows for the following improvements:
• a clickable list of recent posts in the right sidebar
• a list of past posts archived by date in the right sidebar
• a list of topics (which allows for another way to access the content of this site. Now you can find things I've written before by: searching, scrolling through the list of past series in the left sidebar, or clicking on the topic of your interest)
• a more accessible means of adding or reading comments
• a neater central column, with the latest blog post right at the top for quick review.
If you're a regular reader of my blog, you'll note that the Table of Contents is now missing. It's been replaced by the list of recent posts in the right sidebar. One advantage of this for you is that the newest post will be right at the top of my homepage.
Archives and Series: My posts will now be saved in the archives powered by WordPress. You can find previous posts by using the links in the right sidebar as is common to most blogs. However, one of the distinctives of my website–the collection of blog posts into extended series–will remain. You can access past series by scanning the left sidebar or by searching the site.
Permalinks: All of my old Permalinks are unchanged. If you want to link to something new, please use the Permalink at the top of each post (for individual posts or for a whole series). This process is a little different from most blogs. It allows me to keep most of my previous posts in easily accessible series, which gets around the problem you'll find when trying to link to several related posts in other blogs.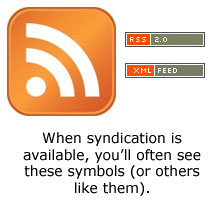 Syndication: Syndication will remain much as before. However, the syndication link is changed. You'll want to change your Feed Reeder to the new RSS/XML link (http://markdroberts.com/?feed=rss2). Note: If you're not familiar with syndication, it is an easy way to keep up-to-date with a large number of websites. More info here.
Problems: As with any rollout of a new website, I'm quite sure there will be unforseen problems, bad links, etc. Please let me know about this by sending me an e-mail. I'll try to correct the problems, to the limit of my technical ability, which is quite limited, actually. Thanks for your patience.
I hope my new blog format will be an improvement for my readers. I think you'll especially appreciate easier and more varied access to past posts and the ability to add comments quickly and in a place where they are easily read by others. This should encourage more conversation and community. At least that is my plan.
Thanks to all of you who are faithful readers of my blog! I hope to continue to serve you well in the future.
The first part of an Easter sermon called "Ghost Story"
Permalink for the sermon
I've always had a love/hate relationship with ghost stories. As a boy, a part of me wanted to hear about ghosts and monsters and the like just to prove how tough I was. Another part of me wanted to dive under the covers whenever somebody was about to tell a scary story.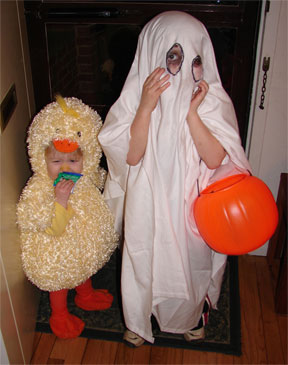 My friend Keith liked to tell ghost stories to scare me, until one night when he had an encounter with a real ghost. After filling his mind with ghostly terrors just before bed, Keith didn't sleep well. He tossed and turned all night, pulling his sheets and blankets out of place as he thrashed around in bed.
Very early in the morning Keith had a nightmare. He dreamt that a ghost was attacking him, holding him by the throat and choking him. In his dream, Keith grabbed the ghost's arms and tried to pull him away, but to no avail. The ghost was too strong. Soon the dreaming Keith began to feel like he was suffocating. It was a horrifying moment.
He suddenly woke up, only to see what appeared at first to be a ghost actually choking him. As he struggled to make sense of what was happening to him, Keith realized that one of his white bedsheets was wrapped around his neck. Like in his dream, Keith was trying to pull the "arms" of the sheets away. But, in so doing, he was actually choking himself more. The real body of the real Keith was being suffocated by his sheet! Somehow Keith's unconscious made up a dream to go along with reality. And, thankfully, he woke up before his "ghost" could finish its ghoulish task.
Well, as you can imagine, that was the end of ghost stories for Keith, at least for a long while. And, frankly, I didn't mind.
Reassurance from Physics
I only wish that a paper recently published on the Cornell University Library website had been around when I was a boy. Last August, Costas J. Efthimiou, a theoretical physicist at the University of Central Florida, and his colleague, Sohang Gandhi, a grad student at Cornell, published a paper entitled, "Ghosts, Vampires and Zombies: Cinema Fiction vs Physics Reality." These two scientists examined commonly held beliefs concerning such supernatural beings, arguing on the basis of rigorous methodology that they simply don't exist. Zombies, for example, aren't the undead who stalk the earth. Rather, they're just normal people who were poisoned with the "highly toxic substance called tetrodotoxin." This poison, which comes from the Pufferfish, can make somebody appear to be dead long enough for a quick burial. But, after a while, that person can wake up. Science has yet to determine why they stumble around with their arms pointed strangely forward.
Ghosts, the scientists argued in their paper, are physically impossible because the essential immateriality of their nature, that which allows them to pass through walls, precludes their being able to walk around at all. Walking requires forces explained by Newton's Laws of Motion. An immaterial being would not be able to exert the physical force required for walking, or even to stand upon a solid surface. The authors of the paper went so far as to wonder why ghosts need to "mimic human ambulation" anyway. "This is a very slow and awkward way of moving about in the scheme of things," they sagely observed. So, the bottom line: Be reassured! There are no ghosts, no vampires, and no zombies.
Did the Disciples See a Ghost?
As we read Luke 24, it's obvious the disciples of Jesus didn't have the benefit of scientific disproof of the supernatural. When Jesus Himself stood among them after His death, they "were startled and terrified, and thought that they were seeing a ghost" (v. 37). They knew enough to realize that dead bodies don't come back. And they knew enough about what had happened to Jesus two days earlier to know that He was really dead. So, seeing something that looked like Jesus, they could only conclude that it was a "ghost" or "spirit," as the Greek literally reads. Naturally, they were plenty spooked!
You just gotta love those disciples! Even after the resurrection, they still had the hardest time getting things right. Though they had heard that Jesus had risen from the dead, and though Jesus Himself had predicted this, when He appeared among them, they freaked out. Now I don't know about you, but this gives me lots of hope. It means that I don't have to be a paragon of faith to be a disciple of Jesus. It means I can have my doubts, my fears, and my confusions, and still be the kind of person Jesus accepts, no, the kind of person Jesus chooses, to be one of His disciples. If you're someone who struggles with faith, if you find yourself doubting and confused, you should be mightily encouraged by this story. You're just the sort of person Jesus wants on His team. (Click here to read the rest of this sermon.)
Part 14 of series: The Stations of the Cross: A Devotional Guide for Lent and Holy Week
Permalink for this post / Permalink for series
Luke 23:50-54; Mark 16:1-4
Luke 23:50 Now there was a good and righteous man named Joseph, who, though a member of the council, 51 had not agreed to their plan and action. He came from the Jewish town of Arimathea, and he was waiting expectantly for the kingdom of God. 52 This man went to Pilate and asked for the body of Jesus. 53 Then he took it down, wrapped it in a linen cloth, and laid it in a rock-hewn tomb where no one had ever been laid. 54 It was the day of Preparation, and the sabbath was beginning.
Mark 16:1 When the sabbath was over, Mary Magdalene, and Mary the mother of James, and Salome bought spices, so that they might go and anoint him. 2 And very early on the first day of the week, when the sun had risen, they went to the tomb. 3 They had been saying to one another, "Who will roll away the stone for us from the entrance to the tomb?" 4 When they looked up, they saw that the stone, which was very large, had already been rolled back.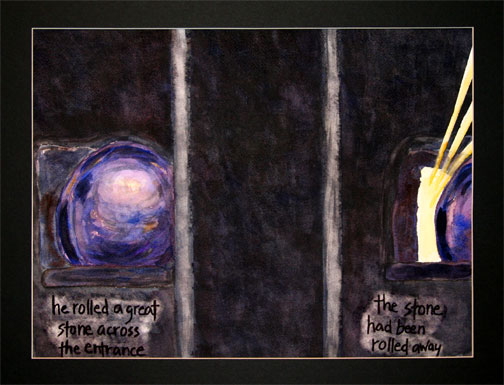 Copyright © Linda Roberts, 2007.
For permission to use this picture, please contact Mark D. Roberts
Reflection
After Jesus died, His body was placed in a tomb. This was better treatment than many crucified people would have received. Their bodies were often discarded by Roman soldiers and left exposed, unless they had families or friends nearby to care for them. The body of Jesus was fortunate enough to receive unusual attention from a man named Joseph, who was both a member of the Sanhedrin and a follower of Jesus. He made sure the body of his Master was appropriately buried, so that, later, the bones of Jesus could be finally interred in an ossuary (a special box for bones). Little did Joseph know that God had other plans for the body of Jesus.
In most human societies appropriate burial of dead bodies is a sacred tradition. It matters profoundly that we ensure the proper resting place for those who have died. Yet, after burials happen, we don't generally mention them specifically. My father died in 1986. I've spoken of his death probably 500 times since then, but I don't think I've ever said "My dad died in 1986 and then he was buried." Burial, however significant to us, is something we assume and don't need to point out specifically. If I say "My dad died" you rightly assume that he was buried.
Therefore, it's notable that all four biblical Gospels describe the burial of Jesus and the help of Joseph of Arimathea. Moreover, the very earliest summary of the Chrstian message also contained explicit reference to Jesus's burial. The Apostle Paul, writing to Christians in Corinth about twenty years after Jesus's death, summarized the basic Christian good news in this way:
For I handed on to you as of first importance what I in turn had received:
that Christ died for our sins in accordance with the scriptures,
and that he was buried,
and that he was raised on the third day in accordance with the scriptures,
and that he appeared to Cephas, then to the twelve. (1 Corinthians 15:3-5)
There it sits, unadorned but essential: "and that he was buried." Why? Why did the earliest Christians, and then why did the writers of the Gospels, consider it so important to mention the actual burial of Jesus?
To put the question a different way, what does "and that he was buried" add to the essential Christian message? For one thing, it prepares the way for the affirmation of the resurrection. To say that Jesus died and was raised without mentioning His burial could lead to a misunderstanding of the story. One might think that Jesus was immediately brought back to life from the cross, or that He was immediately jettisoned to heaven. "And that he was buried" eliminates these options, and explains the place from which Jesus was raised.
But, more important by far, the mention of the burial of Jesus makes it absolutely clear that Jesus really died on the cross. He didn't just appear to die, as was once proposed by Hugh Schoenfield in his bestselling book, The Passover Plot. Schoenfield's "swoon theory" has been discredited by scholars of all theological stripes. Whatever else can be known about Jesus, all the evidence, from both biblical and extra-biblical sources, points to the simple fact that He really died upon the cross. When the earliest Christians proclaimed the burial of Jesus, they were saying, in effect, that He really, really died. Had Charles Dickens been among the first Christians, he might have written that Jesus was a dead as a doornail, just like Jacob Marley.
I don't mean to suggest that Jesus's death, a fairly mundane historical fact, is easy to parse out theologically. After all, Jesus was not just a man, but the God-man. He was the Word of God in flesh, the One in whom was life and who was the source of all life (John 1:1-14). The Jesus died physically, and that, in the process, He suffered the penalty of spiritual death for sin, are mysteries far beyond our ability to fully fathom. How could the One who was the Way, the Truth, and the Life actually die? How could the Author of Life lose His own life?
I don't propose to answer these questions. I've been a Christian for over forty years and they still perplex me . . . and call me to wonder . . . and invite me to worship. Perhaps one of the best responses to the mystery of Christ's real death was penned by Charles Wesley early in the eighteenth century. I'll close with the words of his beloved hymn, "And Can It Be That I Should Gain?" I can think of no better way to finish this reflection on the fourteenth station of the cross and, indeed, to complete this series. The main purpose of The Stations of the Cross is to draw us more deeply into the reality, mystery, and mercy of the cross, so that we might experience the love of God more truly and powerfully.
And can it be that I should gain
An interest in the Savior's blood?
Died He for me, who caused His pain–
For me, who Him to death pursued?
Amazing love! How can it be,
That Thou, my God, shouldst die for me?
Amazing love! How can it be,
That Thou, my God, shouldst die for me?
'Tis mystery all: th'Immortal dies:
Who can explore His strange design?
In vain the firstborn seraph tries
To sound the depths of love divine.
'Tis mercy all! Let earth adore,
Let angel minds inquire no more.
'Tis mercy all! Let earth adore;
Let angel minds inquire no more.
He left His Father's throne above
So free, so infinite His grace–
Emptied Himself of all but love,
And bled for Adam's helpless race:
'Tis mercy all, immense and free,
For O my God, it found out me!
'Tis mercy all, immense and free,
For O my God, it found out me!
Long my imprisoned spirit lay,
Fast bound in sin and nature's night;
Thine eye diffused a quickening ray–
I woke, the dungeon flamed with light;
My chains fell off, my heart was free,
I rose, went forth, and followed Thee.
My chains fell off, my heart was free,
I rose, went forth, and followed Thee.
Still the small inward voice I hear,
That whispers all my sins forgiven;
Still the atoning blood is near,
That quenched the wrath of hostile Heaven.
I feel the life His wounds impart;
I feel the Savior in my heart.
I feel the life His wounds impart;
I feel the Savior in my heart.
No condemnation now I dread;
Jesus, and all in Him, is mine;
Alive in Him, my living Head,
And clothed in righteousness divine,
Bold I approach th'eternal throne,
And claim the crown, through Christ my own.
Bold I approach th'eternal throne,
And claim the crown, through Christ my own.
Prayer
Lord Jesus, today we remember the fact that Your death wasn't some charade. Rather, You really died. Thus You experienced the ultimate penalty for our sin . . . for my sin.
I'll never be able to understand fully the wonder of Your death. But I can grasp the fact that Your real death opened up the door for me to experience real life. Face with such a merciful mystery, I cry: "Amazing love! How can it be, that Thou, my God, shouldst die for me?"
To You be all the praise and glory! Amen!
Permalink for this post / Permalink for this series
Part 13 of the series: The Stations of the Cross for Lent and Holy Week
Luke 23:44-47
44 It was now about noon, and darkness came over the whole land until three in the afternoon, 45 while the sun's light failed; and the curtain of the temple was torn in two. 46 Then Jesus, crying with a loud voice, said, "Father, into your hands I commend my spirit." Having said this, he breathed his last. 47 When the centurion saw what had taken place, he praised God and said, "Certainly this man was innocent."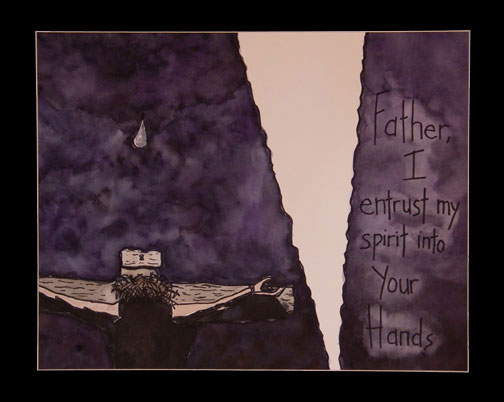 Copyright © Linda Roberts, 2007.
For permission to use this picture, please contact Mark D. Roberts
Reflection

At first glance, Luke's version of the centurion's response to Jesus's death seems like a glaring understatement."Certainly this man was innocent," rightly identifies Jesus's lack of guilt. It makes clear once again the fact that He didn't deserve to be crucified for sedition against Rome. He was no ordinary revolutionary, no guerrilla warrior, no terrorist. So, yes, "this man was innocent." But couldn't Luke have done better than this in His telling of the story? Mark's version seems so much stronger: "Truly this man was God's Son!"
We can't be sure why Luke fashioned the narrative of Jesus's death as he did. But we can understand that "Certainly this man was innocent" carried more weight with Luke than it might seem. Some translations, including the classic King James, have, "Certainly this was a righteous man" (23:47). This is a literal translation of the Greek, which uses the word dikaios to describe Jesus. Dikaios can mean innocent, but it is the usual word for "righteous," and the base of such words as "righteousness, justice, justification" (dikaiosyne) and "justify" (dikaioo). From the lips of the centurion comes something far more than a recognition of Jesus's innocence. It's an ironic confession of His character as the righteous one, indeed, The Righteous One.
That Jesus was The Righteous One identifies Him with the Suffering Servant from Isaiah 53. In this classic passage we read:
3 He was despised and rejected by others;
a man of suffering and acquainted with infirmity;
and as one from whom others hide their faces
he was despised, and we held him of no account.
4 Surely he has borne our infirmities
and carried our diseases;
yet we accounted him stricken,
struck down by God, and afflicted.
5 But he was wounded for our transgressions,
crushed for our iniquities;
upon him was the punishment that made us whole,
and by his bruises we are healed.
6 All we like sheep have gone astray;
we have all turned to our own way,
and the LORD has laid on him
the iniquity of us all. . . .
11 Out of his anguish he shall see light;
he shall find satisfaction through his knowledge.
The righteous one [ho dikaios], my servant, shall make many righteous,
and he shall bear their iniquities.
12 Therefore I will allot him a portion with the great,
and he shall divide the spoil with the strong;
because he poured out himself to death,
and was numbered with the transgressors;
yet he bore the sin of many,
and made intercession for the transgressors.
Isaiah 53:4-6, 11-12
Because Jesus was righteous, because He was innocent, not just of crimes that deserved crucifixion, but of all wrongdoing, He was able to make many righteous by bearing the sin of others. He became the spotless sacrifice for all people.
One of my favorite passages from the New Testament explains in theological language the import of Jesus's death: "For our sake he made him to be sin who knew no sin, so that in him we might become the righteousness of God" (2 Corinthians 5:21). Simply put, God made Christ to be sin in that He became an offering for sin, taking our place in receiving the death that sin begets. Christ was able to do this because He was The Righteous One. In exchange, we receive His own righteousness (dikaiosyne), the very righteousness of God. Through Christ, we are brought back into right relationship with the living God and begin the process of being made fully right, just like Jesus.
So the apparently simple expression of the centurion, "Certainly this man was innocent" turns out to mean much more than it suggests on the surface. Jesus was not just innocent, but righteous. And He was not just any old righteous person, but The Righteous One who came to fulfill the role of the Suffering Servant. Through His righteous life, and through His sacrificial death, we receive the gift of His own righteousness. What a wonder!
I close today with the wonderful poetry of the classic hymn, "The Solid Rock," by Edward Mote:
My hope is built on nothing less
Than Jesus' blood and righteousness;
I dare not trust the sweetest frame,
But wholly lean on Jesus' name.
On Christ, the solid Rock, I stand;
All other ground is sinking sand,
All other ground is sinking sand.
When darkness seems to hide his face,
I rest on his unchanging grace;
In ev'ry high and stormy gale,
My anchor holds within the veil.
On Christ, the solid Rock, I stand;
All other ground is sinking sand,
All other ground is sinking sand.
His oath, his covenant, his blood
Support me in the whelming flood;
When all around my soul gives way,
He then is all my hope and stay.
On Christ, the solid Rock, I stand;
All other ground is sinking sand,
All other ground is sinking sand.
When he shall come with trumpet sound,
Oh, may I then in him be found;
Dressed in his righteousness alone,
Faultless to stand before the throne.
On Christ, the solid Rock, I stand;
All other ground is sinking sand,
All other ground is sinking sand.
Prayer
Merciful Lord, thank You for being The Righteous One. Thank You for Your perfect life and Your sacrificial death. Thank You for taking my sin upon Yourself, and giving me Your righteousness in return.
Like the centurion, I look upon Your cross today with wonder. But I'm not only struck by your legal innocence. I'm astounded by Your willing to suffer and die for me, the Righteous One for the unrighteous. All praise be to You, glorious, gracious, giving Lord!