Life is full of ironies. When you start looking for them, you'll see them all the time. They make life interesting.
For example, last week I had a business meeting in Dallas. I flew Southwest Airlines, which uses Dallas Love Field, an older, smaller airport about ten miles from the garganutan Dallas-Fort Worth airport. Love Field is closer to downtown Dallas, and much, much less crowded.
The flight path from San Antonio to Love Field, however, goes almost directly on top of DFW. Here's the proof: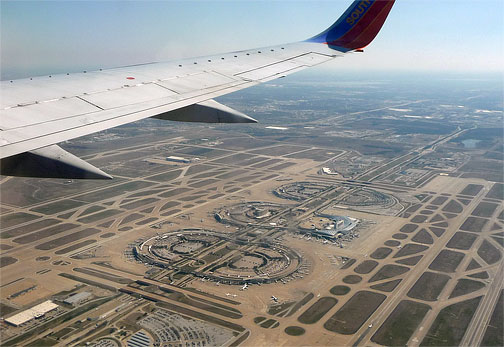 When you fly into DFW, you never get such a view of the airport. So the best way to see DFW from the air is to fly the airline that doesn't go to DFW. That's ironic.
Another irony in my life has to do with my transportation to work. Growing up in Southern California, I spent probably hundreds of hours driving on Interstate 10 (the Santa Monica and San Bernardino freeways, as we called them). For much of the day, traffic on "the 10" is terrible. You can count on crawling along for miles.
These days, I have a half-hour-long commute on, you guessed it, Interstate 10. I-10, as we call it in Texas, is a wide open highway that passes through the scenic Texas Hill Country. Unless it's dark, when the speed limit is slower, I almost always roll along at 70 miles per hour. Not far beyond Kerrville, where I work, the speed limit goes up to 80.
If I tell the folks in California that I have a half-hour commute on "the 10," then envision a five-mile drive in parking-lot type traffic, not a gorgeous drive at top speeds through some of the prettiest country anywhere.
I drive to work in a Toyota Tundra truck. No, I haven't had any trouble with the accelerator, or anything else, for that matter. This truck has had very few problems. I bought my truck six years ago in Southern California. But where was it made? Right down I-10 from where I live, in San Antonio.  Another of life's sweet ironies! (Photo: A view of I-10 from my truck. Not a lot of traffic here!)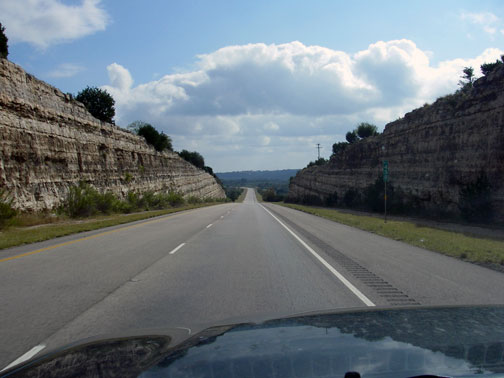 Are there any similar ironies in your life?