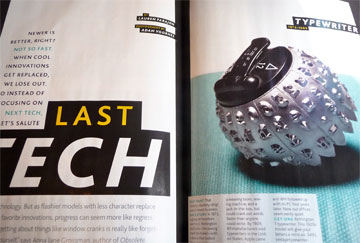 On a recent Southwest airlines flight, I read a fascinating article in Spirit, the official airline magazine. "Last Tech" by Lauren Parajon (March 2010, pp. 82-92) chronicled some recent technological changes. Some of these were familiar; some were surprising. You can read the whole article here, without even buying a Southwest ticket. I'll supply a summary for those of you who want the short version:
• Typewriter: 1873-1983
• Drinking Fountain: 1906-2007
The drinking fountain was invented 100 years ago in Berkeley, CA for sanitation.
• Blackboard: 1801-1990
• Sights of the past: ashtrays, printed photos,
video rental stores, fuel attendants (rare except in Oregon and New Jersey)
• Wine Cork: 1AD-2009
In 2009, 45% of wine bottles used synthetic "corks"; 35% used screwcaps, which is the way of the future. [Not nearly as romantic, but preserves wine better.]
• Payphone: 1889: 1995
• Mechanical bell: 600 BC-1972 [as in an alarm clock]
• Boombox: 1976-1990
• Hotel Key: 1828-1975
By 2008, 92% of urban/suburban hotels used key cards.
• Road map: 1789-1993
• Check book-1681-2002
• [Subway] Tokens: 1953-2003
• Lick-and-stick stamp: 1847-1999
• Photo film-1889-2009
So, on Southwest, not only do you get entertaining flight attendants, a little more leg room, and peanuts in addition to a drink, but also a magazine worth reading. Quite a deal!