Yesterday I began sharing some quotations from John Stott's classic book Christian Mission in the Modern World. Today I'll add a few more: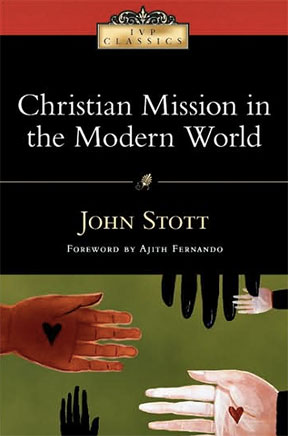 Let me return now to the Great Commission. I have tried to argue that its Johannine form, according to which the church's mission is to be modeled on the Son's, implies that we are sent into the world to serve, and that the humble service we are to render will include for us as it did for Christ both words and works, a concern for the hunger and for the sickness of both body and soul, in other words, both evangelistic and social activity. (KL 322-325)
Note: The Great Commission is usually cited in the form that appears in the Gospel of Matthew: "All authority in heaven and on earth has been given to me. Go therefore and make disciples of all nations, baptizing them in the name of the Father and of the Son and of the Holy Spirit, and teaching them to obey everything that I have commanded you. And remember, I am with you always, to the end of the age" (28:18-20). The Johannine form of the Great Commission appears in the so-called "high priestly prayer" of Jesus in John 17: "As you have sent me into the world, so I have sent them into the world" (v. 18).
The Great Commission neither explains, nor exhausts, nor supersedes the Great Commandment. What it does is to add to the requirement of neighbor-love and neighbor-service a new and urgent Christian dimension. (KL 333-334)
The Great Commandment is found in Matthew 22: "Teacher, which commandment in the law is the greatest?" He said to him, "'You shall love the Lord your God with all your heart, and with all your soul, and with all your mind.'  This is the greatest and first commandment. And a second is like it: 'You shall love your neighbor as yourself.' On these two commandments hang all the law and the prophets."
"Mission" describes rather everything the church is sent into the world to do. "Mission" embraces the church's double vocation of service to be "the salt of the earth" and "the light of the world." For Christ sends his people into the earth to be its salt, and sends his people into the world to be its light (Matthew 5:13-16). (KL 349-351)
The salt-and-light passage appears in the Sermon on the Mount: "You are the salt of the earth; but if salt has lost its taste, how can its saltiness be restored? It is no longer good for anything, but is thrown out and trampled under foot. You are the light of the world. A city built on a hill cannot be hid. No one after lighting a lamp puts it under the bushel basket, but on the lampstand, and it gives light to all in the house. In the same way, let your light shine before others, so that they may see your good works and give glory to your Father in heaven.  (Matthew 5:13-16)