A couple of days ago we had some unusally chilly weather in Central Texas. Where I live, in Boerne, the temperature dipped below freezing for fifteen hours. The low hit 23 degrees. That's two degrees lower than last winter's low.
Now folks in colder climes, like my friend Dave in Minnesota, won't be impressed by 23 degrees. That would be a warm winter day in his neck of the woods. But, for us, this was big news.
It was also good news from an aesthetic point of view. I awoke early last Saturday morning when the thermometer hit 23. Frost covered the grass, making it look almost as if snow had fallen. The ice-glazed leaves of the Red Oak trees were stunning.
That was the good news. The bad news was that one of the pipe fittings in my workshop burst from the cold. When things started to thaw, I had an unexpected river, then a lake. It was in an out-building, so there was no damage in the house. But Nathan and I spent a couple of frigid hours mopping up water and repairing the pipe. Next time I'm turning off the water in my workshop.
I thought I'd share a few photos with you. The first shows the frost covered grass of my front yard.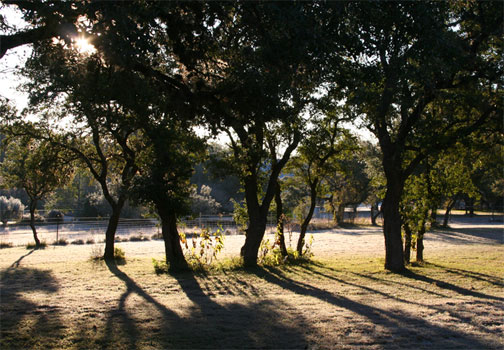 The next two photos are close-up shots of the frost-bitten leaves of a Red Oak tree. God's artistry is amazing, is it not?