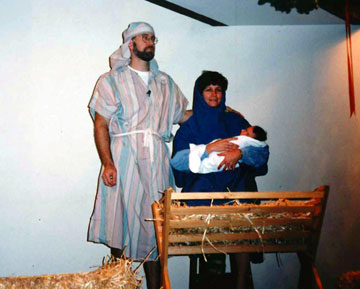 Check out this story from Reuters: "Competitive Britons send nativity costs soaring." Here's a cheery excerpt:
Gone are the days of shepherds in tea towels and tinsel-clad angels. Britain's competitive parents are forking out on luxury pashmina shawls and velour dressing gowns to make their child the star of the annual nativity play.
The rise in so-called "manger chic" has seen parents spend up to 150 pounds ($250) on arctic fur throws for children cast as sheep and ivory bridesmaid dresses for angels, according to department stores group Debenhams.
"Manger chic" . . . now that's a new one. Quite in keeping with the humble birth of Jesus in a stable, don't you think?
As you can see from the photo above, my wife, daughter, and I didn't exactly fall into the "manger chic" category when we served as the holy family in our church Christmas program fifteen years ago.