Worship Team Training is a ministry that provides inspiration, training, and resources for worship leaders, especially but not only those who lead in contemporary contexts. Worship Team Training offers a whole-person approach to the training of worship leaders, focusing on skill development, leadership growth, and spiritual renewal.
Worship Team Training was begun by Branon Dempsey, a mature, visionary worship leader whom I met when teaching in the Southern California Worship Institute some years ago. Branon had enrolled in the Institute to develop his talent as a worship leader, especially to grow in his theological understanding of worship. Since our first meeting, Branon and I have continued in dialogue over a theology of worship. When I moved to Texas, where Branon lived, we were able to reconnect at Laity Lodge.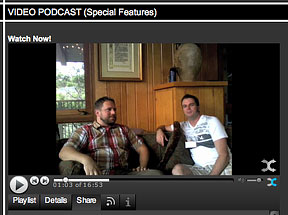 Right now the Worship Team Training website features a couple of Laity Lodge related items. The first is a video interview of Brian Moss that was done in the Great Hall of Laity Lodge. Brian is a gifted songwriter/musician/worship leader, who is now serving as the Chapel Coordinator for Regent College in Vancouver. Here's the link to the Brian Moss interview.
The second item on the Worship Team Training website is an interview Branon did with yours truly a couple of months ago. We talk about the theology of worship among other things.  My interview is part of an hour-long podcast, which you can stream or download from the Worship Team Training website, or from iTunes. My part of the podcast begins at about 32 minutes in.
If you're a worship leader, I highly recommend that you check out the resources at Worship Team Training. If you're not a worship leader but know someone who is, please tell them about this fine ministry. As you can imagine, I'm especially thankful for the high value placed on biblical theology in this ministry.