Today I want to recommend the Christian Web Conference to my blog readers. If you're at all interested in the relationship between Christianity and the Internet, and especially if you are using the Web as a context for expressing your faith, you will want to check out this conference. Here are some basic details.
The Mission of CWC
To bring web leaders and creatives together as they collaborate and implement ideas by building relationships with one another.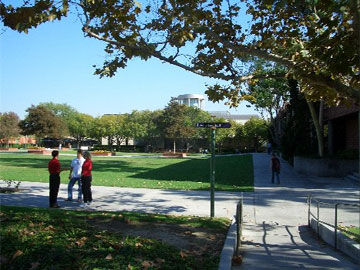 Why You Should Attend
• Fascinating, visionary leaders in the area of Christian mission and the Web.
• Lots of time to build relationships and form friendships.
• Informative, challenging presentations and workshops.
• Cost = A great deal! ($50 before August 1; $60 after).
• On the beautiful campus of Biola University in Southern California (see photo).
My Participation
I will be offering a devotional during each morning of the conference. Otherwise, I'll be hanging around to learn and develop relationships.  TheHighCalling.org, a sister to Laity Lodge, is helping to sponsor CWC. My colleague, Marcus Goodyear, will be offering a workshop on the topic: New Ways to Listen.
When Is It?
Friday, September 11 – Saturday, September 12, 2009
For More Information
Check the CWC website.