One of the things I love about Laity Lodge is getting to hear great music in a wide variety of genres. A week ago we were treated to a world-class string trio composed of Stephen Clapp (violinist and former dean at Julliard), Sean Jackson (Juillard grad in piano and organ), and Josef Luptak (cellist from Slovakia). Then we had a swift change of musical gears. At our most recent, were entertained and led in worship by Ashley Cleveland and Kenny Greenberg.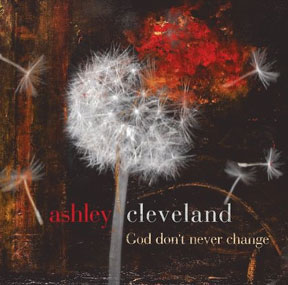 Ashley is a three-time Grammy award winner in the "Best Rock Gospel" category. She is a rocker, but in a most soulful manner. She sings with extraordinary emotion and intensity. Ashley is also a brilliant songwriter and a mature Christian woman with deep insight into God's grace. (Photo: the cover of Ashley's newest album, God don't never change)
Kenny Greenberg, who happens to be Ashley's husband, is one of the finest rock guitarists in the world today.  In fact, before coming to Laity Lodge, he had just done some studio work with Carrie Underwood. Kenny's skill is matched by his deep faith in Christ. Together, Ashley and Kenny make a dynamic duo. (No, they do not wear masks and capes.)
In their concert last Saturday evening, Ashley and Kenny did a wide variety of music, including some songs from Ashley's newest album, God don't never change. This new recording features music from the African American tradition, including several spirituals that are not yet well known. They will be soon, I predict, because God don't never change is a spellbinder.
What follows is a short clip from Ashley's and Kenny's concert at Laity Lodge. This will give you a tiny taste of God don't never change.  Warning: The sound quality is not very good. This clip comes from my digital camera.
[youtube:http://www.youtube.com/watch?v=xphV3kLAIYU]
You can hear this song, "Sampson and Delilah" the way it is meant to be heard by visiting Ashley's website. In fact, you can download "Sampson and Delilah" for free. Once you have heard this song, I expect you'll want the whole album. You can purchase it from Amazon or download it from iTunes.
We have great music ahead this summer and fall, including Sara Groves, Buddy Greene, Charlie Peacock, and Michael Card. Ashley and Kenny will be back for our New Year's retreat. For more info, check out the Laity Lodge website.