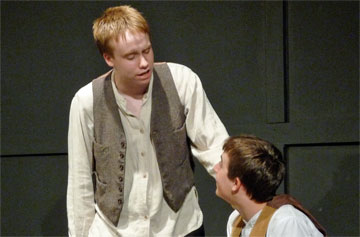 A couple of days ago I saw Great Expectations: The Musical. It was performed at the Boerne Community Theatre by the Teen Troupe. Now I might have seen this musical simply because Great Expectations is one of my favorite novels, but I was significantly motivated by the fact that my son, Nathan, has a major role in the performance. He played the role of Joe Gargery, Pip's brother-in-law, mentor, and father figure. (Photo: Nathan, standing, sings to Pip "Ever the Best of Friends." Yes, Nathan does have red hair!)
This musical version of Great Expectations is a decent adaptation of Charles Dickens' original. Of course much had to be cut to make it fit into 90 minutes or so. I was particularly disappointed with the disappearance of Uncle Pumblechook, one of Dickens' most pompous, laughable characters. And the ending of the musical was rather weak, but so is the ending of the novel. (In fact, the official ending of Great Expectations is the second one written by Dickens, a happier but less convincing ending, in my opinion.)
I love Great Expectations for many reasons.  It is full of surprises (none of which I'll spoil here, in deference to my son the blogger). The characters are fascinating. The local color is rich, as is usually the case with Dickens.
But what I love most of all about Great Expectations is the way goodness proves to be redemptive, even through suffering and hardship. In fact, the basic goodness in the novel belongs to none other than Joe Gargery, the character played by Nathan in the musical. At first, Joe's kindness and patience seem simplistic and naive. But, in the end, the ripple effects from his goodness touch many characters. I won't say more than this. But I was thrilled to have my son playing one of my favorite roles in one of my favorite stories. (If someday he can play Javert, my life will be complete. Talk about living vicariously through you son . . . wow!)
I doubt you'll be able to see Great Expectations: The Musical.  This adaptation, by David and Karen Coons, is rarely performed these days. But you can read the novel, and this I HIGHLY recommend. Like me, you may have read it years ago in school. But I promise you that an adult re-reading will pay rich benefits. If you want a special treat, listen to the novel read by Frank Mueller. He is an absolutely superb reader, whose various voices are convincing. You can find it at Audible.com or iTunes.