During our visit to Merritt Island National Wildlife Refuge in central Florida we saw more than amazing birds. We almost stumbled upon several alligators in a little canal along the road. As we hopped out of the car to see some colorful birds, my wife said, "Hey, look! An alligator!" Gazing down we saw a seven-foot alligator, only about ten feet away. Then we saw another, and even a baby gator hiding in the weeds. It's the first time I ever saw alligators in the wild.
This alligator was probably five feet long, and safely across a canal from me.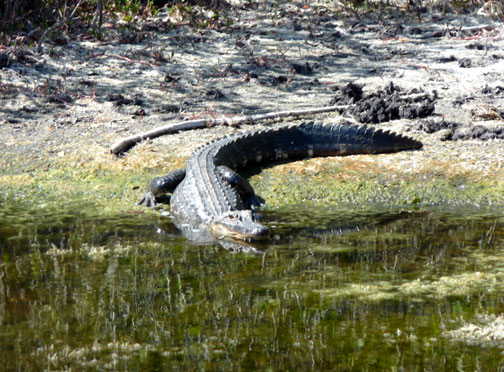 This baby gator was probably about eighteen inches long.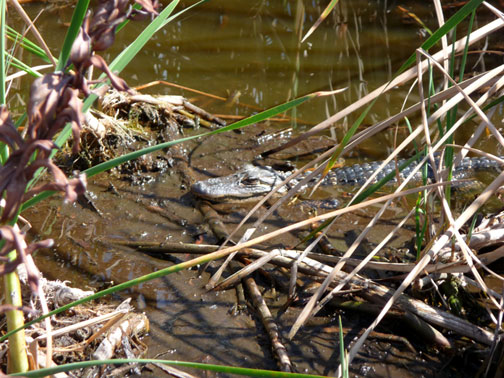 As we drove through Merritt Island Refuge, we saw a sign for a Manatee viewing spot. So we drove to Haulover Canal in the hope of seeing a Manatee. Sure enough, we caught a glimpse of one as it fed along the shore.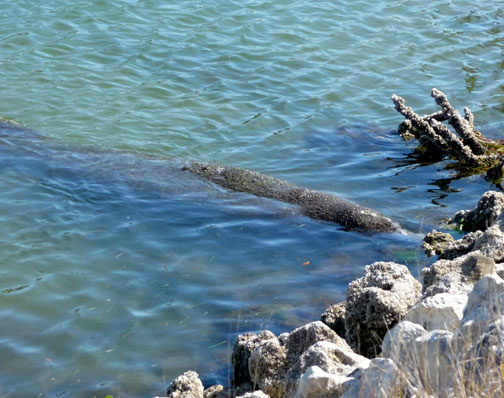 This one was big, at least nine feet long, I estimate. If you're not familiar with Manatees, they are marine mammals that are also known as "sea cows." It's estimated that there are 1,000 to 3,000 Manatees in Florida. The Manatee is an endangered species, and is genetically related to the elephant.
Speaking of marine mammals, I also saw a couple interesting ones just offshore at Cocoa Beach. They look curiously like my own kids, only much older than I remember.