On Saturday I put up a link to a fascinating article in the Los Angeles Times: "A closer, faster walk with thee." This article provided many examples of Christians encouraging other believers to grow in their relationship with God by spending short amounts of devotional time each day (for example, The One Minute Bible or 5 Minute Theologian: Maximum Truth in Minimum Time.)
I encouraged my readers to post their comments, and I received several very good ones (as usual). You might want to check out the variety of perspectives here.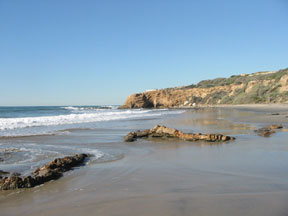 I have a couple of additional comments. First, I actually produce what might be called a Five Minute Daily Devotional. It's called the Daily Reflection, and it appears each day (as you would expect) at The High Calling.org. It is also emailed to more than 5,000 people. The intent of this Daily Reflection is to offer devotional content so people might grow in their faith. Though the Scripture readings and questions to ponder could lead to more than five minutes of reflection, I expect that most people who use this devotional guide spend about five minutes with it. I don't apologize for this brevity. I hope to encourage folks in their Scripture reading and prayer. This is a "foot in the door" approach, if you will. (Photo: Crystal Cove State Park beach in Orange County, California)
At the same time, in my own devotional life, I've been trying to spend more time in prayer and biblical reflection. I know that when I spend less rushed time with God, I am much more open to God's presence and more receptive to his peace. When I lived in California, I frequently visited a secluded section of beach where I could walk and pray (see photo above). I'm still trying to find such place in Texas. The nearest beach is three hours away, and I'm told it isn't quite like California beaches. When I'm out at Laity Lodge, I have plenty of options for "devotional walking." But I'm still developing new patterns in my "ordinary" life. So, though I think it's fine if folks begin growing in their faith by spending short amounts of time in communication with the Lord each day, I'm sensing a need to go longer and deeper. I don't share this to be boastful. It's just where I am in my own walk with God these days.