I expect you've probably had an experience like the one that engulfed me last week. It can come from visual cues, though it's often stimulated by the sound of an old song or a distinctive smell. As I was driving along, minding my own business, I was hit by a wave of nostalgia, a tsunami of multi-sensory memories.
I happened to be driving in Southern California, where I spent most of my life until a recent move to Texas. As I was cruising along Manchester Blvd., getting ready to return my rental car, all of a sudden I saw it . . . a big, giant donut. Immediately, my mind flooded with memories: riding in our family car on a Saturday morning with my dad, ordering donuts from the window, waiting expectantly for our order, the intoxicating smell of fresh donuts, the scrumptious taste of a perfect, hot donut.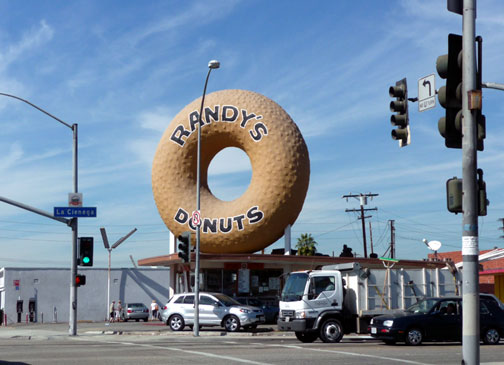 In the early 1960s, my family and I lived in Inglewood, California, just a few miles from what is now called Randy's Donuts. At the time, this establishment was part of the Big Donut chain. There were several Big Donuts near where we lived. In fact, I think we frequented a store that was closer to our home. Today's it's called Kindle's Do-nuts (no relation to the Amazon reading device).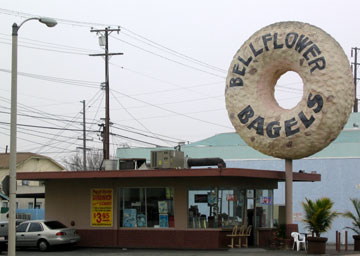 A few years ago while driving in Bellflower, California, a suburb of Los Angeles, I stumbled upon an unexpected sight. There was what looked like a Big Donut store. But on what was once a big donut sign I read: "Bellflower Bagels." Somebody had even tried to paint some raisins on the giant former donut, now bagel. Nice try! But, in our hearts, we still know that the giant "bagel" is really a big donut.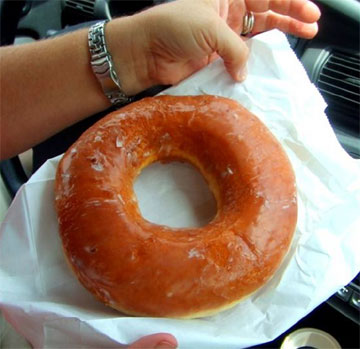 I did a little online research about the remaining Big Donut stores, which all go by different names today. It turns out that Kindle's Do-nuts features a treat that honors my new state. Yes, at Kindle's you can buy a Texas Donut. What makes it a Texas Donut? you ask. The giant size! Why, that's almost a meal in itself!
In my nostalgic reverie last week, I made a vow. I promise to take my son to one of the former Big Donut shops. I just have to pass on the tradition. I only wish my father could be with us. I wonder if they have Big Donuts in heaven.