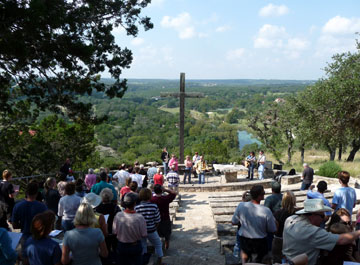 Last week my church enjoyed a retreat at Mo Ranch in the Hill Country of Texas (about 90 minutes from San Antonio; 30 minutes from Laity Lodge). Mo Ranch was not named for Moe of Three Stooges fame, but for Daniel J. Moran, who owned the ranch before selling it to the Presbyterian church. Mr. Moran was the chairman of Conoco Oil Company. (Photo to right: The outdoor chapel)
We had a great time at Mo Ranch, which is a large conference center. One of the highlights of the weekend was worshiping in the outdoor chapel. The view was fantastic.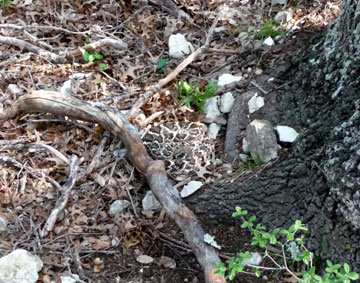 One of the children found an interesting view right behind the chapel. She spotted a snake resting underneath an oak tree . . . a rattlesnake, to be exact. I'm glad to say she knew enough to stay away. But I must say I've never seen a rattlesnake during a worship service before. In my Presbyterian tradition, we don't do much snake-handling! (Photo: A sleeping rattlesnake. It's right in the middle, a bit hard to see if you don't look carefully.)
The photo below shows one of the meadows at Mo Ranch. What a delight!