First, a word of explanation. Many of you have emailed me, asking me to get back to my series on the PCUSA. I will do that. But I should explain that this is my "high season" at Laity Lodge, with several retreats almost back to back. Last week it was J.I. Packer and Terry Hargrave. This week it's Earl Palmer and John Medina. Next week it's Lauren Winner and Tod Bolsinger. So I'm pretty swamped these days. I will get back to the good ol' PCUSA, I promise. But please be patient.
Plus, earlier this week I was speaking at the National Worship Leader Conference sponsored by Worship Leader Magazine. This was an outstanding conference, and I was pleased to be part of it. Here are a couple of photos from the first evening's main session.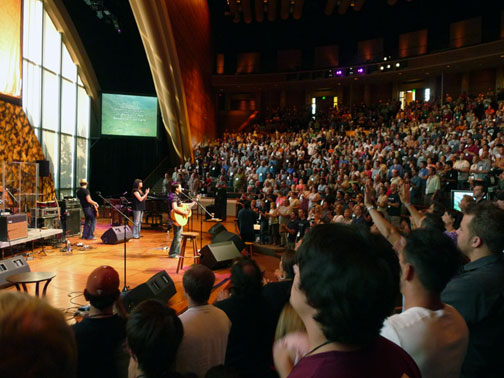 Matt Redman is leading worship for the conference, which met at the Riverbend Church in Austin, Texas. Matt, apart from being an outstanding songwriter, is a humble and effective worship leader.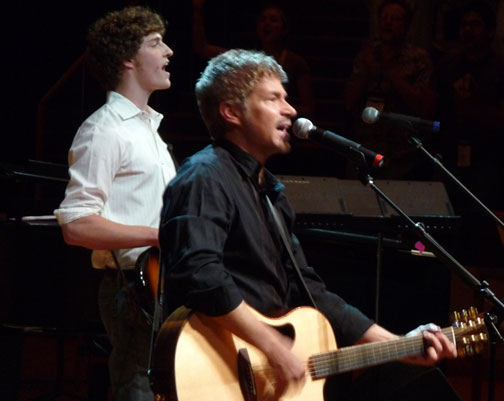 After the evening speaker (Skip Heitzig), Paul Baloche led another worship set. Joining him in the band was his son, David, who is pictured in the background. Paul is one of the most influential worship songwriters in the world today (for example, "Open the Eyes of My Heart, Lord"). One of the songs he used on Monday evening was "Hosanna," which he co-wrote with Brenton Brown. This is a fantastic song, and can be found on Paul's album called A Greater Song. If you're interested, here's a YouTube video of Paul leading this song.