Last week I spoke at a Presbyterian pastors conference at Mt. Hermon. This conference center, the oldest Christian camp in the western United States, lies in the sylvan woods of the Santa Cruz mountains. It's setting among the redwoods is one of the prettiest for a conference center. I thought I'd put up a picture of the Dining Hall so you can get some small idea of the beauty of this spot. It's truly delightful.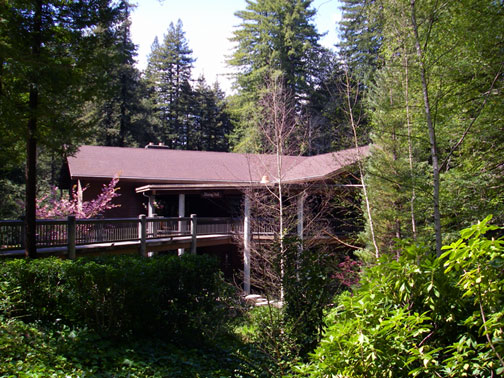 The conference in which I participated was the West Coast Presbyterian Pastors Conference. It has been meeting for around forty years, and includes about 170 pastors and a few spouses. I thoroughly enjoyed the people at this event, some of whom were old friends, most of whom were new friends. It was a special treat to spend a good bit of time with Rick Hull and his wife. Rick is the Interim Senior Pastor who followed me at Irvine Presbyterian Church. I am certainly impressed with him, and am grateful to God for his leadership of the Irvine church.
One of the things I most loved at the WCPPC was the laughter. I laughed more in the last week than in all of the rest of 2008 combined. I was reminded of how healing and restorative laughter can be . . . as well as just plain fun.
If you live anywhere in California, especially in the central or northern parts of the state, you should check out Mt. Hermon. It's a fantastic spot and they have some great retreats throughout the year.