So I'm sitting in my local Denny's waiting for my lunch order to arrive. On the way in had I picked up one of those omnipresent real estate magazines you find in restaurants adjoining interstate highways. As I'm waiting, I'm flipping casually through the pages of the magazine. I'm just curious, you understand. I'm not actually looking for ranchland in the Hill Country of Texas.
Toward the back of the magazine I come upon a bunch of notices for ranches rather near Laity Lodge. So I stop to read them. There I saw something I had never seen before. Consider the following description of this wonderful ranch along the Sabinal River:
60+ Acres with 1200 +/- Deep Sabinal River next to Lost Maples State Park with a very nice 3800+ sq. ft. home overlooking the river and surrounded by large neighbors. This is a gorgeous getaway ranch . . . $1,395,000.
Now that sounds just great, except for the part about the neighbors. Surrounded by large neighbors? Since when do you have to declare that the folks who live next door are overweight when you sell a piece of property?
Or are we talking about giants here? Do they shake the ground so much that it's disturbing?
When the people who live next to me sell their house, I hope they don't have to comment on my physical condition! That's good motivation to lose some weight, don't you think?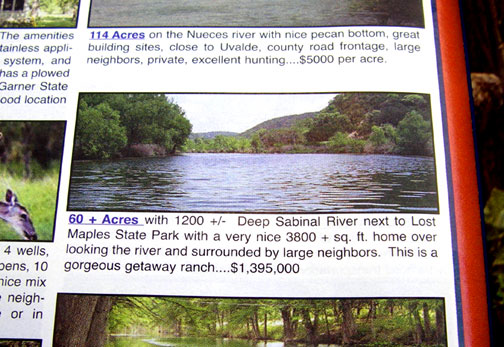 P.S. Before I'm inundated with email, I did figure out that "large neighbors" is a real estate term. It means the lots nearby are ranch sized. If you have "large neighbors," you'll have plenty of privacy.
Just for fun, I did a Google search and found this description of a Texas ranch: "Very secluded and surrounded by very large neighbors with all low fences."
Question: Have you ever seen "large neighbors" in a real estate ad? I wonder if this is Texas jargon? Or is it more widespread?