Texans love their Bar-B-Q. They don't use "barbecue" to describe meat cooked on an outdoor gril, however. Rather, "barbecue" refers to various meats cooked with spices that enhance the flavor. And if you don't think barbecue is a big deal in Texas, just check out this documentary: Barbecue: A Texas Love Story.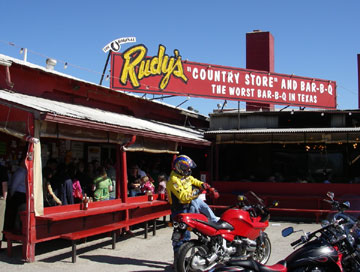 Anyway, last week I had the worst barbecue in Texas. How do I know this? Because Rudy's Bar-B-Q bills itself as having "The Worst Bar-B-Q in Texas."  You can be pretty sure this is meant to be ironic, though if you do a Google search you'll find some detractors who really believe that Rudy's barbecue is bad. Nevertheless, most people love Rudy's.
You buy their Bar-B-Q according to the kind of meat and how much of it you want. You can get, for example, a half pound of turkey breast or a pound of brisket. The meat is cooked over slow burning oak with special spices. Rudy's does not add barbecue sauce, but allows customers to add as much "sause" as they wish.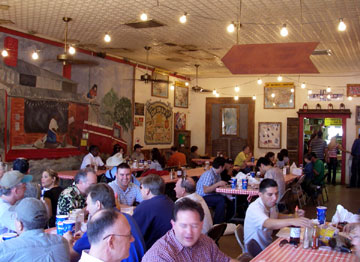 Rudy's is found mostly in Texas, though it has stores in Oklahoma and New Mexico too. I went to the original Rudy's, which is in Leon Springs, Texas, just to the northwest of San Antonio. It was Sunday afternoon, and the place was jammed with people. Still, we found ample room to sit for our feast.
Though Rudy's offers some tiny efforts for the health conscious customer, like offering lean brisket, I wouldn't recommend Rudy's to anyone on a diet, unless you're on one of those high protein, lo-carb diets, in which case Rudy's might be perfect.
If this little post has made you hungry for Rudy's, but you don't live anywhere near a store, you could also buy some of their "sause" online.  Note: it is pretty darn spicy. So if you're not up for a bit of kick from the sause, you can always settle for what Rudy's calls "Sissy Bar-B-Q Sause."