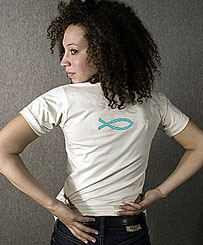 I've recently become aware of a business venture that seems, as far as I can tell, to be working towards peace between Israel and Palestine in a creative way. God knows we need some new approaches over there. The goal of Give Back to Bethlehem.org is to sell apparel made in a Bethlehem factory. It seems to represent an usual cooperative effort among diverse and often divided peoples. Give Back to Bethlehem.org is part of No Sweat apparel, which is a for-profit company. (Photo: a Christian fish-emblem t-shirt made by Palestinians in Bethlehem and sold by an American company owned by a Jewish couple. Now that's something!)
Here's a video from Al Jazeera that reports on this operation.
And here are some published stories about this business:
From Sojourners Magazine
From Haaretz
From the Boston Globe
I'm interested in your thoughts about this effort. Leave a comment if you wish. Thanks.