Today is the first day of Advent. Yes, I know most popular Advent calendars begin with December 1, including my online version. But today is the first Sunday in Advent, which is the first official day of the Christian season. In fact, it's the first day of the Christian year.
If you've been reading my blog for at least a year, you know that I'm a big fan of Advent. In fact, last year I coined the term "Adventophile" to describe myself, a lover of Advent, much as a bibliophile is a lover of books or an Anglophile is a lover of things English. Strangely enough, this word made an appearance in today's Los Angeles Times. In an article called "Amid Christmas hype, don't forget about Advent" by K. Connie Kang, she quotes me as saying that I'm an "Adventophile." It's a bit ironic that I'm helping to promoting Advent in California when I'm now a resident of Texas. Go figure!
Over the years, I've done plenty of blogging about Advent. You can find this material in my series: Advent and the Christian Year. If the whole idea of Advent is new to you, you might find my Advent F.A.Q. to be helpful.
If you haven't already visited my online Advent calendar, I'd encourage you to do so. Each day of December I put up a Bible verse that relates to this season and a picture that fits with the verse. You can find today's entry here.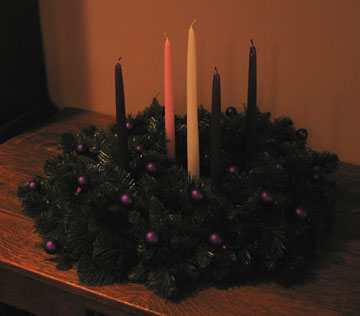 One of the resources I've developed for this season is Preparing for the Coming of Christ:
A Guide for Using the Advent Wreath. Originally, I wrote this for families at Irvine Presbyterian Church. I have revised it for use by individuals or groups. Also, I have added a bit of technical magic, so you can actually "light" the Advent wreath online. You can find today's Advent devotional here. (Photo: An Advent wreath with the candles unlit. Visit the Advent Guide to "light" the appropriate candle for today.)
I pray that in this season of Advent you might be prepared for a richer and truer celebration of the miracle of Christmas!