A Great Christmas Post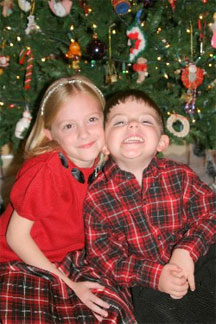 Marcus Goodyear, my colleague in the H.E. Butt Foundation, has become one of my favorite bloggers. Marcus has lots of fascinating things to say about all sorts of topics, but I love his commentary on family life most of all (see this post from a couple of weeks ago).
This week Marcus put up a post called: "You Know You're Celebrating Christmas with a Three-Year-Old When . . ." Lots to laugh about here, and some things to ponder as well. Plus, I absolutely love the picture of Marcus's children. Priceless!
Here's an excerpt:
You know you're celebrating Christmas with a 3-year-old when….
You find yourself saying, "It's time to decorate Christmas cookies, stop chasing your sister with the vacuum."
You splurge on a Lionel Train set to go around the tree because you've always wanted one and your three-year-old probably wants one, too.
He thinks the naughty list sounds like more fun, but finally decides, "I'll be on both lists, Daddy."
Thanks, Marcus, for sharing your family experiences with us. You make me laugh and you make me think (and you make me miss the times when my own kids were young).
A Dream Cruise
As you may know, I'm a big fan of cruises, thanks to Hugh Hewitt, who invited me to tag along on a couple of his, including one last summer.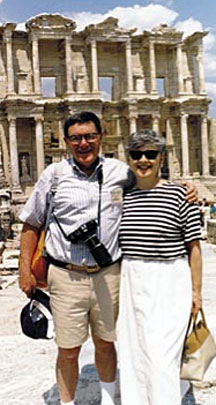 I recently received word of another fantastic Mediterranean cruise. It's called "A First Century Voyage: Retracing the Missionary Journeys of Paul in Turkey and Greece." The trip host and teacher is the Rev. Earl Palmer. (Photo: Earl Palmer and his wife in front of the library in Ephesus.)
Many of my readers will be familiar with Earl, who is one of the best-known and best-loved Bible teachers in the world today. He combines intellectual brilliance with deep insight into Scripture and rich illustrations from literature and culture. Earl is currently the Senior Pastor of University Presbyterian Church in Seattle, one of the largest and finest Presbyterian churches in the country.
"A First Century Voyage" happens next summer, from June 18 through June 27. It begins in Izmir on the west coast of Turkey, and ends in Istanbul. Stops include: Ephesus, Patmose, Santorini, Corinth, and Athens. The cruise is on the Sea Cloud, an extraordinary "tall ship" type vessel. For more information on this ship, check out the "Sea Cloud" website. (Photo: The Sea Cloud at sail.)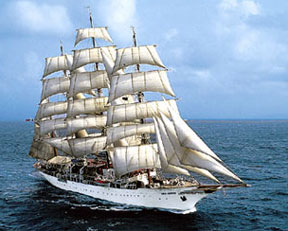 As you can well imagine, a cruise like this costs a pretty penny. But I can't imagine a more wonderful experience. Like I said, a cruise of a lifetime. (No, I won't be there. My summer is pretty much taken up hosting and/or teaching retreats at Laity Lodge. By the way, we'll have Earl Palmer with us at Laity Lodge next summer, July 24-27. If you're interested in attending, check out the Laity Lodge website.)
We won't have classic architectural sites at Laity Lodge, however. For these, you'll have to go on Earl's cruise. For more info, check out the brochure on the First Century Voyages website.
My Interview at tothesource
tothesource recently interviewed me on the topic of my book Can We Trust the Gospels? The interview is now "up." Be sure to check out the tothesource archives, and then subscribe to their excellent newsletter.