Excerpt
As the mountains surround Jerusalem,
so the LORD surrounds his people,
from this time on and forevermore.
Psalm 125:2
Click here to read all of Psalm 125
Prayer
If only we could see how You protect us, Lord! I'm sure it happens, all the time. You protect us from harm, from temptation, from going down paths that take us far away from You. But so much of the time Your protection is unseen, and so I take it for granted, or even doubt that You have been there for me.
So today, Lord, I thank You for surrounding me, even when I don't see it, even when I doubt it, even when it seems like I am alone in the universe. Thank You for protecting me when I am ungrateful, when I take You for granted. Thank You for being so merciful to me.
Postscript
After the death of Moses the servant of the LORD, the LORD spoke to Joshua son of Nun, Moses' assistant, saying, "My servant Moses is dead. Now proceed to cross the Jordan, you and all this people, into the land that I am giving to them, to the Israelites. Every place that the sole of your foot will tread upon I have given to you, as I promised to Moses. From the wilderness and the Lebanon as far as the great river, the river Euphrates, all the land of the Hittites, to the Great Sea in the west shall be your territory. No one shall be able to stand against you all the days of your life. As I was with Moses, so I will be with you; I will not fail you or forsake you.
Joshua 1:1-5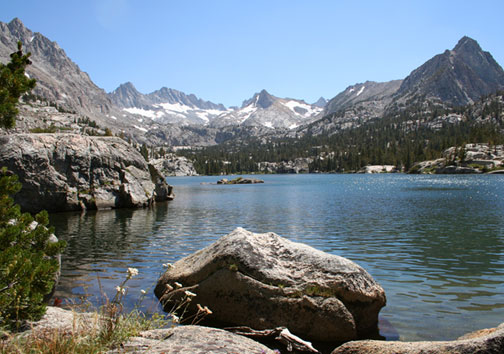 Mountains surrounding Sabrina Basin
in the High Sierra of California
Pray the Psalms is one of my two devotional websites. The other is Pray the Gospels. Both sites include a daily Bible reading from either the Psalms or the Gospels, along with a prayer and some additional thoughts or questions for reflection.