Excerpt
So the other disciples told him, "We have seen the Lord." But he said to them, "Unless I see the mark of the nails in his hands, and put my finger in the mark of the nails and my hand in his side, I will not believe."
John 20:25
Click here to read all of John 20:24-29
Prayer
O Lord, sometimes it seems like Thomas gets a bad rap among Your people. We refer to "doubting Thomas" as if he were something defective, some sort of embarrassment.
Yet I, for one, relate to Thomas. I understand his reticence to believe that which exceeded his experience. Moreover, He had trusted You before, and had felt let down as You allowed Yourself to be captured and killed. He didn't want to be taken for a ride again.
I can also feel Thomas's desire to believe in You. It's not that he wants to be stuck in doubt. But his mind needs evidence. He doesn't want to be caught up in emotion or hysteria. He's a thoughtful person, for better and for worse.
I think we all need evidence of Your reality, Lord. I know I do. And, to be honest, I wish I could see You with my human eyes. What a wonder it would be to actually catch a glimpse of You in Your resurrection glory! I realize that this is not likely to happen in this life, however.
Nevertheless, I ask, dear Lord, that You continue to make Yourself real to me in the ways You choose. Give me eyes to see You, not just in the unusual and amazing ways You make Yourself known, but also in the small and easily overlooked ways. As I see Your presence in my life, strengthen my faith, I pray. Help me to trust You with all that I am.
Questions for Reflection
Have you ever wished that you could actually see Jesus?
Can you relate to Thomas's doubt? To his desire to know Jesus in truth?
How has Jesus made Himself known to you?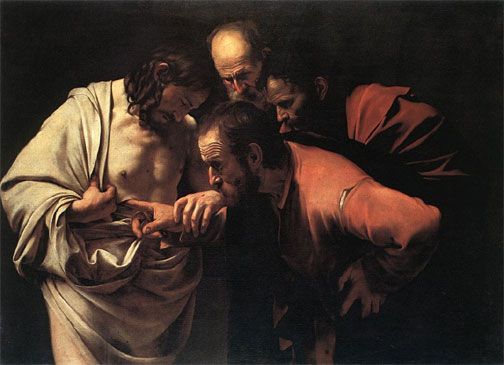 "The Incredulity of Saint Thomas" by Caravaggio
1601-1602. From Web Gallery of Art.
Pray the Gospels is one of my two devotional websites. The other is Pray the Psalms. Both sites include a daily Bible reading from either the Gospels or the Psalms, along with a prayer and some additional thoughts or questions for reflection.