Part 7 of series: Sharing Laity Lodge
Permalink for this post / Permalink for this series
A few weeks ago I got to know Brian Moss, "a musician after God's own heart." As you may know, this description was first used of David in the Old Testament. When Saul dishonored the Lord, Samuel said to him, "[N]ow your kingdom will not continue; the LORD has sought out a man after his own heart; and the LORD has appointed him to be ruler over his people, because you have not kept what the LORD commanded you" (1 Samuel 13:14). This man "after God's heart" was David, who would one day be king of Israel.
David is well known to us, not only as a central figure in Old Testament history, but also through his poetry. He is the author of many of the biblical Psalms, and the inspiration for many others. In the Psalms we see the heart of David, the heart that yearned for God.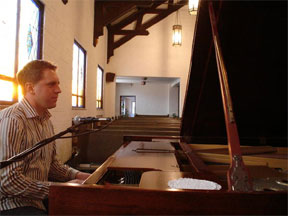 Why do I call Brian Moss "a musician after God's own heart"? Well, on the most obvious level, like David, he sings praises to God as a talented singer and pianist. And, like David, Brian doesn't simply perform, but he draws people into worship. He is an astute and sensitive worship leader, who seeks to draw people's attention, not to himself, but to the Lord.
Brian Moss is like David in that he is also a gifted poet and writer of worship music. One of the things he has done so well is to take old hymns and set them to new music, thus bringing to life some texts that are lyrically rich and well worth singing today. Check our, for example, his album, Not What My Hands Have Done. You can hear an excerpt from this album at Brian's myspace. You can order it from iTunes also.

But Brian has engaged upon a classic songwriting project that shows even more plainly his similarity to David. His recent album, Prayerbook No. 1, is the beginning of a 10-volume treatment of the Psalms. That's right, all 150 of them. You can learn more about this project from Brian's blog: prayerbookproject.
Like some of the great hymn writers of history, Isaac Watts, for example, Brian takes a psalm and uses it as the basis for a song. The song draws from the words of the psalm without simply putting the psalm itself to music. Here, for example, is Psalm 1 and Brian's song, called, "Joy Will Come to You."
Psalm 1
1 Happy are those
who do not follow the advice of the wicked,
or take the path that sinners tread,
or sit in the seat of scoffers;
2 but their delight is in the law of the LORD,
and on his law they meditate day and night.
3 They are like trees
planted by streams of water,
which yield their fruit in its season,
and their leaves do not wither.
In all that they do, they prosper.
4 The wicked are not so,
but are like chaff that the wind drives away.
5 Therefore the wicked will not stand in the judgment,
nor sinners in the congregation of the righteous;
6 for the LORD watches over the way of the righteous,
but the way of the wicked will perish.
"Joy Will Come to You"
Joy will come to you
In the word, the way
Hold it in the night
And live it in the day
Like a tree beside
The running, living blue
Water into life
This joy will come to you
Walk away from sin
Hate has many eyes
Mocking what is good
Their house is built on lies
Joy will come to you
In the word the way
Hold it in the night
And live it in the day
Like a tree beside
The running, living blue
Water into life
This joy will come to you
Joy will come to you
Copyright 2005, Parson John Publishing (ASCAP), by Brian Moss
You can hear Brian sing "Joy Will Come to You" from his myspace.
I had the chance to get to know Brian and his wife Stephanie while they were out at Laity Lodge. They are both kind, humble, and amazingly talented people. Stephanie is a ballet dancer in addition to being a mother of four!
I commend Brian's music to you. How exciting it is to see new artists drawing inspiration from the Psalms so that we might also be people after God's own heart.