On Monday I asked for prayer for Malibu Presbyterian Church because their building had been destroyed in one of the Southern California fires. Today I want to update you on what's been happening with this church.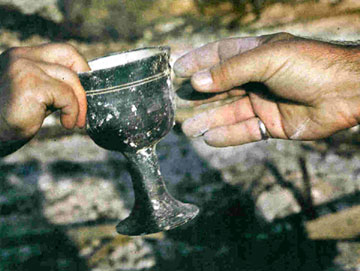 First, the Los Angeles Times ran a wonderful story on Malibu Presbyterian, including the picture to the right, which shows a communion chalice discovered in the ruins of the sanctuary. (This photo was scanned and sent to me by a friend. I can't find it online. Too bad. It's a great picture taken by Ken Hively of the LA Times.)
The Times article mentioned that on the night before the fire, Pastor Greg Hughes and his congregation had pledged a half million dollars to an inner-city teen center. They plan to honor this commitment, even as they now have to raise lots of money to rebuild their church campus. What a fine example of faith and faithfulness!
Pastor Greg also wrote an open letter that appears on the front page of the church website. It's a fine letter, and I encourage you to read it. Here is an excerpt:
Our church remains a vibrant community of faith, alive and well in the Spirit and grace of our God. We cherish our resurrection faith. We believe that in the midst of darkness, God brings forth hope and salvation through Jesus Christ. The Lord will make something beautiful out of the ruins and ashes of our church building. I believe we will mature and grow stronger as a result of this challenge.
Amen to that. Way to go, Greg!
Let's continue to pray for this fine church as it faces many challenging days ahead. By the way, if you live anywhere near Malibu, the church continues to meet for worship and fellowship. Check out their website for the details.