Excerpt
Praise the LORD!
I will give thanks to the LORD with my whole heart,
in the company of the upright, in the congregation.
Psalm 111:1
Click here to read all of Psalm 111
Prayer
How I wish to thank You with my whole heart, Lord, with all that I am, unreservedly, unashamedly, without hesitation or qualification. By Your Spirit, help me to do this, for I am prone to distraction, to half-baked gratitude, to guarded praise. Unify my heart, Lord, in thanksgiving before You. May I pour out all that is within me, and may it all be to Your glory.
And then, Lord, may I share my thanks with others, so that they might join me in honoring You, so that You might get the credit You deserve for the good things You have done for me, and so that I might model for others a life of gratitude.
Help Your church, dear Lord, to be a place of genuine, wholehearted, consistent gratitude. May we hold up Your grace for one another, that we might celebrate Your works together.
Postscript
John Calvin, Commentary on Psalm 111:1
He very properly begins with heart-praise, because it is much better to praise in secret, and when no one is conscious of it, than to lift up our voice, and shout forth his praises with feigned lips. At the same time, the person who, in secret, pours out his heart in grateful emotions towards God, will also set forth his praises in swelling strains, otherwise God would be deprived of one half of the honor which is due to him. The prophet then determines to praise God with the whole heart, that is, with an upright and honest heart; not that he engages to come up to the full measure of his duty, but he declares that he would not be like the hypocrites, who, coldly and with a double heart, or rather guilefully and perfidiously, employ their lips only in the praises of God. This is a point worthy of notice, lest any should be discouraged, in consequence of not being able to cherish the hope of attaining to that perfection of heart which is so desirable; for however defective our praises may be, they may nevertheless be acceptable to God, provided only we strive unfeignedly to render unto him this act of devotion.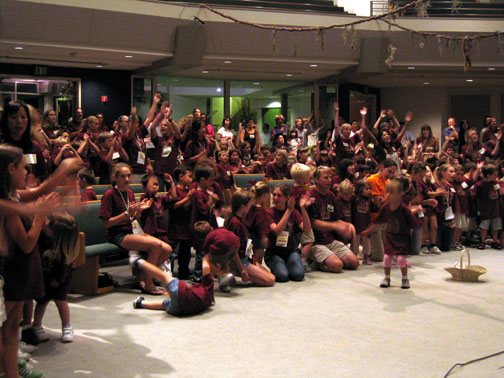 Children worshiping at Vacation Bible School, Irvine Presbyterian Church.
Talk about wholehearted praise!
Pray the Psalms is one of my two devotional websites. The other is Pray the Gospels. Both sites include a daily Bible reading from either the Psalms or the Gospels, along with a prayer and some additional thoughts or questions for reflection.