Excerpt
Do not let those who hope in you be put to shame because of me,
O Lord GOD of hosts;
do not let those who seek you be dishonored because of me,
O God of Israel.
Psalm 69:6
Click here to read all of Psalm 69
Prayer
O Lord, often I take for granted the responsibility You have given me as a pastor. But every now and then I see clearly just how much You have entrusted to me: the spiritual well-being of about a thousand people, not to mention the souls of those in my community who don't yet know You. What a high calling this is!
Yet, knowing my shortcomings and my sins, I find myself echoing David's prayer in Psalm 69. Lord, "do not let those who hope in You be put to shame because of me." "Do not let those who seek You be dishonored because of me." O Lord, don't let my weaknesses be reflected in my church. Don't let my sin hurt the congregation in my care. May my church exceed my righteousness, my holiness, my zeal for You.
To put it more positively, Lord, help me to be a person worthy of imitation by my people. May my life be a model of righteousness. May my passion for You be so vibrant that others will be inspired to seek and serve You more faithfully. Use me, Lord, so that the church You've entrusted to me will be stronger, truer, and more faithful to You.
Along these lines, I pray today for other pastors and Christian leaders, that we might live in such a way that you are glorified, not only in our work, but in every facet of our lives. Protect those who lead in your church from sins that will hurt your people. Help us to serve You faithfully in all we do.
Postscript
Not many of you should become teachers, my brothers and sisters, for you know that we who teach will be judged with greater strictness. For all of us make many mistakes. Anyone who makes no mistakes in speaking is perfect, able to keep the whole body in check with a bridle. If we put bits into the mouths of horses to make them obey us, we guide their whole bodies. Or look at ships: though they are so large that it takes strong winds to drive them, yet they are guided by a very small rudder wherever the will of the pilot directs. So also the tongue is a small member, yet it boasts of great exploits.
James 3:1-5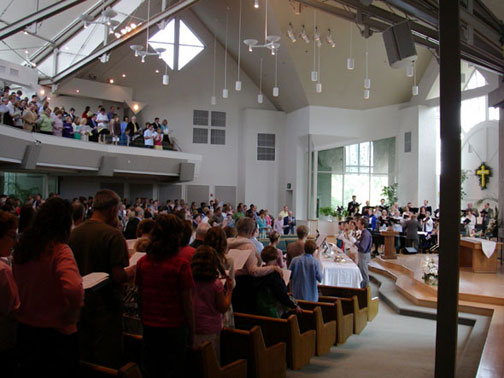 The congregation of Irvine Presbyterian Church
worshiping on Easter Morning