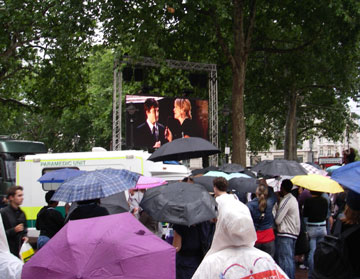 While Linda and I were in London, we stumbled into a bit of Pottermania. Taking the Tube to Leicester Square, we emerged to find unexpected crowds of people, especially teenage girls. What was going on? We had accidentally crashed the London premier of the latest Harry Potter movie, Harry Potter and the Order of the Phoenix. (Photo: Daniel Radcliffe, AKA Harry Potter, being interviewed during the London premier.)
By the time the stars were arriving, a thunderstorm was passing overhead. Yet the crowd, cheering "Harry! Harry! Harry!" was undeterred. I watched for a while on a big screen as a reporter interviewed various stars. For those of you who are hard core Harry Potter fans, you'll be impressed by the fact that I actually saw Emma Watson (Hermione Granger) and Rupert Grint (Ron Weasley) in the flesh (though they were about 50 years away and looked unimpressively tiny.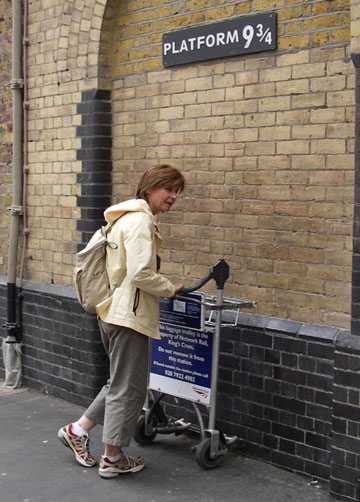 Linda and I also thought it would be fun to see if we could find Platform 9 ¾ in Kings Cross Station in London. For the uninitiated, that's the hidden train platform from which the Hogwarts Express leaves on its way to Hogwarts School of Witchcraft and Wizardry. Finding Platform 9 ¾ wasn't easy, but, for us muggles, they have actually labeled it, even adding a trolley (luggage cart) that appears as if it is going through the wall. In the picture to the right you can see my wife on her way to Hogwarts. For a real thrill, check out what happened to Linda next.
In case you're worried about my dabbling with Harry Potter, you might be interested in a piece I wrote a couple of years ago: Hoodwinked by Harry Potter.