My wife and I were in London on July 4th, Independence Day for Americans. For the British, of course, July 4th represents the beginning of a losing war effort and the ultimate loss of the American colonies. So I was prepared to receive a cold shoulder from the folks in London that day.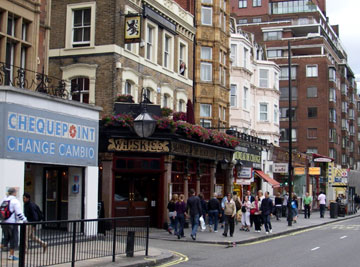 At lunch, an American at a table next to us was complaining about his hotel. Each morning he had received a complimentary copy of USA Today. But on July 4th, nothing showed up on his doorstep. He called the front desk to complain, and was told by a man in a snooty voice, "We don't distribute that paper on July 4th." Our lunch mate seemed to think this was a serious comment. I couldn't help but wonder if it had been said with typical dry British wit. Who knows? (Photo to the right: The Black Lion is just to the right of Cheqepoint.)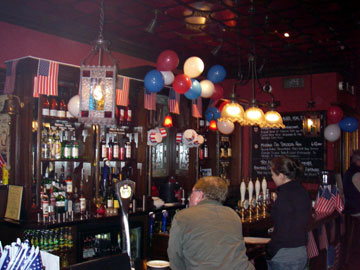 My wife and I had supper on July 4th at The Black Lion, a typical pub just to the north of Kensington Gardens. Before we entered the pub, I wondered if I'd end up getting punched by some American-hating Britisher who'd had too many pints of ale. But when we entered The Black Lion, we found an unexpected scene. The whole place was decorated for American Independence Day, complete with red, white, and blue balloons, American flags, a blow-up Statue of Liberty, and a large sign welcoming American visitors and congratulating us on the occasion of our national holiday. Wow! What a happy surprise on the Fourth of July!