Excerpt
And about three o'clock Jesus cried with a loud voice, "Eli, Eli, lema sabachthani?" that is, "My God, my God, why have you forsaken me?"
Matthew 27:46
Click here to read all of Matthew 27:45-56
Prayer
O Lord, I wonder what You were experiencing in this moment. Far worse than the physical pain was the feeling of having been forsaken by the Father. There, on the cross, You took on the penalty for human sin. You entered into the rejection we deserve. You experienced separation from the Father and His love. In a very real sense, You went to Hell for us. Our feeble minds can only begin to imagine what You felt in that moment.
What a mystery: God forsaking God!
What a horror: the Beloved Son being rejected by the Father!
What a wonder: the Holy Savior taking our sin so that we might receive His righteousness!
How I praise You, dear Lord, for Your willingness to suffer, not only physical pain, but spiritual death. Thank You for taking upon Yourself that which I will never experience because of Your grace. Thank You, dear Jesus, for being forsaken by the Father so that I might know His merciful and eternal acceptance. All praise be to You!
Postscript
From now on, therefore, we regard no one from a human point of view; even though we once knew Christ from a human point of view, we know him no longer in that way. So if anyone is in Christ, there is a new creation: everything old has passed away; see, everything has become new! All this is from God, who reconciled us to himself through Christ, and has given us the ministry of reconciliation; that is, in Christ God was reconciling the world to himself, not counting their trespasses against them, and entrusting the message of reconciliation to us. So we are ambassadors for Christ, since God is making his appeal through us; we entreat you on behalf of Christ, be reconciled to God. For our sake he made him to be sin who knew no sin, so that in him we might become the righteousness of God.
2 Corinthians 5:16-21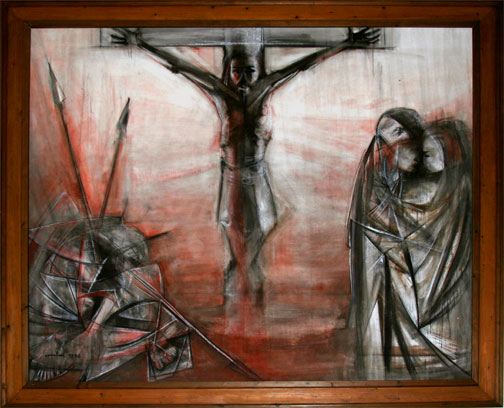 Painting from the Church of San Giuseppe (Saint Joseph) in Taormina, Sicily.