Part 7 of series: European Reflections 2006
Permalink for this post / Permalink for this series
One of the most beloved of plays written for children is Peter Pan, by J. M. Barie. It began with stories that Barie told the children of a close friend, Sylvia Llewelyn Davies. One of these children, Peter, gave Peter Pan his first name. His last name came from Pan, the god of the forest.
Barie set his original story of Peter Pan, not in some far away place called neverland, but in Kensington Gardens, a stunning park in London (next to Hyde Park). In fact, Barie's earliest story of Peter Pan is called, Peter Pan in Kensington Gardens. The first chapter is called, "The Grand Tour of the Gardens," and begins this way: "You must see for yourselves that it will be difficult to follow Peter Pan's adventures unless you are familiar with the Kensington Gardens." It was in Kensington Gardens that J. M. Barie first met members of the Llewelyn Davies family. And here he frolicked with the children, which inspired the writing of Peter Pan. (Photo: The Peter Pan statue in Kensington Gardens)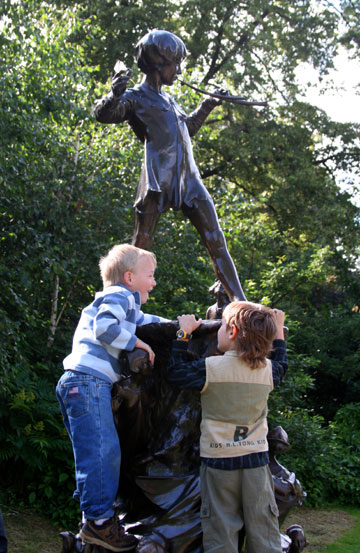 Kensington Gardens are wonderfully preserved today, filled with trees, flowers, and people of and shapes and sizes. One of the highlights of the Gardens is a statue of Peter Pan. When I visited this statue last month, I wasn't surprised to see that it a favorite of children.
Shortly after I snapped the picture to the right, the parents of the boy in the blue and white striped shirt determined that it was time for the family to move on. "C'mon, Jason, they called, we've must be going." But do you think Jason was willing to leave Peter Pan behind? Not on your life! His parents kept calling, but Jason wouldn't climb down. As I watched this spectacle, I thought to myself, "Now there are some parents that didn't think this through very carefully. They brought their son to Peter Pan. They let him climb all over Peter Pan. And now they think he's going to leave? Haven't they ever seen the play? Don't they know the power of Peter Pan." More than a century after J. M. Barie first wrote about this magic boy, he still charms.
So if you're ever in London, by all means visit Kensington Gardens. Be sure to find the statue of Peter Pan. But if you've brought your young children, look out.