Heaven recently gained one of the finest men I ever knew, Raymond Ortlund. No doubt about it, heaven's gain is our loss.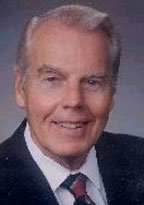 Ray had a broad and blessed ministry as a pastor, preacher, teacher, writer, and discipler. He served as pastor in several churches, including the Lake Avenue Community Church in Pasadena, California, where is preached for twenty years. Among Ray's numerous writings, Make My Life a Miracle is the most well-known. Written with his wife Anne, this book was originally published in 1974, and is still in print today. I actually read this book while in college, and was both challenged and encouraged by it.
After many years of pastoring churches, Ray became the Bible teacher for the Haven of Rest radio ministry, now known as Haven Today. Through his fine teaching, Ray touched hundreds of thousands of people. More recently, Ray was a leader in Renewal Ministries, traveling throughout the world to train and encourage pastors and other Christian leaders.
What I've just written about Ray only scratches the surface of his resumé. No doubt you can see why I've said that Ray's death is our loss. But my perspective on Ray's life has little to do with his official ministries. Other than reading Make My Life a Miracle and listening to a few of his radio broadcasts, I had little exposure to the official Ray Ortlund. Almost all of my experience of Ray was more personal.
I first got to know him through his family. His daughter, Sherry, was a member of my church, along with her husband, Walt, and their children. Ray would come to special services at our church, where we'd chat informally. I was impressed by his friendliness and kindness. He always had an encouraging word for me, usually two or three.
Knowing some of Ray's family closely, and others by reputation, I was impressed by what I saw. His children and grandchildren were fantastic people, some of the best saints on earth. I figured that Ray must be a fine man to have such an effective ministry and an excellent family. Pastors often find it easier to be great pastors and lousy fathers. Ray, obviously, excelled at both.
Most of my personal experience of Ray came, not through his family, but because we worked out at the same gym. For about ten years we sweated together. I noted with admiration how Ray was in such good shape for a man in his seventies, and resolved to try to take care of my body as he did.
During the decade in which Ray and I met in the gym, we had probably a hundred conversations. I'd ask him about his ministry, which usually involved trips to such exotic places as Mongolia. And he's ask me about my ministry. Time after time he'd offer words of affirmation. If I shared he particular frustration, Ray would be quick to empathize and offer welcome bits of wisdom. We'd always talk about Ray's family, especially his grandchildren. No grandfather was prouder or more in love with his grandchildren. And since I shared his admiration for them (the ones I knew, especially), Ray didn't hold back.
I never really knew Ray Ortlund the minister. But I knew Ray Ortlund the man, the father, the brother-in-Christ. I knew him to be a deeply loving man, one of the kindest and most encouraging people I have ever met. And I am not exaggerating here. Ask anybody who knew Ray, and they'll tell you the same.
Today, as I thank God for the life of Ray Ortlund, I am resolving to be more like him. I want always to have time to be friendly. I want to be quick with genuine words of praise and encouragement. I want to shine with the light of Christ, not only when I'm "on duty," but also when I'm just a guy on the stair-stepping machine at the gym.
Thank you, Lord, for Ray. I know you'll enjoy his company. I sure did. Please bless his dear family with your peace and comfort. Amen.