Excerpt
"If you then, who are evil, know how to give good gifts to your children, how much more will your Father in heaven give good things to those who ask him!"
Matthew 7:11
Click here to read all of Matthew 7:7-12
Prayer
Dear Heavenly Father, I do like giving good gifts to my children. I love seeing their delight when they receive them. And I continue to enjoy watching them use their gifts. So I can relate to this verse, Lord, from my own experience.
Thank You for the encouragement to ask in prayer. I do indeed ask You for all sorts of things, of course. But do I ask for my heart's desire? Do I lay before You my deepest hopes and dreams? Not often, I fear, not often enough. There are too many times when I hold back, almost afraid to tell You what I'd really like to say. So, again, thank You, dear Lord, for the encouragement to ask. I need it.
Thank You also for this picture of a Father in heaven whose goodness so outstrips my own. This gives me the courage and confidence to come with my true needs in all of my awkward neediness. What a privilege it is to come before You, dear Father, as Your beloved child!
Postscript
One of my favorite gifts that I've given one of my children was a cradle I made for my daughter. When she was getting ready to turn three, Kara had all sorts of dolls, but no place for them to sleep. So I made a simple pine cradle, laboring at night so she wouldn't catch me making it.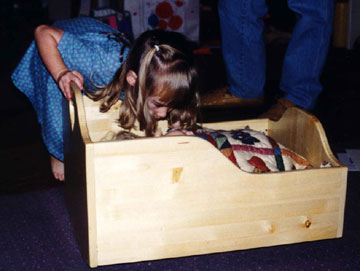 On her birthday I put a big bow on the cradle and presented it too her. She took one look, and started to tear up. "It's not wrapped!" she cried. "Wait one minute!" I said, running out of the room. I found some wrapping paper, and quickly covered the cradle.
When I presented it to Kara, she acted as if she had never seen it before. Unwrapping the cradle, she was thrilled. And so was I. (And also relieved and thankful!)
I wonder sometimes if we have a hard time receiving God's gifts because they don't come in the form we expect, with the right wrapping paper, if you will.
Pray the Gospels
Today's inspiration comes from one of my devotional websites, Pray the Gospels. The other is called Pray the Psalms.