Hit "Like" to share with your friends!
THROWBACK THURSDAY: Darrell Waltrip
Darrell Waltrip is not just one of NASCAR's living legends. He's a cultural icon. Over a 29-year career, the patriarchal figure won three Cup championships, 84 Cup races (including 1989 Daytona 500) and 13 Busch (now Nationwide) Series races. These days, he's equally famous for his work on Fox Sports and the Speed Channel as a race analyst and the creator of such recognizable phrases as "Boogity, boogity boogity! Let's go racing boys!"
Did I mention his role as announcer Darrell Cartrip in the Pixar classic Cars (and its forthcoming sequel Cars 2)? If he wasn't a household name before, that surely puts him over the top. Still, Waltrip would much rather be known for some other things: His life as a devoted husband, father and follower of Christ.
I had a chance to sit down with Waltrip in his motor coach at last October's race in Kansas and here's what he had to say about the next generation of Christian drivers, the story behind Motor Racing Outreach and his unique relationship with the late Dale Earnhardt:
Bonham: What are your thoughts on some of the young drivers who are becoming more vocal about their Christian faith?
Waltrip: At some point, we've all realized there's a lot more in life than just winning races. I hear that a lot. As I was becoming successful, I'd listen to other athletes and they'd say, "Well I had it all, but there was something missing." There's always that, "There's something missing." It's that void you have in your life when you don't know the Lord. You're real selfish and everything is focused on you and how you feel until you realize there is something missing and that's your relationship with Jesus Christ. It takes time. But I hear some of these young drivers like the Allgaier kid, Justin. He's a strong believer. Michael McDowell is another strong believer. It's the same thing with the two Childress grandkids, Austin and Ty (Dillon). When Austin won the race at Vegas and got out of the car and said he wanted to thank the Lord. That's exciting to me because these are young men. I didn't think about that until I was pretty far down the road in my career. I didn't think about giving the Lord any glory at all. It's exciting to me when I hear young men in this sport that give the Lord the credit for their success.
Bonham: What do you know about the historic and longstanding connection between NASCAR and the faith movement?
Waltrip: My wife (Stevie) and I decided we were going to start a Friday night Bible study along with Lake Speed and his wife Rice (pronounced Ree-suh) and Bobby Hillin and his wife Kim. We started praying that the Lord would bring us someone that would be an ordained minister that was credible and someone that would be a good representative of a ministry. Lo and behold in our praying, the Lord brought us Max Helton. Max was out in California. In 1987 he came to a race at Riverside. Stevie was in the car reading a book and he came over and pecked on the window and asked if he could visit with her and he told her that the Lord had called him to move back East and start a racing ministry. We were blown away because this is what we'd been praying. That's how we met Max. Eventually he moved to North Carolina. He had a church out in California. He had a wife and children. It was a big leap of faith for him. But that's always what he'd wanted to do and what he felt like he was called to do. He moved back and helped all of us start Motor Racing Outreach.
That was the beginning of what we have today. Everybody loved Max. He was a great guy, a great teacher. He walked up and down the coach lot and he'd knock on the door, come in and sit down and ask for some ice cream or he'd ask what was going on or if he could pray with you. He created what he called a hangout ministry. At the track you just hang out. His vision was that when you're at the track, you just hang out with the guys, and when you have the opportunity you give a profession of faith or talk about the Lord. He really is responsible for the ministry that we have today. Then the six of us created a board and raised funds. I went to NASCAR and introduced him to Dick Beatty and Les Richter and Bill France and those guys and told them, "This is the guy we want to represent us as a chaplain." They said, "As long as the drivers want you here, we want you here." That was the beginning of Motor Racing Outreach.
Bonham: From a ministry standpoint, isn't NASCAR a completely different environment than most other sports?
Waltrip: I think overall, one of the mistakes that has been made with this sport is when you try to make it like all the others. It's never been that way. It's unique in a lot of different ways. It's 43 teams on the field at one time. The ministry is the same way. This is a Southern sport. It's a Southeastern sport. That's where it grew from. That's the Bible belt. Most drivers have always had their wives and their kids and everybody at the track with them. So it's a different environment. This has usually been a core group of guys that are pretty stable in their lifestyles. They're family men. The opportunity to worship and to have a ministry has been a whole lot easier in this environment than it would be in any other professional sport I can think of. Plus every guy here for the most part, even guys that aren't strong believers, they still like to know that there's a chaplain on duty. There are people around that can help you, pray with you and witness to you. If something happens and you're in the hospital, it's good to see somebody that knows the Lord standing beside you. It's a little bit different environment than you'll find in any other sport and I think that's why the ministry has been so successful over all these years.
Bonham: And this isn't by any means a sanitized environment either, is it?
Waltrip: There's nothing pretentious about this crowd. Not at all. What you see is what you get. Guys that are strong believers, they still smoke and drink and like to have a good time. But if you look at what MRO has been able to do, our presence here every week with the community center, the Bible club for the kids, I mean it is truly like having a church at the track. And all of us miss going to church. I can remember when I first started driving. Stevie has always been a strong believer and she hated it because we were always at the track on Sunday and away from our home church. That was another motive for us to create an environment with MRO to where it would be like your home church so that on Sunday when the drivers meeting is over, we have chapel service and we sing, we pray, it at least had that feel of going to church. You didn't feel like a total non-believer because you didn't even try. The Bible club and everything we've done with the kids over the years, there have been kids who have gone back to their motor coaches after the race or on their way home and led their moms and dads to Christ because of what they learned in Bible club. Kids would really put their moms and dads on the spot.
Bonham: As other sports have gotten away from public expressions of faith and now even high schools have shied away from things like pre-game prayer, do you ever worry that the political correctness of our society is ever going to catch up to NASCAR?
Waltrip: One of the things about MRO is that we're very low-key. We're not out here beating on doors, toting our Bibles around. We're very low-key. We're very laid back. We're here and everybody knows we're here, and if you need us, that's what we're here for. But we're not out promoting. Our chaplains go through the garage and most of the drivers know the chaplains and they know who is with MRO and who isn't. If they need something, then they will ask. We let them know about our Sunday service. We let them know about any Bible studies. Certainly everybody knows about the family community center. We try to blend in. We're not here to make a "look at us" statement. We never have been. That's never been who we are because we do understand and we do appreciate the fact that we're able to mingle in the garage and do what we do without a lot of problems.
Bonham: And what about more public things like the pre-race prayer? Will that eventually become a problem for NASCAR?
Waltrip: I don't know why it would be unless somebody just wanted to create a problem. Most people just realize that's who we are. This is who we are. That's what I like about our sport and our leadership. If you don't like it, don't come. This is what we do. This is the way we race. This is the way we officiate. This is the way the sport is run. This is who we are and if you want to be a part of it, we're glad to have you and we want to have you. But whether its drivers, owners, crew chiefs or crew members, don't try to come in here trying to change us.
Bonham: So ultimately is the reason for NASCAR strong commitment to the faith community simply because of the sports roots?
Waltrip: Yeah. Definitely. Definitely. It's a tradition. These are the things we've always done. We've done them 60 odd years now. It's worked just fine up to now and it no reason it shouldn't continue another 60 years.
Bonham: Where else would you be able to see a guy like Morgan Shepherd do his thing with the Jesus car?
Waltrip: Yeah. He's 69 years old and still out there trying to make a living.
Bonham: And again, where else could you see such a strong public expression of faith in the sports world?
Waltrip: Well, you've got Tim Tebow and what he did in college football. There are places where people seem to accept it and say it's okay and there are other places where people are saying, "What's the deal here? What's going on?" This is a dangerous sport. If you're going to have a relationship and walk pretty close to the Lord, this is a pretty good sport to do it in. Up until the last few years, you could get killed doing this. I've had a lot of people tell me, "I'm just not ready to give it up. I'm not ready to do that yet. I'll (accept Christ) when the time comes." I always think of a couple of examples and Dale Earnhardt is one of them. Do you think in a blink of an eye he had time to say, "Lord, forgive me?" At 180 miles an hour, he wasn't thinking about that. I think everybody in this business knows that you need to keep your house in order because you never know who's going to knock on the door.
Bonham: Larry McReynolds told me a story about your wife putting a scripture in your car for every race and how Dale Earnhardt started asking for her to give him a scripture too. What was the scripture she gave him the day he died?
Waltrip: It was Proverbs 18:10. "The name of the Lord is a strong tower and a rock. The righteous will run to it and be safe."
Bonham: And he had really come to expect a scripture every week.
Waltrip: Oh yes. He insisted on it. He'd get out of his car and go looking for Stevie if he didn't have it.
Bonham: Was that a surprise to you?
Waltrip: It probably would surprise a lot of people, but there was a side to Dale that he kept to himself. He didn't want anybody to think he was a softie. He was "The Intimidator." There was a side to him that he didn't let a lot of people see. My wife and he had a great relationship. She prayed with Dale. Dale and I prayed together a lot. We were competitors and we competed against each other as hard as anybody could compete, but we still had a great deal of respect for each other.
Bonham: You guys got after it pretty good.
Waltrip: Oh yeah. We had our moments.
Bonham: People probably thought you hated each other.
Waltrip: I always like to say we were "frienemies." We were friends part of the time, and enemies part of the time. When we were friends, we were really good friends. When we were enemies, we were good enemies.
Bonham: Is the danger of the sport the other X-factor as to why drivers are so dialed in to the need for faith in their lives?
Waltrip: Yeah. The last few years they've made the cars so much safer. The tracks are safer. Guys are getting' shaken up now and then. But up until 2001 when Dale got killed, you could get killed in one of those things and we all knew that. Every time you got in that car, there was no guarantee you were going to get back out. It hasn't been like that so much lately. That still doesn't mean guys don't feel like they need to have a profession of faith. I'm just saying there's a bigger comfort zone in driving these things than there has been in the past. Getting hurt is part of it, but the other part is performance, being on the right team, keeping your job, keeping the people around you happy. There's a lot of pressure, and that pressure sometimes will get to you if you're not careful.
Bonham: So why then do these guys ultimately show up for chapel every Sunday?
Waltrip: For the most part, I think its encouragement. If your down and you're struggling, you need to hear those words of encouragement. If things are going well, you want to be sure that you're doing what you should be doing biblically. That's one thing that makes this community strong. It's how we do encourage each other and how we do lift each other up and how if there's tragedy, everybody rallies around each other. Spiritually, that really helps us all bond closer together.
Come back tomorrow for the Friday Feature with St. Louis Cardinals MVP and All-Star first baseman Albert Pujols.
For years, Christian athletes (especially those at the professional level) have been plagued by the notion that their faith inherently makes them "soft" or perhaps less interested in winning than their non-religious teammates.
I've talked to many professional athletes about this idea and the responses have been fairly uniform. I'll share some of those thoughts in the near future (as well as comments from Lance Berkman, Albert Pujols, Jeremy Affeldt and others) in my personal response to the question, but for the next few days, I want to hear from you.
Please post your thoughts on this question: Should Christian athletes care about winning?
Looking forward to seeing what everyone has to see. — cb
Join us tomorrow when we'll hear from legendary LPGA golfer Betsy King and how her foundation "Golf Fore Africa" is making a significant impact.
The Mavericks and the Heat kick off the NBA Finals Tuesday night in Miami followed by the first game of the Stanley Cup Finals Wednesday night between Boston and Vancouver. Add baseball, NASCAR, Indy Car and golf to the mix and it's easily one of the sports world's busiest times of the year. For your Memorial Day enjoyment, here are few inspirational sports stories from this past week:
Hamilton puts second pitch out of the park
It was a week ago today when Texas Rangers outfielder Josh Hamilton got back on the field for the first time since an injury that occurred on April 12 as seen in this video clip here.
Hamilton didn't waste any time getting back into the swing of things. On just the second pitch of his first a bat, he lined a homer over the right field wall in a home game against the Chicago White Sox. When asked about how he intends to deal with future sliding situations, he responded to reporters this way:
"Somebody asked me the question of 'How much longer can you play?' I said however long God has planned already for me. For me, He gave me the ability to play the game a certain way. It wouldn't be giving Him glory and doing Him justification of that, if I didn't do it the way I need to do it. I'm going to play hard."
Bayne stays positive during recovery; Kenseth fills in for Charlotte win
It's been a wild ride for NASCAR driver Trevor Bayne. After becoming the youngest Daytona 500 winner back in February, he struggled in his next seven Sprint Cup races. Even more bizarre was an illness caused by a spider bite that hospitalized the 20-year old following the Texas race and then again following Talladega. Bayne hasn't raced since including several Nationwide Series races where he was competing for a championship.
This past weekend in Charlotte, Cup veteran Matt Kenseth took Bayne's place in the Nationwide race where he won the Top Gear 300. Bayne, who went to a battery of tests at the Mayo Clinic, has been cleared and is slated to return to his Nationwide car at Chicago in two weeks. He will get back behind the Woods Brothers #21 Sprint Cup car on June 19 at Michigan.
Check out what the irrepressible Bayne had to say about his time away from racing here.
Broncos safety finds possible future career as substitute teacher
While the NFL owners and players struggle to end the lockout, some players are finding some interesting ways to pass the time. Along with his personal training regiment, Denver safety David Bruton is working in Miamisburg, Ohio school system as a substitute teacher. While hanging out in his hometown working out, Bruton's old prep coach Tim Lewis suggested it as not just something to do, but as a way to try out a possible career path after his football days are done.
"With the second graders, the discipline is more gentle," Bruton told Fox Sports Ohio. "If they start to act up, I can bribe them a little bit to get them back. It's different with the high school kids. I can't be afraid to stand up tall and let them know I mean business. It's definitely been a different experience, but it's been a good one. I have a new respect for all teachers."
Tomorrow, join us for another Hot Topic Tuesday that asks the question: Should Christians care about winning?
Friday Feature: Ryan Merriman
Some of the hardest films to watch are those that deal with real life tragedies. Such is the case with the new film The 5th Quarter starring Aidan Quinn, Andie MacDowell and Ryan Merriman. The 5th Quarter tells the true story of the Abbate family and how their teenage son Luke's untimely death inspired the Wake Forest University football program to accomplish the unthinkable.
Check out the movie trailer below: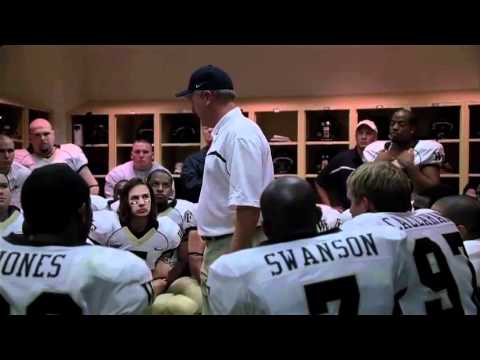 Ryan Merriman is best known for his roles in such movies as Final Destination 3, The Ring Two, Home of the Giants and The Deep End of the Ocean as well as his current role in the TV show "Pretty Little Liars." As one of the lead actors in The 5th Quarter, Merriman plays former Wake Forest football player Jon Abbate. In an interview with Inspiring Athletes, he talks about his Oklahoma roots, why Hollywood hasn't changed him, and how being a part of this film had a profound impact on his outlook on life:
Bonham: Tell me a little bit about your new movie The 5th Quarter.
Merriman: It's a football movie but really it's a story about the Abbate family and the loss of this son and how they come back from it. Then it switches to the football thing. It's a good old Rudy kind of football movie. But our film dives into a more emotional thing that comes with the loss of a son. My character Jon (Abbate) really goes to a pretty bad place. He deals with alcoholism. He's not in a good place, but he overcomes it through his faith and through his family and coaches and teammates. He also gets with a trainer who changes everything for him. This trainer puts him on a different kind of workout using boxing and circuit training. It switched it up for him and when he came back, he changes his number to #5 to honor his brother.
Bonham: Talk about the unusual circumstances that surrounded Jon's team at Wake Forest.
Merriman: That year, Wake Forest was ranked last. They weren't even supposed to win a game in 2006. Within the first couple of games, their starting quarterback got hurt and then the starting tailback got hurt. Jon really fought through that. His parents sat in seats four and five in the fifth row. It was all about playing for two. That's what my trainer (Steve) Uria (who played himself in the movie) told me. You've got to play for you and for Luke. Every fourth quarter, Jon would hold up five fingers along with his mom and dad. They kept winning in these weird ways like punt returns or interceptions or blocked field goals. Towards the middle of the season, the teammates started holding up five fingers for Luke. Towards the end of the year when they went to the ACC Championship, every one in the stadium was holding up five fingers for Luke. It was pretty amazing. The director (Rick Bieber) got all of the rights to the ESPN footage so a lot of the game footage is the actual players and the actual fans honoring the Abbate family at that moment.
Bonham: What did you learn about Wake Forest football and how a smaller school competes against such difficult competition in a tough conference like the ACC?
Merriman: The team was more of a team. It wasn't some juggernaut. They really depended on each other. They had meetings and talked it out with parents each week about what was best for the team and what was best for the school. Everybody is personally involved over at Wake Forest and they were all personally involved in making the film. We got to use their facilities. We used the field. We shot some footage during halftime of the games. It was a very special project and I think it's going to do really well.
Bonham: Having been in a couple of basketball movies, how did you prepare differently for your role as a big time college football athlete?
Merriman: I was actually training for a rugby film prior to this, which worked out perfectly. God works in mysterious ways I guess. That fell through and then I got this audition and I was already in pretty good shape. I packed on about 10, 15 pounds and they put me through it. I had a trainer every day, a meal plan and I was lifting big. You'll see it in the movie. I got pretty darn big. It was fun. I ate a lot of steak and drank a lot of Guinness.
Bonham: How did vicariously living out the Abbate family's tragic circumstances inspire you?
Merriman: We tried to honor their story. It was tough for them to see it, but it was also therapeutic in some ways. I sat with Jon in North Carolina and it was the first time he'd watched the whole thing. The first 20 minutes of it are so hard (to watch). It's hard on everybody. It's the car accident, the funeral, everything. It put life in perspective for me. When you meet a family that's been touched by something so terrible, you kind of step back for a minute. You call your mom and dad and tell them you love them. That's how I felt. I got a richer outlook on life after working with them and meeting them. But I didn't want to know them too well when I was working. I wanted to be my own. Rick knew the family but I didn't really hang out with Jon that much when we were working. It can get confusing. They're still affected. It just happened in '06. There's not a day that goes by that they don't think about Luke and I don't know if there ever will be.
Bonham: What did you take away from the family's unshakeable faith in God?
Merriman: This kind of tragedy can fracture a family's faith. But the mom (Maryanne Abbate) had her Bible and her preacher there. The first thing she did in the hospital room when (Luke) was in a coma was start praying for him and reading his favorite passages. My character took a different route. The family leaned on their faith but my character rebelled a little bit. But then he comes back through the love of the mother and the father. Jon did go to a dark place. That's what makes the movie so good. It's real.
Bonham: Some filmmakers succumb to the temptation of watering down a true story's faith element. Are you pleased that this didn't happen in your film?
Merriman: The family had a huge part in this and that's what Rick wanted. The story was so rich as it was. There was no need to Hollywood it or sugarcoat it. That's what we all tried to do. And with some of the stuff we did, we were like, "Did they really do this?" Yeah. They sat in this room for 24 hours straight and prayed. We were like, "Wow! That's crazy."
Bonham: So this is a fairly accurate portrayal?
Merriman: Yes. Definitely. I would say 98 percent of it.
Bonham: What was it like working with seasoned actors like Andie MacDowell and Aidan Quinn?
Merriman: It was great. It was a breath of fresh air. I could just walk in and do the work. Andie is so sweet and so beautiful. She's such a great person. Aidan has always been someone that I've looked up to. I know his work and he's worked with the best. That was really cool. We hit it off really well. We're both big golfers. When we weren't working, we were doing the father and son thing on the town. I spent more time with Aidan than anybody on the whole crew. We'd go out to eat or walk around downtown. If we had a free couple of hours, we'd go play some golf. We really formed a friendship that I'll probably have forever.
Bonham: Did your Southwest roots and strong family background help you dive into this role?
Merriman: Of course. I think it was definitely a perfect role for me. I come from a good family. I come from a faith-based family. I played football growing up in junior high and high school. That gave me a step ahead of everybody else. If I was some surfer kid from Malibu with a single father, it might not have worked out so well. But it was definitely a good place for me to be.
Bonham: Why do you come back home to Choctaw, Okla., so often?
Merriman: It's what makes me happy. I live out there but I love coming home. I love all my friends here. My family is here. My dogs are here. I come home once a month probably. It's kind of sad actually (laughs). I'm like a little kid. "Mom, I miss home. I miss the dogs." I still stay in my old room or I stay with a buddy. Now I'm grown up and I know who I am in the world, but living here is what's helped me stay true to who I am. I graduated from public high school. I went to the prom. I did it all. But I also worked on 30-million dollar movies with roller coasters and Michelle Pfeiffer. It's been a very interesting and blessed life for sure. I think a big part is that I was normal. When I wasn't working I was cutting down trees on my dad's land and going fishing with my buddies.
Bonham: On the flip side, is there a danger to getting too caught up in the Hollywood lifestyle?
Merriman: I guess it all depends on how you're brought up. Some people just like to chase that stuff and I could care less I guess. That's pretty much it. And everybody that meets me is like, "You're like a real person" and I'm like, "Yeah!"
Bonham: Have you had people try to convince you otherwise, that you should buy into the Hollywood thing more than you do?
Merriman: I'll tell you how I feel and anybody that knows me knows that you're going to know who I am and what I'm about within about 10 minutes. A lot of people either figure that out real quick or they know not to even bother with it.
Bonham: So that laid back approach isn't hindering your career?
Merriman: No, no, no. I'm all good. I'm having a great time. I'm hustling and doing little projects here and there. The TV show is doing really well and I'm just waiting for the next big one. That's just how life goes.
Bonham: You go back and forth between television and film quite regularly. That used to be pretty unusual but it's obviously working well for you.
Merriman: That line got washed away a couple years ago. When the economy dropped, the stability of TV really attracted a lot of film actors. It just changed. Now there are no lines. Heck, I just did a "Funny Or Die" with some big actors. It's all about doing work, being creative and staying true to who you are and having fun. That's what us actors are all about.
Next week on Inspiring Athletes: the Inspirational Sports Report, interviews with Albert Pujols and Darrell Waltrip, a special tribute to John Wooden and much more!