Click "Like" to share this with your friends!
He's not your typical, brash young gun that NASCAR has become accustomed to of late, but that doesn't mean David Ragan is devoid of passion for the sport or a desire to win races. Ragan has been turning heads since racing in the ARCA series and then winning the Nationwide (formerly Busch) Series Rookie of the Year honors in 2007.
Now in the Roush-Fenway #6 Ford made famous by Mark Martin, Ragan is ready to make a statement of his own including an impressive first Sprint Cup victory at the 2011 Coke ZERO 400 in Daytona. Here's the transcript from my interview with Ragan where he talks about starting young, taking over for Martin and how his faith keeps his feet on the ground:
Bonham: Like a lot of drivers, you got a young start in racing. What role did your family play in the early part of your career?
Ragan: My dad was racing when I was real young. I've always been around race cars. My father and my uncle owned a Chevrolet dealership and a parts store so I was introduced to race cars and to parts and the mechanical side of things at a pretty young age. Dad was still racing so it was difficult for me to start racing until he slowed down and that was about the age of 12. Back then it was a hobby. It was a family event. We could go out on the weekend and spend family time together. Most families have different activities whether it's going to the mountains or going to the lake. Ours was going to the racetrack. It started out strictly as something we were doing for fun. We were very competitive but we had a good time with it.
Bonham: When you hit the NASCAR scene as an 18-year old, was it overwhelming competing against stock car racing's elite?
Ragan: It was a little bit intimidating but I had a lot of confidence. I thought that just because I was a good legends car driver or a good late model driver that I could come out and be a successful NASCAR driver just right off the bat and it didn't work that way. I was introduced to a lot more challenges than I knew were out there. I basically had to learn from a lot of good experiences and bad experiences. That's what these last few years have been about.
Bonham: How much pressure did you feel back in 2007 when you took Mark Martin's spot in the #6 car?
Ragan: We were looking at it from two different sides. You're getting into a first class ride. We knew our engines were going to be good and our chassis were going to be top notch. That gave us a lot of extra confidence. But at the same time, you're hopping into a car that no one else has driven in the past 15 years. On one hand, it was a lot of pressure, but on the other hand, being surrounded by the good people and the good technology at Roush Racing were things that made my confidence grow.
Bonham: What can you take away from following the career of a guy like Mark Martin?
Ragan: Mark's a racer. He's got the never-give-up attitude. He's a guy that really understands these race cars. I think that means a lot. Mark can make good suggestions to the crew chief. He understands what's going on. He's got a lot of drive for his age and I think that's very important—to have that kind of passion for what you do. It just makes things a lot easier during a tough weekend. Character and good work ethic are very important in this garage and that's why he's been here as long as anyone has and that's why he can write his story for whatever he wants to do for the rest of his life. You need to say and do the right things and good things happen to good people. Mark is certainly a good guy.
Bonham: Tell me a little about growing up Southern Baptist in Unadilla, Georgia.
Ragan: My grandparents and my mom and dad were great influences. I was very fortunate to have good family values and a lot of good people teaching me throughout the years. I grew up in a church that helped me have confidence in the Lord to work through tough situations. This world's a tough place to live in and you have to have something to fall back on. Certainly, my parents were a big part of that and people in our church community were always there when things were tough. At the end of the day, it's up to me to get the job done but it's always nice to have someone to help you get through the tough week.
Bonham: How has your faith in God helped you navigate the ups and downs of this sport?
Ragan: There were a lot of tough nights when we only had one race car and I tore it up and we didn't know if we had enough funds to keep racing. We were really close to catching our break before the "Driver X" show. That's when you have to ask the Lord for some help and some guidance to do the right thing. A lot of times it's tough to make the decision on your own. You know what you want to do and it always helps to have someone to rely on to help you out. I can remember some tough nights where I was questioning myself. "Can I really drive?" or, "Is this the right thing for me to do?" But at the end of the day, a lot of prayers were answered and certainly things worked out for the good.
Bonham: As a regular attendee of Motor Racing Outreach chapel services, how has that ministry blessed your life?
Ragan: It's tough to have any type of normal worship service or anyone that you can go to and ask those tough questions because of our travel. I think it's great that Motor Racing Outreach and the people involved put out the effort to work with our busy schedules. A lot of drivers and their families count on them every weekend. It's been a blessing for us. My father was around the sport when MRO was introduced back in the '80s. It's a good thing to know that they're there for you throughout the weekend whether you're in California, New Hampshire or Daytona.
Bonham: How have you benefited from having a teammate like Matt Kenseth?
Ragan: Matt's a very smart racer. There are a lot of guys out here who can go fast. There are a lot of guys out here who can hold on to a fast race car. But Matt's a smart guy and whether it's a bad day or a good day, he can always find a way to end up towards the front at the end of the race. He's a guy that I can learn a lot from and he has a reputation for how he acts on and off the track
Bonham: What are your long-term goals in this sport?
Ragan: I want to enjoy myself and enjoy the challenge. I love to compete at the top level of NASCAR. I love my job. I love what I do. I'm very fortunate that God has given me the strength and the courage and the people around me to help me do what I do. As long as I have that kind of attitude and it's still fun to be away from home 40 weekends a year, hopefully I'll be here at Roush-Fenway Racing for a long time.
Follow David Ragan's career by checking out his official website here.
Hit "Like" to share this with your friends!
New York Yankees first baseman hit his 300th career home run today in a 5-0 victory against the Milwaukee Brewers. Check out the milestone bomb by clicking here.
Teixeira has 25 homers on the season and is now the 130th player in the Major League Baseball history to reach that impressive milestone. He ranks 20th among active players.
I've had two opportunities to speak with Teixeira. In my most recent conversation, he spoke about his committed belief in Christ and how that relationship helps him on the field:
"I think that having a relationship with Christ makes me a better player," Teixeira said. "It allows me to handle situations better. It allows me to treat people better and it allows me to have a better mental attitude towards baseball. I'm not going to kill myself when I don't get a hit and that makes me better. Because when you put too much pressure on yourself, it's harder to play."
We'll have the full transcript of that interview next week.
Hit "Like" to share this with your friends!
SPECIAL REPORT: Kevin Durant dunks his own alley-oop
Oklahoma City Thunder All-Star Kevin Durant isn't stressing out about a potential NBA lockout. He's having too much fun participating in multiple camps this summer in Chicago, Oklahoma City and Austin. Durant just finished up at a three-day NIKE Skills Academy and now moves on to OKC and his old college town where he played one season for the Texas Longhorns.
A week earlier, Durant made news during a vacation trip to Los Angeles where he played in the legendary Drew League Pro-Am. If you haven't seen it yet, here's the "Durant to Durant" alley-oop play that everyone has been talking about: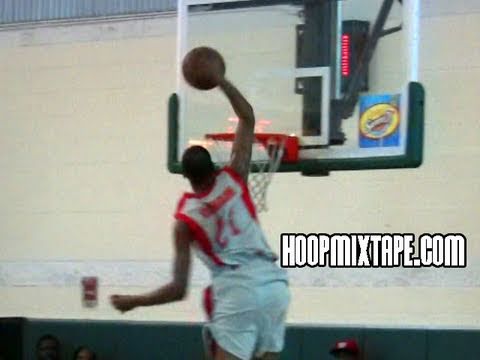 And if you missed it, Inspiring Athletes posted an interview a few weeks back with Durant that you can check out by clicking here.
Hit "Like" to share this with your friends!
GOOD WORKS WEDNESDAY: Dwight Howard bowls for charity
Last weekend, Orlando Magic center Dwight Howard hosted a bowling event to raise funds for his new charitable group, the D12 Foundation. When asked about a potential NBA lockout (something PR reps had requested reporters not ask), Howard did what Howard does best. He turned the awkward moment into a joke.
"I'm not worried about the lockout," Howard said. "I have two jobs in place. One, I've been training a couple of chickens in my backyard. I have a miniature treadmill. I have some steroids for the chickens, and we're going to do cockfights. So I might do that. The other one is I've been also training for curling. So I'll be in Canada and Montreal with the curling team up there. So, yeah, I can't wait."
But Howard is dead serious about the D12 Foundation, which hopes to raise money for a children's hospital and the non-profit BETA Center for teen mothers, both based on Orlando.
About five years ago, Howard (kicking off his third year in the NBA at the time), told me in an interview that his parents were instrumental in shaping his desire to impact the lives of others. His mother miscarried seven times before he was born. That fact has also played a role in Howard's outlook.
"I'm really thankful to be alive," he said. "If you get to know me, I'm a person that's always smiling and always joyful and I've been that way since I was born because of the struggles I went through. I was supposed to be number eight that died so I'm always thankful. My mom and dad have always been there. We prayed almost every morning. We had a great foundation at home and it carried on over to school and it carried on over to basketball and it will help me for the rest of my life."
To watch a video about Howard's event, click here.