There's something about horror movies that delivers an audience.  Teenagers, and young adults in particular, rush to see the latest "scary movie" meant to frighten and capture their imagination once the lights go dim.  This genre has become one of the most successful and lucrative in Hollywood, ensuring that these types of films will continue to be produced and released in theaters.
What may be surprising is that the horror genre is also vast, and diverse.  There are certainly films within this genre filled with senseless violence and gore, however there are also movies produced under this banner that portray spiritual warfare and the need for faith and prayer.
These films aren't thought of as faith-based and yet, they pack a powerful and perhaps the strongest message of all – that evil is not only real, it will do anything to destroy us, but God will always be there to protect and redeem those who turn to Him. Here's a list of 5 horror movies that re-affirms a message of faith.
The Nun
"The Nun" is the latest film in the "Conjuring Universe," one of the most successful horror franchises in recent history.
Synopsis:  When a young nun at a cloistered abbey in Romania takes her own life, a priest with a haunted past and a novitiate on the threshold of her final vows are sent by the Vatican to investigate.  When they arrive, they discover the ancient abbey to be a battleground between the supernatural forces of good and evil.   Risking not only their lives, but their faith and their very souls, they confront a malevolent force in the form of the same demonic nun that first terrorized audiences in "The Conjuring 2."
All films in the "Conjuring Universe" have a theme of battling evil, the need for faith, and the power of prayer, and it looks like "The Nun" will continue to portray these themes onscreen.  The movie releases in theaters this Friday, September 7.
For a sneak peek, check out this recently released featurette from the film.
A Quiet Place
"A Quiet Place" was the surprise hit of this year.  Fan-favorite John Kransinski directed and co-starred in this film alongside his wife Emily Blunt.
Synopsis: If they hear you, they haunt you. In this thriller, a family must navigate their lives in silence to avoid mysterious creatures that hunt by sound. Knowing that even the slightest whisper or footstep can bring death, Evelyn (Emily Blunt) and Lee (John Krasinski) are determined to find a way to protect their children at all costs while they desperately search for a way to fight back.
Critics hailed "A Quiet Place" when it released earlier this year.  For those looking for a horror film without supernatural elements, this is highly recommended, along with its themes of family values and sacrifice.
The Conjuring
Written by Christian screenwriters, Chad and Carey Hayes, "The Conjuring" was the movie that launched a successful franchise – with the latest previously mentioned, "The Nun."
Synopsis:  Before there was Amityville, there was Harrisville. Based on a true story, "The Conjuring" tells the horrifying tale of how world renowned paranormal investigators Ed and Lorraine Warren were called upon to help a family terrorized by a dark presence in a secluded farmhouse. Forced to confront a powerful demonic entity, the Warrens find themselves caught in the most terrifying case of their lives.
Critics also praised this film when it released in theaters.  The movie portrays a family plagued by evil.  It's terrifying, but also pointed in its message that God is always more powerful than evil.
Dracula
Bram Stoker's "Dracula" directed by Francis Ford Coppola features an all-star cast that includes Gary Oldman, Keanu Reeves, Winona Ryder, and Anthony Hopkins.
Unlike other vampire movies depicting this famous monster, this 1992 film version begins with a heartbreaking backstory.  It portrays the devastating spiritual and physical consequence of anger, rebellion, renouncing one's faith, and committing sacrilege against God.
The film which won three Academy Awards, weaves Christian symbolism throughout, and serves as a cautionary tale against giving in to evil.
The Exorcist
"The Exorcist" needs no introduction. To this day, the film, which won two Academy Awards, continues to terrorize audiences. Folks who haven't seen the doorway of a church in many years find themselves sitting in a pew shortly after watching this movie.
Synopsis: Nominated for ten Academy Awards, including "Best Picture," "The Exorcist" was controversial and extremely popular from the moment it opened in 1973.
This is the frightening and realistic tale of an innocent girl (Oscar-nominated Linda Blair) inhabited by a terrifying entity, her mother's frantic resolve to save her (Ellen Burstyn in her own Oscar-nominated performance) and two priests—one doubt-ridden, the other a rock of faith—who come together in a battle of ultimate evil. To this day, "The Exorcist" leaves viewers breathless.
As with any film, it's a good idea to research content and discern before you watch it, however if you or someone you know likes a good scare or horror movie, these options will not only fit the mold, it reinforces the importance of faith and prayer.
When most people go to church, they do not expect to find a Grammy Award winning artist speaking to them about faith, but that is exactly what happened at Pastor Rich Wilkerson Jr.'s megachurch, VOUS Church, in Miami, Florida. The topic was "Joy Through Sacrifice," and the guest speaker was Christian rapper Lecrae.
The artist began his talk with a prayer and the Bible verse Hebrew 12:2, "Fixing out eyes on Jesus, the pioneer and perfecter of faith. For the joy set before Him, He endured the cross, scorning its shame and sat down at the right hand of the throne of God." Lecrae also made sure his audience had a full disclaimer when he took the stage. "A lot of you know me as an artist. I have no idea why they let me preach," he joked, "but we're going to figure this out."
Lecrae shared several personal stories from his past, including how he was molested at the age of seven. He detailed how he went astray as a young man before finding faith in Jesus and setting out to have a successful career in both Christian and mainstream music. He became increasingly interested in social justice and racial issues as he grew older, but as he became more vocal, he realized that not all of his fans would agree with his opinions.
"I was about to learn a very powerful lesson," Lecrae said. "If you live for people's acceptance, you will die from their rejection."
Lecrae certainly faced his share of rejection. In addition to losing social media followers and fans, he and his family received death threats. Lecrae said he felt so abused and rejected that he developed depression, nearly abandoned his faith entirely and contemplated suicide.
"I was in a really dark place, my faith was messed up," he said. "At the end of the day, I had to realize that these are frail, fallen people, not God Himself [who are] doing all this crazy stuff." The rapper allowed his pain to lead him back to God and His plan. "I had to embrace that trauma and let it mold me into someone new," he said. "The shift is being willing to die to whatever we were before the pain to birth the person that we [are] becoming. That shift is when we're too attached to who we've been that we're held back [from becoming] who God wants us to be."
Lecrae ended his sermon to the millennial-dominated church with a warning against becoming dependent on the fickle approval of social media. "We're in the social media world hoping for likes," he said. "If you woke up this morning and you loved yourself and God loved you, any additional like is a bonus. Like's don't change the world, relentlessness does."
One can only hope that the congregation of VOUS Church takes that message to heart.
If you can think of a stereotype for Muslim women, the odds are that Mona Haydar utterly shatters it. A mother of two, this proud woman also has a Masters in Christian Ethics, 13 years under her belt as a performance poet and a burgeoning second career in rap music. A first generation American with Syrian roots, Haydar's rap music first gained serious attention when her music video "Hijabi (Wrap My Hijab)" went viral. The song, like most of Haydar's music, was unapologetically political, but that has not stopped her from garnering quite a bit of support and popularity.
Haydar's music draws on both Arab pop and folk sounds and classic hip-hop and pop beats. She was influenced by iconic Arab performers such as Um Kulthoum, Fayrouz and AbdelHaim Hafiz as well as a variety of American artists including Princess Nokia, J. Cole, Jimi Hendrix, the Black Keys, Thelonious Monk and Prince. Despite the Arab influence, however, Haydar says she gravitated towards rap as a genre because that was what she heard when she was young. "I didn't grow up with Arabic music," Haydar said. "I grew up in Flint, [Michigan,] where the cars drove by and you heard what you heard. You didn't hear what you hear in the Middle East…You heard Lauryn Hill and Erykah Badu and whatever was on the radio at the time."
The sound Haydar ended up developing was certainly popular. "Hajabi (Wrap My Hijab)" skyrocketed to nearly a million views on YouTube in less than a month. "I definitely didn't expect the video to do what it has," Haydar said. "It's my first attempt at music!"
Being new to the industry certainly has not stopped Haydar from being determined to get her messages, political and otherwise, through to her audience. "Hijabi" was intended to serve as an anthem for Muslim women who are proud to wear the hijab, and Haydar has stated that she wants to be a visible symbol for Muslim girls.
"I'm excited by the fact that [my music is] normalizing the narrative of Muslim American women and women in general," Haydar said. "For young Muslim girls, to see a girl that looks like her mom in a music video, who doesn't have a stick-thin body, who isn't wearing gobs and gobs of makeup, who is just a normal woman doing normal things in a video, [is so important.] I'm just really excited that that's out in the world for young girls to see and feel like, 'I can look like whatever I want and be in a music video, and nothing can stop me.'"
Given how rapidly her music is capturing attention, she might well get her wish and be simply the first of many Muslim women to break into the American music industry.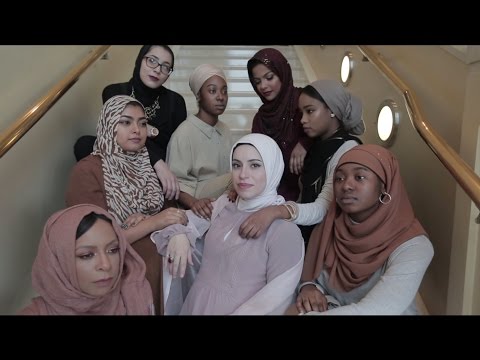 Mixed martial arts fighter and former UFC bantamweight champion Cody "No Love" Garbrandt shares in a new video for the non-profit "I Am Second," how Christ saved him after an attempted suicide.
Garbrandt grew up in a family of fighters. He and his older brother, Zach fought for fun.
The 27-year-old who has a record of 11-2 said, "My brother was always bigger, faster, stronger, meaner than me growing up." Garbrandt said. He always felt like he had something to prove.
Garbrandt wrestled during high school but eventually got involved in partying and doing drugs. They began to consume his life, he said.
"I was in a dark place – very very dark place," Garbrandt said.
Life began to weigh on him and Garbrandt thought he was ready to end his life. He tried hanging himself. Garbrandt would have died if his brother had not walked in and stopped him.
In that moment, Zach hugged him and told him everything would be okay. This moment brought didn't just bring him closer to his brother, but also closer to God.
"It was a changing point for me in my life," Garbrandt said. "That moment, that bond and that thing that we went through really, you know, brought us even closer."
"[We began] attending church services together. It was nice to be there with my big brother, worshipping God and growing towards Him," Garbrandt said.
"…That was a start of a growing relationship with the Lord through going to the church, through reading different books about the Lord and just kind of growing my relationship with Him on a spiritual level of speaking to Him daily," Garbrandt said.
When he looked back on his life, he sees how God carried Him again and again.
"Surrender is a foreign word to many fighters and was a foreign word to me in my life," Garbrandt said. "But there's a time and a place that you do need to surrender. And I'm always thankful that I'm able to surrender to Him…There's a lot of life events that I can look back on that He was with me."
"You know, sometimes He would be carrying me, pulling me, pushing me – [it was a] higher power, if you want to say. And that higher power was Jesus Christ. I always knew that He was with me."
Garbrandt found his way out of this dark place and is now inspiring others with his story. Our God is an awesome God!