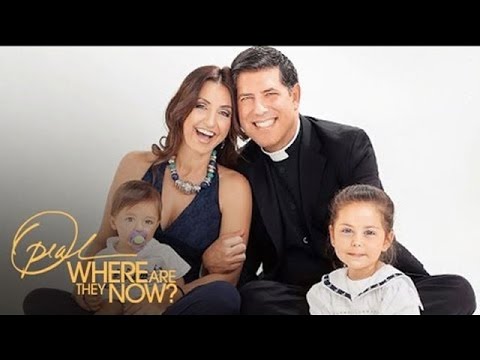 You may remember Father Alberto Cutié, one of the country's most revered Roman Catholic priests, known for his charisma and spirit of giving back. But five years ago, everything changed. Tabloids leaked photos of Cutié kissing a woman at a Miami Beach, which rattled Miami's Catholic community. Having broken his celibacy vow, he was removed from his parish and forced to confront his future in the priesthood.
Several weeks later, Cutié not only left the Catholic Church to become an Episcopal priest but married the woman in the pictures who he had been secretly dating. "Oprah: Where Are They Now?" spoke with Cutié about life in the years following his marriage and today, he is happy in one his most valued roles. Fatherhood.
"Being a father is an incredible experience," Cutié said. "People called me father for many years but being a biological father and being a spiritual father are very different things."
While the scandal brought change and transition to Cutié's life, being a married father has given him a whole new outlook on life, and he sees the incident that shook his world five years ago as a blessing.
Reflecting on his experience, there are things he wished he had done differently, knowing the impact the news breaking had on the people he holds dearest to him. "As I look back, I wish I would have said [things] sooner…" said Cutié.
But for Cutié, in being open and sharing his experience with others has come great power. Today, he tells people, "If you have something good that's in your heart, that you've got to say, just say it and move on because there's such a great power in learning to move on."
To watch the full interview, click on the video above and tune into "Oprah: Where Are They Now?" which airs Sundays at 9pm ET on OWN