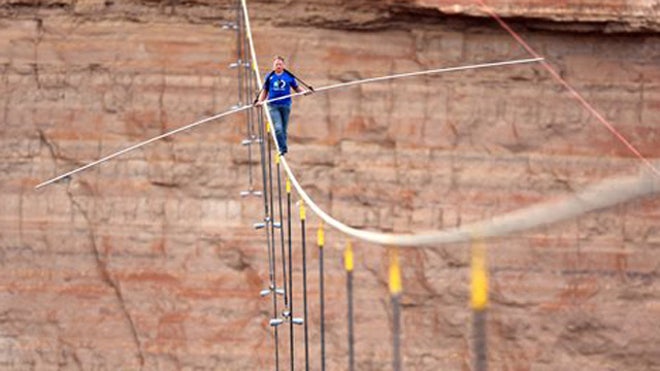 Call it crazy, a leap of faith or a brave treturous act – aerialist Nik Wallenda tight roped across The Grand Canyon on June 24th. On a two inch-cable, for 22 minutes, Wallenda spoke to God as he stood 1,500 feet from the bottom of The Grand Canyon.
"Thank you Lord. Thank you for calming that cable," Wallenda said. Wallenda spoke the name of "Jesus" 63 times and "the Lord" 39 times during his stunt. The Discovery Channel aired the death defying act as a special – Skywire.
"It was way more windy, and it took every bit of me to stay focused the entire time," Wallenda said. Winds reached over 20 mph as Wallenda walked the gap of 1,400 ft from cliff to cliff, without any safety cables to attach him to his line. As the wind gusts picked up Wallenda said, "Go away, in the name of Jesus." There is no doubt that Wallenda's faith in God helped him achieve this world record.
Wallenda comes from a family of high-wire artists. His great-grandfather, Karl Wallenda, fell during a performance in Puerto-Rico and died at the age of 73. Several other family members, including a cousin and an uncle, have perished while performing tight-rope stunts.
A year ago, Wallenda set a Guinness World Record and walked across The Niagara Falls. Wallenda told reporters after the walk that he hoped his next stunt would be a tightrope walk between the Empire State building and the Chrysler building in New York.