The world's favorite nanny is coming back to the big screen! After nearly 50 years, the umbrella wielding mistress of magic is returning. Disney's "Mary Poppins Returns" takes place 20 years after the conclusion of the 1964 classic and will follow Mary Poppins as she guides the now grown up Banks siblings and their children through a new set of challenges and difficulties.
One synopsis of the film reads: "'Mary Poppins Returns' is set in 1930s London, which is the time period of the original novels by P.L. Travers. The story follows Michael (Ben Whishaw) and Jane Banks (Emily Mortimer), who are now grown up. Michael is living with his three children (Pixie Davies, Nathanael Saleh, and Joel Dawson) and housekeeper Ellen (Julie Walters), in the house on Cherry Tree Lane. After Michael has a personal loss, Mary Poppins (Emily Blunt) comes back into the lives of the Banks family. She is joined by a street lamplighter named Jack (Lin-Manuel Miranda), and an eccentric cousin named Topsy (Meryl Streep). Dick Van Dyke will also play a role in the film as Mr. Dawes Jr., the chairman of Fidelity Fiduciary Bank, which is now run by William Weatherall Wilkins (Colin Firth). Angela Lansbury is also in the cast as the Balloon Lady, a treasured character from P.L. Travers' Mary Poppins books."
According to Emily Blunt, her portrayal of the character is set to draw more from the original literary version of Mary Poppins than Julie Andrew's iconic depiction. "I just loved how eccentric and wacky she is in the books — incredibly vain and rude to the children," Blunt said. "As a British person, I really responded to that lack of saccharine relationships. I find it comforting the idea of someone just sweeping in who's no-nonsense and cleaning everything up and making everything right again in a magical way that's not sentimental."
The trailer for the film is now available online, and fans of the original "Mary Poppins" seem equally excited and nervous. As is usual, many people are skeptical about making a sequel to such an iconic film especially after so many years have passed since the original was released. That said, there are an equal number of people who are delighted at the chance to return to Mary Poppins' world after so many years away. "Mary Poppins Returns" is set to be released on Wednesday, December 19, 2018, and one can only wait to see if the modern sequel lives up to the charm of the original or if fans will need a very large spoonful of sugar to help the film go down.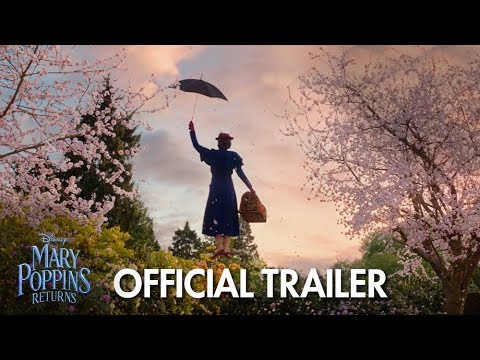 World War II veteran, POW, and Olympic runner Louis Zamperini was one of America's greatest heroes. He also was a well-known evangelist.
Zamperini's story of overcoming the odds is being told through Pure Flix's new movie, "Unbroken: Path to Redemption," which is the squeal to Angelina Jolie's hit 2014 film "Unbroken". The sequel dives much deeper into his conversion to Christianity.
Zamperini's son, Luke Zamperini, appeared on PureFlix.com's "Pure Talk" this week to share details of his late father's death-defying journey.
"My dad's story is full of great stories," Zamperini said, going on to summarize the major benchmarks of his dad's life. "Punk kid makes it into sports, athlete makes it to the Olympics, Olympian joins the military, soldier crashes at sea and survives for 47 days, famous American athlete picked up by Japanese and put into a prison camp."
The new movie will show Zamperini's journey after he arrived home from the war. He suffered from PTSD symptoms and turned to alcohol to cope. He later accepted Jesus at a Billy Graham revival and experienced an incredible life transformation.
"My father was having these tremendously horrible dreams," Luke Zamperini explained. "He was self-medicating with alcohol, he was getting in fights. He didn't know where to turn."
Louis Zamperini's wife, Cynthia, had threatened divorce due to the alcoholism. She got invited to a revival meeting in downtown Los Angeles and Louis refused to attend. Cynthia came away from that Billy Graham event with a renewed perspective on life, and told Louis she wouldn't divorce him on one condition: he needed attend a Billy Graham revival meeting with her.
After his first time going, Louis left flustered and told his wife "don't ever take me to a place like that again". Cynthia convinced him to try one more time, and something finally clicked.
Luke Zamperini said that his dad had an instant flashback to his 47 days stranded at sea on a raft, recalling how he had made a promise to God, praying, "God, if you get me home from this alive I will seek you and serve you my entire life."
"He just walked down to the stage, accepts Jesus," Zamperini said of his dad. "He felt this great weight lifted off his shoulders."
Zamperini left alcohol behind and went on to forgive the Japanese prison guards who had abused and tortured him.
The former Olympian and war hero devoted the rest of his life to spreading the Christian faith and helping youths, dying in 2014 at the age of 97.
"There's no place like home," Dorothy said, and now her ruby slippers have finally been returned to their home after 13 long years. In August 2005, one of the four surviving pairs of Judy Garland's iconic, sparkling shoes were stolen as part of a smash and grab robbery at the Judy Garland Museum in Grand Rapids, Minnesota. The slippers were insured for $1 million and are estimated to be worth even more than that.
Both the shoes and the thieves eluded law enforcement for over a decade despite the large rewards attached to their return. Law enforcement had put out a bounty of $250,000 on any information that led to the return of the slippers, and an anonymous donor in Arizona offered a reward of $1 million to anyone who came forward with the location of the shoes and the names of the thieves that took them.
The bounties and long case led investigators to some unusual places including the inside of the Tioga Mine Pit in Itasca Country and the home of a San Diego man who falsely claimed to have the missing slippers. The big break in the case, however, came as the result of an extortion plot. Markel Corporation, the rightful owners of the slippers, was contacted as part of what appeared to be an extortion scheme. The police in Grand Rapids reached out to the FBI for help and conducted a sting operation.
The slippers were taken to the Smithsonian Institution's National Museum of American History to analyze and compare the recovered shoes to the pair already on display. There has not yet been, however, such a clean ending to the case as the thieves have not yet been charged, and their names have yet to be released.
The investigation leader, FBI Special Agent Christopher Dudley, said that they have multiple suspects but that law enforcement is "still working to ensure that we have identified all parties involved in both the initial theft and the more recent extortion attempt for their return…This is very much an active investigation."
Similarly, U.S. Attorney for North Dakota Christ Myers said, "There's information out there that could help this investigation move forward. This affects a number of jurisdictions and we hope that people come forward and provide us additional information, so we can reach that next step of this particular case."
Anyone with information regarding the theft or the extortion plot is encouraged to contact the FBI at 1-800-CALL-FBI or online at tips.fbi.gov.
Jon Voight, an Oscar-winning actor well-known for his support of Donald Trump as president, was literally moved to tears in an interview when he recalled an encounter he had with a woman about Trump. While he was traveling, Voight spoke with a "conservative actress, a very good one" who had also voted for Trump in the last election. Voight asked her, "So, what do you think about our man," referring to President Trump. In response, the woman silently placed her hand on her heart. As Voight recounted the details of the exchange to conservative commentator Mark Levin in an interview for Fox News, Voight teared up on camera.
"That's me crying," Voight said. "But it was her too, saying–so, first of all the gesture was so beautiful, she couldn't even speak. She was just saying, 'Thank God.' And I say, 'Thank God.' And one of the reasons I can say, 'Thank God,' is because I know He is there for us all."
In the interview, Voight also spoke about how in today's increasingly secular society "one of the things we've lost is this compass of God. What did Karl Marx come up with," Voight asked. "He eliminated God from the picture and said, 'We can do it without this.' Not these boys, not our guys," Voight said as he pointed to the portraits of the Founding Fathers in Levin's studio. "They knew very well, 'We hold these truths to be self-evident, that all men are created equal. They are endowed by our Creator and among these are life, liberty and the pursuit of happiness."
Voight also remarked on the "genius of the architecture of [the United States'] founding, this Constitution, where it came from. The Bill of Rights and the Declaration [of Independence] … [Levin,] you understand the genius of them to say the pursuit of happiness" as opposed to a more traditional listing of mere survival needs. There was also special genius in noting that the inalienable rights came not from a human government that could later take them away, but from God Himself as an intrinsic part of human existence.
The 79 year old actor has spoken about his Catholic faith and the importance of religion in modern life in the past. In 2016, he stated that faith "keeps you humble" but that it was also the key to moving forward in times of difficulty. "It keeps you in energy to keep going, overcome things, solve problems, be good, think of others, all that stuff," he said. "So my faith has been very important to me."
Hopefully, the "compass" of both Voight and the unnamed actress continue to hold strong in the face of Hollywood's heavily anti-Christian culture.