What is the fastest way to feel good and turn your life around?  Give or help another person…and give with kindness and love.
Doing good deeds, thinking good thoughts and having good feelings create positive belief systems.  It also feels good.  Helping other people is an amazing way to create good for ourselves in so many ways.
When you do something good for someone else, you take your focus off yourself.  This is one of the best ways to cure any type of negativity, worry, anxiety or fear.  You can't think or be fearful about yourself while being focused helping someone else.
The mind is a terrible thing to waste and too much time and energy is wasted by people thinking, especially about negative things.  95% of all negative thoughts never happen. 
What would happen if you stopped worrying and being negative?
Doing something positive like helping someone else is a great alternative.
Can you imagine what the world would be like if every person did something nice for another person every day?  People can be so consumed with trying to take care of themselves.  One of the wonderful benefits of helping others is you feel great and also create good for yourself in the process.
"It is one of the most beautiful compensations in life…that no man can sincerely try to help another without helping himself."
Ralph Waldo Emerson
Smiling at someone, a kind word, opening the door for another, or letting someone in front of you while driving can change a person's day or life.  It is incredible what a random act of kindness can do, both for the person receiving and giving.
Take a chance and see what happens by making eye contact with a stranger and smiling.
See what happens and what your day is like by doing three kind things today.
Start looking at how you can help others every day and watch your life expand with joy and fulfillment.
We can change the world.
Be a Smile Millionaire!

blessings,
🙂 Lee
The MEGA Coach
Enjoy this wonderful video: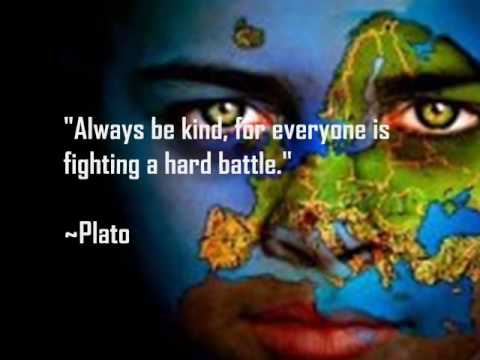 (Photo by Google)
When the winter weather blows cold and the clouds outside are gray, it's a great time for a healthy cup of organic roasted vegetable soup.
Soup nourishes our body and sends warmth and love to our spirit and soul.  Soup is also tasty and you know what they say, you are what you eat.
The same holds true in our lives.  Having good, encouraging people around us nurtures our soul.  Having a good friend and a loving partner empowers and fulfills us.
Doing what we really enjoy and love to do for our work or career, satisfies our creative nature.  Living and working in healthy environments feel good and soothe our soul.  It's like making a delicious batch of organic vegetable soup.
First you decide what veggies you want and go pick the best ones at the market.  Chop them up and put some time and energy into the cooking process.  Make it up with love and care.
Not only is the soup made of nutritious ingredients that fuel the body, your love and energy permeates the soup and it nourishes the soul.  You create your life the same way.  Choose what you want to create and pick your ingredients carefully.
Pick the best possible people and things to have around you.  You are a reflection of the people and environments you spend the most time with.  Make sure what you do and the people you are doing it with nourish, empower and soothe your soul.
After all, it's nice to enjoy a tasty bowl of soup!  The meal always tastes better with good people to share it with.
Stay warm and take good care of you!
smiles,
🙂 Lee
The MEGA Coach
(Photos by Google)
One day the man decided to quit…
He quit his job, his relationship, his spirituality… "I wanted to quit my life."  He went to the woods to have one last talk with God.  "God," he said, "Can you give me one good reason not to quit?"
His answer surprised him… "Look around," God said, "Do you see the fern and the bamboo?"  "Yes," he replied.  When I planted the fern and the bamboo seeds, I took very good care of them.  I gave them light.  I gave them water.  The fern quickly grew from the earth.  Its brilliant green covered the floor.  Yet nothing came from the bamboo seed.  But I did not quit on the bamboo.
In the second year the Fern grew more vibrant and plentiful.  And again, nothing came from the bamboo seed.  "But I did not quit on the bamboo," God said.
In the third year, there was still nothing from the bamboo seed.  But I would not quit.
In the fourth year, again, there was nothing from the bamboo seed.  "I would not quit," God said.
Then in the fifth year a tiny sprout emerged from the earth.  Compared to the fern it was seemingly small and insignificant.  But just 6 months later the bamboo rose to over 100 feet tall.  It had spent the five years growing roots.  Those roots made it strong and gave it what it needed to survive.
I would not give any of my creations a challenge it could not handle.  God said to man, "Did you know, my child, that all this time you have been struggling, you have actually been growing roots.  I would not quit on the bamboo.  I will never quit on you.  Don't compare yourself to others."  God said, "The bamboo had a different purpose than the fern … Yet, they both make the forest beautiful."
"Your time will come," God said to him.  "You will rise high!"  "How high should I rise?" he asked.  "How high will the bamboo rise?"  God asked in return.  "As high as it can?" he questioned.  "Yes," God said, "Give me glory by rising as high as you can." 
The man left the forest and brought this story.
(Author unknown – this wonderful story continues to travel around the world.)
A happy and meaningful life requires our continuous presence and creativity.  It does not happen by chance.  It happens because of our conscious choices and actions.  Each day you are given new opportunities to choose and act.  In doing so, you create your unique journey.
Choose to discover your inner truth and cultivate God's Glory within yourself and let it shine for the world to behold.  Grow deep inner roots from your heart directly into God's energy, love and magnificence.

smiles,
🙂 Lee
The MEGA Coach
(Photos by Google)
From Open Your Mind to Prosperity by Catherine Ponder:
"Through listening to that inner knowing, Solomon prospered mightily.  As you read the book of Proverbs, you discover that he often affirmed riches for himself through the wisdom concept.
In one of his most famous passages Solomon affirmed:
"I have counsel and sound wisdom."
"Riches and honor are with me, enduring wealth and prosperity."     (Proverbs 8:14-18)
We begin using the wisdom concept and reap its rewards by acknowledging all around us and within us is a Power which we can tap at any time, from which will flow ideas and energy that can transform our lives.  This Power comes alive within and around us as unlimited wisdom and guidance, by simply paying attention to it, acknowledging its presence and asking its help.  By recognizing it, giving it your attention and decreeing it, you release this super-wisdom within.
For a few minutes every day, quietly invite this universal wisdom into your life.  Ask its help about anything that concerns you.  Then be quiet, receptive, and open-minded. As you relax, not trying to force or compel them in any way, the thoughts and feelings that are for your highest good will begin to flow to you.  People and events that are for your highest good will find their way to you.  As you continue daily to invite universal wisdom into your mind, body, financial affairs and human relationships, remarkable things will happen."

"WITHIN ME IS THE DIVINE WISDOM OF THE AGES.  DIVINE WISDOM NOW SHOWS ME HOW TO EXPAND MY BUSINESS AND MY WORLD.  DIVINE WISDOM NOW SHOWS ME HOW TO PROSPER AS I HELP OTHERS."
"WE INVITE DIVINE WISDOM INTO EVERY PHASE OF OUR LIVES NOW.  WE INVITE DIVINE WISDOM INTO THIS SITUATION NOW.  DIVINE WISDOM IS OPENING WAYS WHERE, TO HUMAN SENSE, THERE IS NO WAY."
"I AM UNDER THE INFLUENCE OF DIVINE WISDOM."
prosperously yours,
🙂 Lee
The MEGA Coach
(Photos by Google)