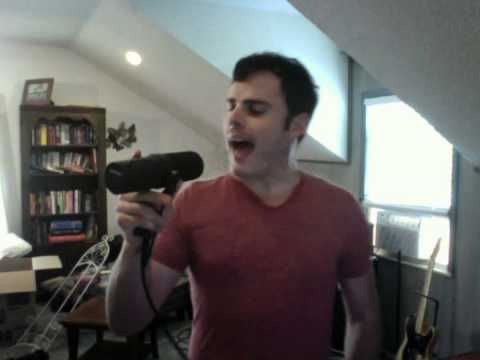 The guys in the band Downhere are some of my most favorite people in Christian music, so I just had to share this with you:
As part of this year's celebration of Queen's 40th anniversary, Queen drummer/songwriter/singer Roger Taylor is launching an American talent search to offer musicians the opportunity to star in the Queen Extravaganza Live Tour, scheduled to hit the road in 2012.
And Downhere lead vocalist Marc Martel is auditioning for … well, lead vocalist.
It takes a lot to compare yourself to Freddie Mercury, but fortunately, Martel is up to the comparison. He's got one of the best and most unique voices in music, and if anyone can bring the whole Freddy Mercury package to the tour, it's Marc.
Don't take my word for it. Check out his audition (above), which has almost half a million views on its first day up on the Queen Extravaganza contest site.
According to the site, the contest works like this:
The audition process involves two video audition rounds to be judged by both a panel of appointed judges and the public. Taylor will be present to judge the final audition round, which will be held live in Los Angeles in early December. In addition, VEVO, the world's leading music video and entertainment platform, will unveil exclusive content from each audition round as well as The Queen Extravaganza finals.
The final decisions will be made entirely by Roger Taylor. And this isn't a tribute band; it's a band that'll bring the music of Queen to a new generation. Honestly, I'm not describing this in any way that's nearly as exciting as it really is. I mean … QUEEN? And Marc front and center? How flipping cool would that be?
The first round will be whittle down to 50 by specially selected Queen judges. Round 2 will then open the voting to fans. So
go view Marc's video,
leave comments, and get ready to vote in November. Because, really. No one holds a candle to him. You can learn more about the
Queen Extravaganza on the show's website.
PS: I got so excited that I totally forgot to tell you that Downhere just released their new album, "The Altar of Love." I love everything these guys do. You can learn  more
about the band on their website
.