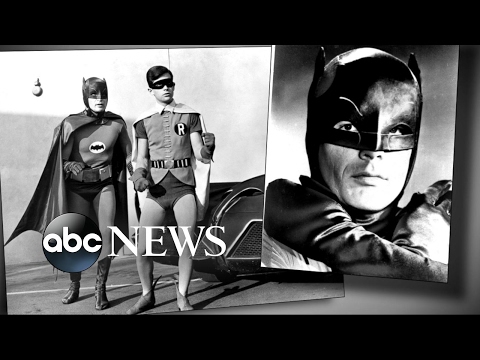 Adam West, star of the cult-classic 1960s Batman TV show, has died in Los Angeles after a battle with leukemia. He is survived by his wife, Marcelle, and his six children, five grandchildren, and two great-grandchildren.
West's role on the ABC-TV series lasted only three seasons, but made an indelible mark on the heart of pop-culture. The series—as well as Neal Hefti's catchy earworm of a theme song—is now required reading for anyone wishing to pass the threshold into superhero geekdom.
Born William West Anderson in Walla Walla Washington on September of 1928, West's father was a farmer, and his mother, a pianist and opera singer who once held dreams of Hollywood stardom. Even from a young age, West expressed his desire to follow in her footsteps.
After graduating with a bachelor's degree in literature, he was drafted into the U.S. Army, developing his memorably dramatic voice as an announcer on American Forces Network television. After an honorable discharge, West moved on to Hawaii to pursue his television career.
West's earliest work included a sidekick role in the El Kini Popo Show, a children's show, wherein he eventually went on to take over the starring role. In 1959, he took the stage name of "Adam West," choosing "Adam" because he simply liked the way it sounded when paired with his last name.
He went on to have guest roles in several television Westerns and crime dramas, portraying classic characters such as Doc Holliday and Wild Bill Hickok, and later making appearances in crime shows Johnny Midnight and The Detectives Starring Robert Taylor.
It wasn't until the 1960s, however, that Adam West became a household name. After seeing West perform as Captain Q in a commercial for Nestlé Quik, producer William Dozier cast him as Bruce Wayne in the Batman television series. The show, beginning in 1966, was full of bright colors, wacky villains, and witty one-liners delivered in West's signature deadpan style. It wasn't just '60s kitsch—it defined '60s kitsch.
As opposed to today's dark night, West saw his incarnation of Batman as "The Bright Knight," according to a statement made by his family, and he "aspired to make a positive impact on his fans' lives." West's Batman was a more lighthearted take on a Caped Crusader who embraced the value of human life, donated to libraries, and fought for the underprivileged—including those he imprisoned.
Indeed—one of the things that made West's Batman so unique was the moral character he displayed. In the 1966 Batman movie, released not long after the first season of the show aired, Batman has to get rid of a bomb that has been placed above a bar full of drunks. He carries the bomb away, but each time he tries to dispose of it, he's humorously thwarted by the presence of increasingly innocent bystanders, including a group of nuns and some innocent ducklings.
Eventually, Batman manages to toss the bomb into the ocean, after which Robin remarks, "You risked your life to safe that riff-raff in the bar?"
Batman responds only with "They may be drinkers, Robin, but they're also human beings."
Despite how different West's candy-colored Batman is from the decidedly more gothic Dark Knight we know today, his role had a massive impact on the direction the character would take for the next few decades. Batman broke through into public consciousness at a time when the Batman character had yet to truly make his mark on pop culture. The show's popularity—particularly in the years after its cancellation—firmly cemented the idea of the Batman into the world's psyche.
Without West's contribution, we might not have Nolan's The Dark Knight. We might not even have The Avengers, and its slew of related superhero cinematic universe films.
After West's reign as Batman burned out in 1968—the result of a steep drop in ratings—the actor found it difficult to find other work. Permanently typecasted, he was unable to return to the more serious westerns and crime dramas that began his career. As a result, he moved away from Hollywood for a time.
"When you wear a mask and funny tights, it gets a little frustrating from time to time," West once said. "I was turned down for a number of parts over the years, I feel, because of that."
Despite this, West never became bitter, and embraced his place in pop-culture's hall of fame. Ever charming and affable, West was always open to interacting with Batman fans for the entirety of his life, attending conventions well into his eighth decade.
On the abrupt ending of Batman, West told the audience at Comic-Con in 2014 that, "The only thing I thought is that it would be the end of me, and it was for a bit. But then I realized that what we created in the show—we created this zany, lovable world."
West did eventually get to enjoy his iconic status—his popularity brought him roles in voice-acting and documentaries, even playing himself in an episode of Big Bang Theory and voicing the lunatic mayor of Quahog, Mayor West, in the animated series Family Guy.
Seth MacFarlane, the creator of Family Guy, eulogized West on Twitter, writing that "I am beyond fortunate to have had the privilege of working with him, and he will be profoundly missed by all of us. Thank you from the bottom of my heart for all that you have given, Mr. Mayor. You're irreplaceable."
In the end, Adam West, our original Batman succumbed to the oldest villain of them all—time. His contributions to geek culture, ability to laugh even at himself, and sincere openness ensure that his legacy will live on forever, even as others take up the cape and cowl.
"I look around and I see the adults," West said at the 2014 Comic-Con. "I see you grew up with me, and you believe in the adventure. I never believed this would happen, that I would be up here with illustrious people like yourselves. I'm so grateful! I'm the luckiest actor in the world, folks, to have you still hanging around."