In light of Rick Warren's latest campaign to help Christians lose weight and stay fit- the pastor of Saddleback Church has reportedly lost 60 pounds on his biblically inspired "Daniel Plan"- this very helpful, annotated guide to worship signals might come in handy.  (It comes compliments of FB friend Bob Hyatt who pastors The Evergreen Community in Portland, Oregon.)
Just string a few of these arm movements together, maybe to the tune of Beyonce's "Move Your Body" (if you're not a big fan of contemporary Christian music) and you'll have quite the upper-body work-out.  Or, visit a non-denominational church in your area and give them a try.  You'll find you fit right in- and you'll burn a few calories, too.
"Love me passionately, love me often, and love me long."  The appeal might grace the cover of Cosmopolitan.  The one, big exception?  That it is addressed to God…in the thirteenth century…by a "virginal" nun named Mechthild de Magdeburg.
These days I am reading Mechthild's strange, quirky yet wise The Flowing Light of the Godhead and finding there what she (or at least her male confessor, Heinrich) promises in the Prologue: "an increase in solace and spiritual grace."  For me, the "solace" consists in the reassurance that the Holy Spirit was alive and well in speaking authoritatively through women writers and theologians as far back as the thirteenth century.  The "grace"- in the presentation of a God who longs jealously after my soul the way a stricken lover does, and from whom separation is as necessary as "togetherness" if our love is to be real.
This depiction of the spiritual life as one of Love wooing the human soul in an erotically laced, wrestling contest of sorts is one that we would do well to recover in an age when sexuality has become so untethered from spirituality.  That God's Love in a sense seeks to "devour" us, so that even our best virtues burn away when we find ourselves in the refining fire of God's jealous love, is, I suspect, an important component in any conversation about the nature of love, sex and spirituality. I am grateful to Mechthild for giving it voice.  In the days and weeks to come, you will probably be hearing more from Mechthild and other women writers and theologians as I, thanks to Emory theologian Wendy Farley and her seminar on women's theology, survey their contributions to the Christian tradition.  I hope you'll join us for the ride!
While she doesn't need or want my sympathy, I feel sorry for popular evangelical writer Lauren Winner. Only several years back we were reading her ambitious project to "change how Christians have sex."  Now we are reading about her divorce.
Winner's latest book, Still: Notes on a Mid-Faith Crisis, are reflections on God's presence in the pain and disillusionment when "til' death do us part" comes undone in six years.  "Still" in this context describes the act of giving pause to reconsider where God is and to be attentive to God's presence, or seeming lack thereof; it is also a way of proclaiming that somehow in life's messiness, God is still there.
And I must admit that I like this "stiller" version of Winner better.  That is because, while it may not be Winner's intention in her latest book to uncover and chip away at a pervasive myth in evangelical circles, she nonetheless does this very thing: her crisis of faith arises within and to a certain degree from an evangelical fairy tale about what it means to become a Christian and what it means to be married.  What I am talking about here is the way that we evangelicals have historically equated both marriage and a born again conversion with "The Promised Land."  If you're not married, then, in essence, you haven't "arrived;" and, if you're not a "born-again" Christian, then you haven't truly "arrived," either.  There is little appreciation for the nature of conversion as an ongoing process made up of many steps forward and backward along the way; or, for marriage as only one option among a couple, or even a few, equally viable, equally "holy" alternatives for living out one's God-given vocation.
I don't have to dig too deep into my own experience to recognize the hang-ups that this glorification of marriage and a one-time conversion experience can foster.  Having been married twelve years now, I am struck (sometimes painfully, sometimes serendipitously) by how marriage, much like conversion, involves an ongoing process of falling in and out of love, losing and then finding oneself, and being, in essence, "converted" and transformed over and over again.  The notion that marriage itself, much like being born again, is somehow the telos– the end of our restless striving and longing- is not only flawed but destructive.
And, yet it has taken a long while to welcome this discovery as the falling away of unhealthy illusions about my relationship with God and with my spouse.  I certainly had no clue what I was getting into when, at the tender age of 5 and at the cue of missionary parents- they had been sent to Kuala Lumpur, Malaysia by their Evangelical Free church- I accepted Jesus into my heart.  I had only a little more clue about what I was getting into when nineteen years later I strode down the aisle of a little Episcopal church in New Haven, Connecticut to say the words, "I do."  Because in both cases the message relayed to me within evangelical circles was that "this" was the euphoric "it;" that I had not only made the most important decision of my life, but would now be a full, fulfilled and self-realized human being.   Pain, confusion, discouragement, and loss of self? These things were not even acknowledged as possibilities in the "promised lands" of marriage and being "born again."
So I guess I am grateful to Winner for sharing her story.  She has poked in a more personal way at the underside of the evangelical fairy tale that we so rarely see, or see largely in statistics- how, for example, the divorce rate among Christians is as high as it is among the general population (approximately one in two marriages); or how the still largely Christian South where I live boasts some of the worst divorce rates in the country; or how a girl who has met God,  "seen the light" and "arrived" can then find that same God a stranger shrouded in darkness.
Somehow this gentler, more chastened Winner seems a bit more likeable than the one leading the crusade to change how my husband and I have sex.
"In the beginning was the Word." -John 1:1
Words tend to matter less these days.  Talk is cheap.  If the Republican presidential nomination process hasn't convinced you, take this for an example: apparently you can buy an iPhone app that puts words in your mouth- in this case, "Status Shuffle" will update your Facebook status for you, so that you at least sound funny, creative or interesting (when in reality you may be a conventional, personality-less bore).
But the Gospel writer of John calls Jesus "the Word." The same Word that God spoke when God creates the world, saying "Let there be."   "Word made flesh."  The cosmic, life-giving, energizing force that was present at the very beginning of the universe and which still "speaks" all creation into being has in the person of Jesus become a human being.
I often meet people who say with certainty that they believe in a life force or energy of some kind, if not a Higher Power, because they have experienced it. They see it in nature.  Or they sense it in the birth of a child.  Or in the union between two people in love.  Or in great works of art, or movements that change the world.  But the notion that this same force might be embodied in a person is harder to wrap one's mind around, isn't it?
Yet the Gospel of John would claim this very thing about Jesus.  Which is a claim not only about Jesus' divinity- that Jesus is God incarnate- but a statement about Jesus' very trustworthiness.
Most of us have met people who speak eloquently about all sorts of things, or make claims on us or promises.  Claims in the form of "I love you" or "You can trust me."  Or promises like "I won't say a word" or "Til' death do us part."  Some times we are the ones who make these assertions only to discover that we can't live up to them.  Our words fail to create a reality that is lived out in our character or actions.  Similarly, when our politicians, spouses, lovers, pastors, or parents fail us, it is usually because somewhere along the line their words proved untrustworthy.
But someone who lives up to their word honors a personal relationship with us.  And in turn makes claims on us, too- claims that many of us would prefer to ignore, or resent.  In some ways, it is easier to reduce God to nothing more than an impersonal cosmic energy force, because it means that God is ultimately disinterested in how we live our lives (which we often would prefer to live on our own terms, anyway).
So the boldness of the claim that Jesus is the Word is really twofold: that Jesus is God Himself; and that this God by definition has to live up to what He promises. Whenever God speaks, God's words are not just an extension of God's breath.  They create reality.  They speak into and shape human hearts and the unfolding of history.
Pretty mind-blowing, eh?  A claim like this requires not just a suspension of disbelief but personal surrender.  Or at the very least a handshake.
It can also lead us to throw darts in the dark whenever we attribute certain words and actions to God and not others.  And we Christians have been doing this sort of thing for centuries, often mistakenly in big and little ways.  Not long ago, for example, I was convinced God was telling me that my husband and I would be moving to Singapore to start a new job.  It didn't happen.  I was wrong.  Somewhere along the line God and I must have gotten our lines crossed.   (All good fodder for another post about disappointment and discerning God's will.) And it seems by implication here that the Gospel writer John would attribute that miscommunication to me.
We are about to start a new series on "epithets" for Jesus. "Who do you say that I am?," Jesus asks his disciples (Matthew 16). Which might be a question for us, too. Who is Jesus to you and me? A nice guy who lived his life well? A buddy? A Jewish rabbi? An older brother? A martyr? A prophet? Or, God Himself? We'll look at all of the names Jesus either gives himself or gets called by all sorts of people, with a view to getting to know Jesus and our own hang-ups about Jesus a little better.
But for starters, I have a question: If you could ask Jesus anything that relates to who he is, what would you ask him? Join the conversation on our Facebook page, "Fellowship of Saints and Sinners."
Primatology is on my mind today. Why? Because within only a few hours of having met a young woman who studies monkeys for a living, friend Paul Dominiak sent me this cartoon featuring an ersatz David Attenborough on the "Primate Crisis."  (Paul is the chaplain of Trinity College Chapel, Cambridge University and you can find his sermons here: http://www.trinitycollegechapel.blogspot.com/.)
I figure, if we can't laugh at ourselves and our sacred cows- in this case, the funny, sometimes primitive ways we religious types go about organizing ourselves and resolving disputes within our "shrinking habitat" (as an Attenborough voice-over puts it)- then how will anyone take us seriously?  Did I add that this is the Week of Prayer for Christian Unity?  Christ, have mercy on us.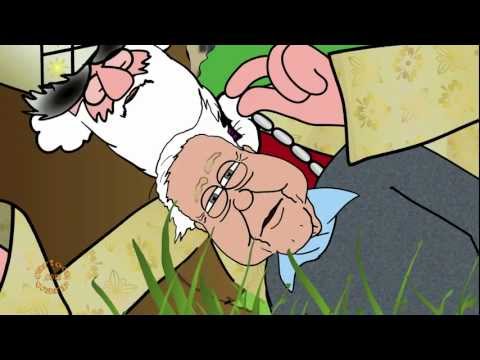 This is to invite you to "like" our new official Facebook page and to invite your ideas on a more appropriate profile picture than the goofy one currently up (of me).  I'm all ears on ideas- just send your graphics to me at kristinarobbdover@gmail.com.  (I'm serious about this!)
My hope is that "Fellowship of Saints and Sinner's" on FB will provide more of a community in which to share honest questions, gripes, doubts, fears, convictions and just about anything else about God, life, and the stuff in-between.  You might say this is an experiment in "virtual" church, and I'm asking you to join me in it.  "Virtual church for real people asking real questions about real life and God."  I hope you'll join the community and the conversation!
The next day as they were leaving Bethany, Jesus was hungry. Seeing in the distance a fig tree in leaf, he went to find out if it had any fruit. When he reached it, he found nothing but leaves, because it was not the season for figs. Then he said to the tree, "May no one ever eat fruit from you again." And his disciples heard him say it…
In the morning, as they went along, they saw the fig tree withered from the roots. Peter remembered and said to Jesus, "Rabbi, look! The fig tree you cursed has withered!" "Have faith in God," Jesus answered. "Truly I tell you, if anyone says to this mountain, 'Go, throw yourself into the sea,' and does not doubt in their heart but believes that what they say will happen, it will be done for them. Therefore I tell you, whatever you ask for in prayer, believe that you have received it, and it will be yours." Mark 11:12-14 and 11:20-25

If the fig tree could sing, I think it might pick the line from the 1980's Pet Shop Boys hit, featuring Dusty Springfield crooning "What have I done to deserve this?" "What have I, what have I, what have I done to deserve this?"  Good question.  And it would seem from first glance that the fig tree's only fault is standing in the way of a hungry Jesus.  After all, it isn't actually the season for full-blown figs.  The equivalent might be coming home ravenous to find that the Crockpot hasn't warmed up to cook the mac n' cheese- because you forgot to turn it on- so you cuss at the stupid thing for not doing its job.

Strange? I think so.  And it is enough to roil the anger of any environmentalist. What is Jesus doing here?

It helps to know that the Old Testament often employs the image of a fig tree to describe the people of Israel and its withering as God's judgment.  So in the book of Micah, for example, God laments that when God comes to Israel looking for "good fruit" to eat, in the way of a life of Spirit-filled rightness with God, God finds none: "What misery is mine!," God exclaims. "I am like one who gathers summer fruit at the gleaning of the vineyard; there is no cluster of grapes to eat, none of the early figs that I crave.  This kind of imagery about barren fig trees proliferates in the Old Testament- and Jesus uses it to tell his own parable about a fig tree that does not produce fruit and is therefore "cut down" (Luke 13:6-9).  It also helps to know that fig trees not in season for bearing fruit can still indicate by their leaves, or lack thereof, whether they will bear fruit in season. Chances are, this fig tree was not sporting much in the way of foliage.

It is possible that Jesus like any good teacher, then, is teaching the disciples with a hands-on experiment.  The lesson? "If you want to know what happens when God comes back to find nothing in the way of spiritual fruit, fruit like love, joy, peace, patience, gentleness, kindness and self-control among those who claim to follow God, this is what happens," Jesus seems to be saying.

There is a subtle but important difference, though, between condemning a fruitless fig tree to death and causing an otherwise fruitful tree to die. There is undoubtedly foreboding judgment in Jesus' words here for those of us who belong to the church.  God will return to judge God's people first based on what we have produced in the way of the fruit of the Spirit.  But that judgment does not comprise some sort of "double predestination" by which God at the beginning of time dispenses a certain number of "fig trees" and then destines a certain number to wither in hell.  God's judgment is primarily one of truth-telling- it is naming in the light of day and in the fullness of time the life we have chosen to live.

This reality scares me.  But it also invites me to recognize that the one doing the judging is also the one who goes to great lengths to help me bear fruit.  By sending His Spirit.  And promising that we can do many things with faith the size of a mustard seed.  And making a world in which new life somehow manages to inch its way in even after death.  Even after our own best efforts to do good fail and wither on the vine.

What is most remarkable and life giving is that Jesus goes to the cross knowing full well that he lives in a world where fig trees don't bear fruit.  In fact I suspect He goes to the cross because of that.  And when we go there with him, by the power of His Spirit, we, too, can glimpse the first new sprigs and buds of life on the other side.

This concludes our "Weird Jesus Sayings" series.  I hope you enjoyed it, and I hope you'll keep coming back to visit for our upcoming series on "Jesus Epithets."  You'll also get to indulge- or grin and bear?- some of my own experimental engagement with feminist theology in an upcoming graduate seminar taught by Emory religion professor, Wendy Farley. All of this and more in the weeks to come! Thanks for walking with me.
In light of yesterday's spirited discussion on Facebook around women's leadership issues, sparked by Michael Frost's re-posting of Mars Hill teaching pastor Mark Driscoll's very controversial radio interview, I wanted to recommend a wonderful not-so-little (1,100 pages in fact) tome of a book written by Prudence Allen. The book, The Concept of Woman, is actually her second volume of this magnitude: it continues where her first volume left off, in the early humanist period of 1250 through 1500.
Allen is a Catholic nun in Denver, Colorado who teaches young male seminarians preparing for priesthood in the Catholic church. (Don't you love it? I would love to be a fly on the wall in that classroom.)  With a view to building up men and women today in such a way that they are better able to relate to one another with mutual respect, appreciation and understanding, The Concept of Woman traces how "woman" as a category evolved across centuries of philosophical and theological reflection.  University of Chicago ethicist Jean Bethke Elshtain has noted of Allen's work that "there is no work to compare with [Allen's] in its systematicness, intellectual rigor, and scholarly integrity."
My own journey through this book, which involves a short snippet every night at the end of a tiring day of mommy work, will probably take at least two years to complete at the rate I'm going.  (I am currently making my way through the juicy exclamations of the thirteenth century nun, Hadewijch, whose slightly obsessive love affair with St. Augustine, nine centuries her junior, becomes the stuff of impassioned theological reflection.)  But I'm grateful to Allen for undertaking a study of this breadth and fairness, and for the opportunity to commend it to you as part of a very important dialogue.
As I said yesterday to missional church thinker and activist Michael Frost, I believe the issue of women's leadership is the most important issue facing the missional church today as it seeks to effectively participate in God's mission all around the world.  Where we place stumbling blocks in front of women and their call to serve equally alongside their brothers in being part of the good things God is doing  (sometimes in the church and mostly in the world outside our churches), we do not just place obstacles in front of women.  We hamper the growth of the missional church in living out her call to serve God in the world around her.  I give thanks for Prudence Allen and her faithfulness to embrace God's call on her life; just as I also give thanks for the many men and women like her (Mark Driscoll included, despite my strong disagreement with him) who have responded to God's call on their lives.
Laughter is the best tonic for my and my husband's anger this morning after reading Mark Driscoll's latest series of blatantly chauvinistic remarks- (if there is a fine line between chauvinism and misogyny, I'm not sure where it is)- about women in leadership.  Maybe Driscoll's remarks, excerpted below from an interview with British radio host Justin Brierley on Brierley's program, "Unbelievable," ought not to come as a surprise, in light of Driscoll's newly released book (see earlier commentary on Real Marriage); but because they present such a big stumbling block to the Good News of God's love in Jesus Christ for the many women who will read them, I feel compelled to speak out against their message.  ("Love Wins," after all, to quote one of Driscoll's associates.)
I'm also grateful to FB friend Cliff Haddox for introducing me to Radio Free Babylon's wickedly funny, sometimes deeply meaningful comic strip, "Coffee with Jesus," which you can find regular installments of here: http://radiofreebabylon.com/Comics/CoffeeWithJesus.php.  If Driscoll were to sit down for coffee with Jesus, I suspect the conversation might look something like the following:
Driscoll: Jesus, I am just a nobody trying to tell everybody about you.  What I don't get is how there are women in the church who would steal that part. 
Jesus: Mark, what makes you think that your penis entitles you to be a bigger nobody preaching the Gospel than your wife, Grace, if she feels so led?  Or, the woman at the well?  Or, any of the many women who have become my friends and have walked with me and told others all about me in the many years since?  I have coffee with them, too, you know.  Mark, you know I love you, but what makes you think that half of the human race should not be represented in the leadership of my church? Are you living in the Stone Age?
Driscoll: But Jesus, you know that only a male God would impose conscious literal eternal torment on people.  If you won't answer the question, I think I know the answer.  
Jesus: Huh?? Let's save the eternal torment for later.  At most it might involve my taking you to the back of the wood shed.  For now, how about a hug instead?  
For less humor and more indigestion, below is the excerpt in question from Brierley's interview of Driscoll (or was it Driscoll's inquisition of Brierley?):
"Much of the interview revolved around Driscoll's views on women and their role in marriage and the church. When Brierley confessed that his own wife is, in fact, the pastor of his church, things got incredibly awkward:
Driscoll: I'm not shocked by the answer, by the questions you ask. I love you, but you're annoying. 'Cause you're picking on all the same issues that those who are classically evangelical, kind of liberal, kind of feminist do.
Brierley: I think it's because those are the issues here that people are thinking about. … [Brierley says he's impressed by much of what Mars Hill Church is doing].
Driscoll: Kay, let me ask you a few hard questions.
Brierley: Go ahead, go ahead.
Driscoll: So, in the church that your wife pastors, how many young men have come to Christ in the last year?
[It's clear from the tone of Driscoll's question that this is not a bona fide inquiry about the souls in Brierley's church. It's a veiled criticism. Driscoll is going to prove that women pastors can't get the job done (i.e. attracting men to the church) and he's going to belittle Brierley's wife & church to do it.]
Brierley: Well we're not a huge church, unlike yours, but I'd say there's two or three probably in the last year who certainly, yah, I'd say have come to Christ in a pretty meaningful way.
Driscoll: Okay and in the church, what percentage is young men, single men?
Brierley: It's difficult to say off the top of my head, but I'll freely say it's certainly not a big percentage, no.
Driscoll: Kay, and are you okay with that? Do you think that's the best way to go?
Brierley: No, but can it be so easily put down to the fact that the church is being run by a woman? I mean, is that …
Driscoll: Yup. Yup. You look at your results, you look at my results, and you look at the variable that's most obvious.
[Yes, he did just say that. His results are better than hers. And it's because he's a man and she's a woman.]
Brierley: Well, in our case, the …
Driscoll: This is where the excuses come, not the verses. This is where the excuses come, not the verses.
Brierley: … Up to the point my wife took over, it had been run by men. Since she's come, lots of new families, lots of younger people, both men and women, have come. I wouldn't say the balance is right perfect yet by any means. But it's certainly a lot better than it ever was. And so I don't necessarily see quite the same situation that you paint there in terms of men not relating. I see more men in the church since she's been there than before she was there, in a way.
Driscoll: What kind of men? Strong men?
[The implication here is obvious. Only weak, limp-wristed mama's boys would be attracted to a church with a female leader, right? Tough men like Driscoll certainly wouldn't be. Brierley seems genuinely baffled by such a stupid question.]
Brierley: Well, men. I mean, men come in different shapes and sizes. I mean, yah, both really. Men who are very masculine, men who are, I guess, on a spectrum, more effeminate. But I couldn't say that there's been a sort of dearth of men in the church since she's arrived. I mean, Mark, I don't want to get into a sort of argument.
Driscoll: No, no, you don't want to sit in my seat, I understand. So does your wife do counseling with men? Sexual counseling? Does she talk about masturbation, pornography, the stuff that I do?
Brierley: Well no, she doesn't.
Driscoll: Well, who does talk to the men about those things, especially the young men?
Brierley: Well there are other people that she can pass them on to. We have male elders in our church who, you know, would be able to tackle those kinds of questions. I mean, but would you speak with those kinds of issues to a female in your church?
Driscoll: Uh no. If they're a married couple we might meet with them as a couple. But if it's a woman, we would have women leaders meet with them.
Brierley: Sure, well it's the same scenario in our church really.
Driscoll: Well except for who's in charge.
[This part is almost comical. Driscoll seems to think he's got a real zinger. If a woman is pastor, who's going to do all that important sex counseling that Driscoll seems so obsessed with? Faced with the rather obvious explanation that it's the same in Brierley's church as in his own (men counsel men and women counsel women) Driscoll insists that it's still not as good because the men aren't "in charge".]
Brierley: Well what's wrong with… I mean, I agree, obviously theologically we're not on the same page here Mark in terms of…
Driscoll: Do you believe in a conscious literal eternal torment of hell?
Brierley: What has that got to do with the issue of women in leadership, if you don't mind me asking?
Driscoll: It does. It depends on your view of God. Is God like a mom who just embraces everyone? Or is he like a father who also protects, and defends, and disciplines? If you won't answer the question, I think I know the answer."