The form of sermons has become this week's focus with students in Preaching 501 with preacher and teacher Tom Long.  I'll soon be listening to my students preach, some for the first time; and when they preach, their sermons will probably take on diverse forms.
And, in case you're wondering and your wondering is causing you to lose sleep, the options for sermon form abound.  Homileticians, from Fred Craddock and Eugene Lowry to Paul Scott Wilson, have spent their time studying the most effective forms of communication and refining these for the discipline of preaching.  They each have their proposed model for conveying the "Good News" of Scripture.
There, of course, is the classical outline form.  Then there is the problem-solving form and the homiletical plot form and the "trouble and grace" form.  The movement form is another.
I could go on, but you get my drift.
In much of life, I suspect that form is as important as content, if not more so.
Tomorrow's presidential debate is a good case in point.  If one of the candidates for president trips over his words or looks with too much steely eyed glare at the cameras or forgets how many American troops are in Afghanistan or uses the term "un-ladylike" to describe women in politics, his support in the polls will probably suffer- regardless of how much substance are in his words.
Maybe we can tend to downplay the importance of form because it sometimes coincides with image (how we present ourselves); and so many of us have become cynical about a world in which image reigns over substance.
But form, as the way we approach something, is critical.
If, for example, my husband had chosen to propose marriage to me by standing in the streets wearing a hair shirt and looking like John the Baptist, saying "Repent!  For the time for us to marry is near!," I would have run in the other direction and not looked back.  The fact that he chose to propose on a day when we were hiking in the Blue Ridge mountains and I was complaining about my sore limbs and didn't have an ounce of make-up on, and he did so, anyway, by kneeling down near a look-out point drenched in the setting sun and asking, "Kristina, will you marry me?," was far more convincing.  The substance behind the form became not just more appealing but real.
Similarly, the fact that God chooses to come in human form is more than mere coincidence or sheer "image."  It testifies to a God who glorifies God's Self in the very act of becoming one of us.  The particularity of this form is also important: Jesus is Jewish, a descendant of king David, to be sure, and therefore fulfills Israel's God-given mission of being a blessing to all the nations; Jesus is also a carpenter, building his Father's kingdom not with nails and wood but with a people called to follow Him into a heavenly gateway to life as it should be and was meant to be from the beginning.  All those who were once outsiders, and all creation in fact, now find their return ticket to God and God's plan of restoration through Jesus.
What forms do we take, and what do these reveal about the stuff we're made of?  What do they say about what we believe to be true about God and life?
It seems to me that form and substance must agree with one another.
The Nester's "31 Day Challenge" has inspired fellow saint and sinner Tammy Perlmutter to blog thirty-one days straight about the laughter, surprise and heartbreak of living in intentional Christian community.  Jesus People USA seeks to live out the kind of New Testament model of a family of believers that theologian Dietrich Bonhoeffer holds up in his book, Life Together.  As she writes, Tammy will be engaging the theological reflections of an eclectic group of thought practitioners from the Christian tradition, people like "Jean Vanier, Henri Nouwen, Dietrich Bonhoeffer, Larry Crabb, Kathleen Norris, Esther DeWaal, Joan Chittister, Norvene Vest, St. Benedict, Teresa of Avila, and maybe even Finn from Adventure Time."
I, for one, will be tuning in, and thought you'd be interested.
(Note: "Flora" and "Sue" are aliases.)
"Flora" is lying in a dark room, the blinds drawn much like her pale face.  Two tired eyes wander in the direction of the voice at the door before coming to rest on the visitor: a chaplain, here because the nursing staff has asked her to pay Flora a visit.
The staff is concerned that Flora is not eating.  They're afraid Flora, having lived on this sad, old earth 90 years now, is finally giving up on life.  They're afraid that Flora, at 90, might be dying.
(And maybe they in their fear of death are not unlike a whole lot of us, whether or not we believe in some future resurrection.)
And this same Flora has a daughter, "Sue," who lives in the same facility now because she is unable to care for herself.  For all these years, Flora has steadfastly, and at times maybe indignantly, cared for her daughter, who has spent most of her life in a wheelchair- until this last year, when the inevitable decay of old age has finally obliged Flora to entrust herself and her daughter into the care of others.
And so the chaplain now finds herself here in this quiet, dark room with a tiny lady, shrouded in sheets, her weary, prune-like face barely poking its way out from beneath the rumpled covers of a hospital bed.
The chaplain finds herself here knowing full well that she is probably here more because of the fears of Flora's well-meaning caregivers than by Flora's own request.
But, the chaplain is here, anyway.  Because this is her job, of course. And, because these sorts of "end-of-life" conversations that most people prefer to avoid are ones she can by now approach with a kind of distanced, clinical "professionalism" of sorts.
It has only partially occurred to this chaplain that she might be here because of the mysterious providence of a God who can use even our fears to lead us to the very center of this crucifix-shaped world and break us open so that love spills out.
And so, dutifully then, having settled herself into a chair at Flora's bedside, after indulging in a bit of small talk, the chaplain asks the question she has learned to ask in various ways in these sorts of conversations:  "Flora, I've heard you're not eating these days.  Have you stopped eating because you want to die?"
And then, without answering the question, Flora instead begins to talk about her life.  She begins to tell this chaplain about her daughter, the one in the wheelchair with the sweet smile who, whenever I visit, nods gently and demurely when I touch her hand and shows me with childlike happiness the colorful bracelets dangling on her wrists, the ones she has been making since she was a small girl.
"Ah, how Sue loved to make those bracelets," her mother is saying to me now, her mind returning, I imagine, to her mental pictures of the little girl she loved and cried over and worried about and poured her life into so sacrificially all these years- the daughter she still loves and cries over and worries about even now in a nursing facility.
And as she tells me about her daughter, this woman in the twilight of her life speaks matter-of-factly.  There is no hint of quaint sentimentality- only the honest, descriptive realism of a mother who has watched her daughter grow up in a hard world.
"Sue was diagnosed with quadripelegiac cerebral palsy shortly after her birth," she says.
And at the sound of "cerebral palsy" the professional chaplain in her chair begins to crumple internally just a bit.
Flora goes on.  "The doctors said it was something she developed after she was born.  She had to wear a full body brace for a time, and after that leg braces."
And now the chaplain is remembering the little plastic ankle braces with the pastel-colored flowers- the ones her daughter wore when learning how to walk over the course of frequent sessions with a physical therapist.
"How she had a hard time of it, and how I felt so much for my dear daughter and all she had to go through," Flora is saying.
The "professional pastor" in the room is feeling something well up within her. A tear, then tears.  "Holy sadness," as the nineteen-century theologian, Friedrich Schleiermacher, is the closest name I can give for it.
Meanwhile, This isn't professional of me, she is thinking.  I can't cry.  I'm the minister here.  Boundaries, people, please!
But the recollections of the beloved, blonde-headed, little girl with the bob who says, "Cheese," when she means, "Please," who at three still takes her time going up stairs with the slow deliberation of a novice painter etching her first still life, who lights up every room with a smile, are too hard to repress now.  And, she is remembering the moment when a doctor, marveling in wonder and with great delight at the rhythmic, wave-like patterns on a sonogram, exclaimed that the child she was carrying in her last month of pregnancy was the happiest child he had ever seen.  "It's like your daughter is dancing!" he had exclaimed joyfully.
Later, she had known something was different when Samantha ("Samantha" which in Aramaic means "God listener") hadn't begun to walk at almost two years of age.  That is when the visits to the physical therapist began.  Then the speech therapist.  A round of medical and DNA tests, none of which could really detect the source of the problem.  Until one day in a neurologist's office, this mother had heard the terrifying words, "cerebral palsy."  A mild case, but cerebral palsy all the same.  A simple scar on my daughter's head which could have been caused by almost anything really, and which, with therapy, could be treated and remedied if not cured.
Why? I had wondered.  To bring God glory?, not without some hint of bitterness.  But, how?
And now Florence is telling me about her quadripilegiac daughter whose life-long calling has been to make colorful bracelets and smile sweetly back at the world and let others care for her, and in so doing make the world a more beautiful place.
And between the tears running down my cheeks now, "My daughter has cerebral palsy, too," I manage to stammer.  "It's a mild case," I say.  "But I can begin to imagine what you and your daughter must have endured together."
For the first time Flora is looking into me now: "You understand then," she says.  The connection lights up her face, if only momentarily.
And now I'm holding her hand and the tears are silently streaming down my face as I try to wipe them away- as if somehow Flora might not somehow notice.
The professional chaplain is crying like a baby, I'm thinking.  Get yourself together, I'm telling myself.
"Christ's body broken for you," I hear it sometimes said when I receive the bread and the wine. But here it is again, only embodied differently this time.
An aperture of light in a dark room.
An exchange of shared broken things.
Feeding one another.
Broken bodies.
Broken hearts.
Broken spirits.
And at the center, in the space between us, a cross with God on it.
Tomorrow I head for Kansas City, Missouri to join a gathering of other pilgrims on the missional journey.
Which makes it especially timely that Michael Frost's book, The Road to Missional, arrived in the mail this week.  Frost has written a number of books, including Exiles and, with co-author Alan Hirsch, The Shaping of Things to Come, both seminal books that introduced the missional church movement before "missional" had become just another household name and popular church catchphrase.
There are already within the first couple of chapters some wonderful, little nuggets…like this one: God's mission is an "endless party" of sorts; and one party, in particular, yields some deep reflections on the nature of the church's calling.  "The Feast of the Epiphany" is the festival on the church calendar recalling Christ's revelation to the three Magi (representing Gentiles, as in those not among God's "chosen people," the Jews).  While it is usually celebrated in January, the Feast of Epiphany, Frost goes on to argue, (and here he invokes a similar claim made by missiologist David Bosch), can and should be the daily expression of God's "kingdom come, on earth as it is in heaven."
Here is Frost reflecting on the meaning of this party for the church's life together:  "The Feast of the Epiphany is, of course, a Christian festival, observed on January 6, commemorating the manifestation of Christ to the Gentiles in the persons of the Magi.  But what Bosch is suggesting is that such a festival ought to be the everyday experience of the church.  The celebration of the coming of heaven to earth and the offer of citizenship to all people, Jew or Gentile, should epitomize both our corporate life-together and our missional life-for-others.  Mission therefore should be something like an endless party.  It is characterized by celebration, joy, relief."
I'm looking forward to joining a great party at Sentralized.
Fellow saints and sinners, none of you pointed this out (rather surprisingly), but it occurred to me this morning that I had originally written this: "The Bible and my Reformed tradition have taught me that we human beings are capable of making idols out of just about anything, children included- maybe most especially our children…"
I'm not sure what I was thinking when I wrote it- I probably wasn't thinking!- but that last clause, "maybe most especially our children," is now gone.
Actually, if I had to choose one cardinal idol that deserves a "most especially" before it in Scripture, it would be money and greed, mainly because of the hard things Jesus has to say about wealth.
But, this, too, like many things here at this intersection between life and God, is up for discussion. If it's true that "the Bible teaches…we human beings are capable of making idols out of just about anything," (in other words, we are incredibly creative when it comes to giving ourselves over to death-inducing things in place of the one, living God) is there one form of idolatry that Scripture tends to highlight over others- in the sense that we human beings are "most especially" prone to it?
What do you think?  I'm all ears.
In the last 72 hours since the airing of my post, Facebook's "Disappearing Mothers": The New Form of Women's Self-Effacement?, I've heard a lot, learned a lot, and, been surprised and even flabbergasted, thanks to those of you who weighed in with your opinions.
The question I posed (for those of you just tuning in) was this: if it is indeed true that more mothers than fathers are posting profile pictures on Facebook that, in place of themselves, solely depict their children, what does this mean?; does it suggest, or can it suggest, a disappearance or "self-effacement" of sorts by women, at least during their child-rearing years?
Here is what I by and large heard from you:
– That I'm reading too much into the reasons people choose certain profile pictures over others, and that women who post their children in their profile picture (without appearing in the picture themselves) have all sorts of reasons for doing so, or, alternatively, have only one reason for doing so, which is "just" to connect with others
– That you, like me, would not replace your own profile picture with one of your kids (although you and I were very much in the minority, within this readership at least)
– That women can be feminists and post their children in their profile picture
– That there's at least reason to ask why, if a woman would not post (in place of herself) a picture taken solely of her husband, she would be so quick to post only her children- and, by implication, why questioning a woman's choice to do this very thing is, in turn, breaking some sort of unspoken, sacrosanct etiquette
– That the more personal, purely social dimension of Facebook makes posting one's children in one's profile picture acceptable or appropriate
-That I may be making a false assumption in thinking that women are more prone than men to posting pictures of their children in place of themselves
– That posting one's children in one's profile picture means one is heavily involved in their lives, or has a special needs child, which does not equate with "self-effacement"
– That you don't feel apologetic for letting your children be the center of your life
– That this topic was simultaneously frivolous and interesting
– That mothering is neither frumpy nor sexy (hmm)
– That you think people who, like Roiphe (and now me, as one guilty by some very slim association) are being "selfish" to make our assertions (I'm curious, by way of follow-up, whether this sort of judgment would be as quickly dished out to a man?)
Here's what I learned, thanks to you:
– That if something as seemingly "frivolous" as a discussion about the motivations behind why we women post our children in our profile picture can amuse, engage, provoke and even infuriate you, while all the while generating a conversation about life and God, then a book about bumper stickers can, too (which relieves me greatly, since my greatest fear about writing Grace Sticks: The Bumper Sticker Gospel for Restless Souls, is that it will be just frivolity and nothing more!)
– That you care a whole lot about the nature of your identity as women, mothers, people of faith and Facebook users
– Two of you kindly pointed me in the direction of resources that speak to two dynamics fiercely at play in this conversation, namely, the mommy and parenting wars.  Fellow saint and sinner Olivia recommended this helpful article as a way of inviting some deeper exploration of the impact of the "child-centric" (for lack of a better term) approach to parenting that seems to have stolen the show in parenting circles over the past few decades (at least where I live).  Saint and sinner Megan steered me towards a lighthearted but eye-opening entree into the mommy wars and the reasons behind it, with an article that invents a new acronym to embody the deep fault lines we mothers erect for ourselves- MLS ("Mommies I'd Like To Slap").
Here's what surprised and even flabbergasted me:
– That readers flocked to this topic, lighting up my live feed with the same intensity of today's midday rainstorm and leaving often deeply impassioned responses- so much so that apparently The Washington Post Social Reader republished my article on their site yesterday (a shout-out of "thank you" to fellow saint and sinner Megan for letting me know this)
– That at least one person (which probably means there were more of you) found my comments personally offensive and understood me to be saying (presumably because she was missing in a lovely profile picture of her two graceful children) that I was condemning her as a bad mother and a bad Christian (*certainly not my intent whatsoever!)
– That a number of you concluded, based on what Roiphe and I wrote, that we could not be mothers, and one of you went so far as to conclude I could not be the mother of a special needs child (when in fact I am)
– That those of you most "invisible" on your profile pictures were also the ones most vocal about your views, which were (not surprisingly) most strongly in opposition to my article
***
The other day someone who was hurting called.  She said she had my picture in front of her.  I grimaced: I knew exactly which one it was.  The rather unbecoming, Polaroid mug shot of a bespectacled, new chaplain grinning back at the camera on orientation day, accompanied by this chaplain's cell phone number, now hovers over copiers, next to fire extinguishers and besides vending machines in companies across greater Atlanta.  Ugh.
The woman told me about her problems.  She told me how the only thing keeping her from killing herself was the knowledge that she was her son's only living parent now.  She couldn't do that to her son, she said- but it helped to be able to talk to someone she could trust, because she hadn't told anyone about just how overwhelmed she had been feeling.
And then, with a sigh of relief, "You don't know what I look like," but I have your picture here, and it gives me a real connection," she said.
All sorts of images parade for our attention each and every day.  We mothers, of all people, know this.  While standing in the check-out line at the grocery store or waiting on a prescription for a sick child, we can momentarily reflect on the faces and bodies we don't have, however perfectly sculpted or air-brushed they might be.
But do these artificial images offer connection? Are they approachable?  Can we intuit behind these faces a human being with her own unique personality?  Can we trace the beginning crease marks that with age tell a bit of her story? Is the first impression we have actually of her- or is it of an ethereal presence behind her son's first lost tooth or her daughter's first-place win at the state fair's pie-eating contest?
We mothers are so very different, unique, and beautiful.  Each in our own way.  Each as God has made us.
Our voices don't come disembodied.  They come with bodies- and with faces.  All sorts of faces.  Tired ones.  Made-up ones. Smiling ones.  Pensive ones.
We can connect with one another and our world in a way that is far more palpable or meaningful than any magazine cut-out could.
Even on Facebook.  Even with a simple profile picture.
And, if the hard, unglamorous work of motherhood often goes on invisibly and behind the scenes- in doctor's appointments, at teacher conferences, changing diapers, cleaning up spills, or with hot tears rolling down our cheeks- we don't have to be invisible.
If we mothers can use our voices- and over the past few days you have proved you can- we can show our faces, too.
They go together, after all.
(Question: Is this topic becoming wearisome?  Please just say so if it is!!)
My last post and popular blogger and author Rachel Held-Evans' subsequent shout-out in her Sunday Superlatives (for "Best Conversation Starter in the Blogosphere") have generated a throng of readers and a string of interesting comments, most of which seem to be largely in disagreement with Roiphe's take on the matter (and my own points of agreement with Roiphe).
I suspect this "firestorm" of sorts may be because by posting Roiphe's article I unintentionally peeled back some of the barbed wire fencing around the well-protected territory that reads by way of a big warning sign, "Mommy Wars, Keep Out."  And let me just say here to all my fellow moms out there that by virtue of being a mother, you're doing a tough job, one that most of us do our very best at and usually, if we're honest with ourselves, do imperfectly.  And fathers, if you're reading this, you, too, have an important and impossible task, and I appreciate you!  So I am stating the obvious, I know, when I note that parenting is not for sissies.
Moreover, our choices around what we post as profile pictures on Facebook are near the bottom of the totem pole when it comes to the difficult issues we face in rearing our children, just as they are also very much a "first-world" problem.  My friends who are mothers and fathers in a refugee camp in northern Uganda could care less about this issue, because they're thinking about how to find food for their children on a daily basis!  By posting on this subject, I acknowledge that the topic is indeed frivolous by Majority World standards; additionally, if I were to decide what to write based only on Majority World standards, most of you would probably not be reading this right now.
But, to paraphrase Rob Bell, I'm also inclined to think that "everything" means "something" (quotation marks are my own here). I would go so far as to say that part of what it means to seek after God is to seek after the meaning that is behind things (hence, my forthcoming book, which finds meaning in something as seemingly frivolous as bumper stickers).  Posting a picture of my child in my profile picture may mean that I hate pictures of myself.  Or, that I find my children's lives far more interesting than my own.  Or, that I just had plastic surgery.  Or, that I prefer cartoon figures or pictures of my cat to self-depictions. Or, that I have an addiction to tanning salons and really should not be posting my face in my profile picture.  Or, that I didn't have energy at 2am in the morning as, with one hand I breastfed my daughter, and with the other, looked for pictures to upload.
It could also mean that my children have become the thing that defines me and are the center of my universe- to the degree that I no longer have an identity apart from my children.  
It could mean that the full orbit of my life revolves entirely around my children.  
It could mean that I am downright obsessed.
And, come on.  Let's admit it.  We've all met these people.  They're out there, right?  They're the same folks who let their children interrupt every grown-up conversation.  (Mea culpa.)  Or, who every year send a holiday card with just little Billy in his argyle sweater or Susie in her red velvet dress smiling so sweetly back at the camera- with an accompanying letter about what little Billy and Susie did this past year, as their parents followed them around.
Okay, so I'm exaggerating a bit, but you catch my drift.
In my last post, I suggested that women are the first to disappear within this parenting universe; and, I would stand by this; in fact, I'm inclined to think this tendency goes along with the curse in the Garden of Eden.  We women, I suspect, are just naturally more prone to losing ourselves in our husbands and children; and this is really what I mean by "self-effacement."  The question thus becomes, how does an identity in Christ disrupt this status quo?
God has a great sense of timing.  By a strange coincidence that we Presbyterians might also attribute to providence, this was today's assigned reading in my daily devotional guide, Our Daily Bread: God, in speaking to Samuel, asks, "Why do you…honor your sons more than Me, to make yourselves fat with the best of all the offerings of Israel My people?" Then comes the accompanying observation from therapist and mother Lori Gottlieb that parents who are "obsessed" with their children may actually contribute to their children becoming unhappy adults.  "These parents coddle their children, do not equip them to deal with the real world, look the other way when their children do wrong, and neglect disciplining them," the writer of the devotional goes on to say, in paraphrasing Gottlieb.
The Bible and my Reformed tradition have taught me that we human beings are capable of making idols out of just about anything, children included; but that in the light of Christ, we are better able to see these things for what they are.  Good things that can quickly become idols or false gods.  Treasures where our heart is but where God's abundant life is not.
Jesus actually tells us we need to leave our children behind when we follow Him (Luke 14:26).  (Ouch.)
I see it now: an angry mob with pitchforks encircling, demanding to know how any of this has to do with posting a profile pic on Facebook.  And, I get it; I may be reading a bit too much into the phenomenon.  But before you request my head on a platter, I thought I'd reach out to the woman who was the original source of the article.  As a professor of journalism at New York University and the author of several books, with a Ph.D. in literature from Princeton University, Dr. Katie Roiphe has one impressive resume, and I'd like to get to know her a bit more.  Let's see what she says in response to your questions and opinions- or if she responds to my email in the first place.
Thanks for reading, everyone!  Got more wisdom or vitriol to throw my way? Leave it below!  I love hearing from you.  [One other note: if you're interested in reading more about parenting issues as they relate to womanhood, I recommend Rachel Held-Evans' forthcoming book, A Year of Biblical Womanhood.  My review of her book will air in early October.]
Last week Tina Brown, editor of The Daily Beast and Newsweek, dished out her latest "must-reads" for NPR, this time on the subject of "The Modern Woman."  Financial Times writer Katie Roiphe's article, "Disappearing mothers," was on Brown's short list, and after reading it, I concur that it's a provocative piece worthy of a look!
Roiphe catalogues what she views as a trend on Facebook: well-educated, competent, often professionally successful women posting in their profile pictures not photos of themselves but, rather,  their children.  The result?  A kind of self-effacement of women.  Women become only a shadowy, motherly presence behind their son at his first soccer game or their daughter smiling back in leotards at the camera.
Roiphe goes on to propose a link between this disappearance of mothers on Facebook and a contemporary parenting culture that, unlike even thirty years ago, places children and their interests at the center of their parents' lives (rather than the reverse).  Whereas thirty years ago, I was by and large expected to fit into my parents' routines and learn to entertain myself, rather than be catered to at my every beck and call, today in many contemporary families, the child has become the epicenter of the familial solar system, with parents as mere planets circling around their child's every need.
Consequently, and maybe not surprisingly, women are the first to disappear in this brave, new parenting universe.
Betty Friedan of The Feminine Mystique would indeed be rolling over in the grave…But I'm curious what you think?  Mothers? Fathers?  Friends who, like Roiphe, have watched your friends, like me, become mothers?  Is this a trend that you notice, too?  Do you see it as representative of a more sinister disappearance of women in larger society, at least in this long period of child rearing?
I'm inclined to agree with Roiphe that the trend is problematic; and after reading her article, I'll be hard-pressed to think of a future time when I'll be posting my children's adorable mugs in my profile picture.  (If I do, I'll at least be thinking twice.)  I guess you could call it my own little, feminist rebellion of sorts, and I'm calling all other mothers in danger of becoming extinct as women to unite!
Today's musical feature comes much in the same spirit of Andrew Sullivan's "Mental Health Breaks."
Chalk it up to the Scottish side of my family, but I guess I have a weakness for folk rock bands that magically blend some combination of violins, fiddles, mandolins, or tambourines (think Mumford & Sons).  This Denver-based band, The Lumineers, and their new release, "Stubborn Love," has me moving this morning, (and that's saying something since right now it's 6:18am, minutes before I scramble off to wake up sleepy children, make breakfast and race to sit in an intro-to-preaching class for fresh-faced seminarians.)
I love these lines:
It's better to feel pain, than nothing at all
The opposite of love's indifference
And then these: So keep your head up, keep your love
keep your head up, my love [x2]
keep your head up, keep your love
It seems to me God wants lovers.  Stubborn ones.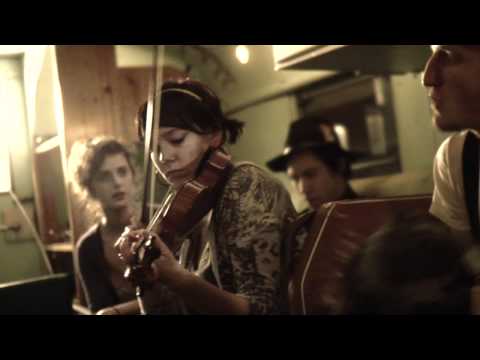 The other day I was sitting at lunch next to a still lively, 90-year-old woman at a plush, assisted living center.  (Funny thing is, even in plush surroundings like these, the food still tastes like your average, garden-variety, "institutionalized" grub.)  
She told me she no longer sleeps at her age, and guffawed when I sounded a bit surprised.  
"Are you kidding me?," she exclaimed.  "Do you think anyone at my age actually sleeps? "  
And then, by way of elaboration, "too many thoughts about all the things I've lost across a lifetime," she said, in her brash, no-nonsense New York accent. 
We agreed about something: the older one gets, the more our losses accrue; and, with the passage of time and the inevitable slowing down that comes with the ripening of age, the more time there is to reflect on those losses.
Which may be why I'm moved this morning by the recent loss of a love interest by fellow saint and sinner "The Tipsy Parson" (if you hadn't guessed it, a pen name) and his willingness to share it in hopes that it will encourage those of us in similar places; it touched me at a site where I, too, have experienced loss and grief, and am witnessing the slow budding of God's resurrection. Maybe it will you, too.  
A few days ago Tipsy Parson tweeted, "To play in that garden would have been trespassing."  Here he is, by way of continuation on this theme, with some very personal meditations on romantic love, loss, divorce, ordination and the nature of resurrection for someone seeking to travel right behind Jesus, along the oft joy-filled, oft painful, oft-messy and confusing path to the cross and beyond:
The last ten months have renewed and validated my call — both as a Christian and as a minister. When I met her last October, I was still on the administrative leave list; ordained, but not serving. Sitting in the penalty box for no crime other than having been kicked around by life.
I was re-instated last December and have been progressing steadily ever since.
When I was first ordained I had a hard time accepting it. I was still bound to the guilt of a failed marriage and so I refused God's good and gracious gift of the call to his ministry.
I wanted to look back. I wanted to look back and to find that fork in the path when I'd made the wrong turn. And in looking back, I started to turn back. And there I found her.
"Finally …" I thought, "here is one of my own."
She recognized me too.
The months went by and we became close even though we only saw each other sporadically. I could tell when she was newly-out of another short-term relationship gone south because that's when the gChats or the texts would start again, or she'd show up in church.
Then I kissed her. I picked the latch on that ancient garden's gate and pushed it open just enough to wedge in my foot.
But no sooner had I done so and she was gone. This time for a longer and darker silence than ever before.
Finally, I'd had enough. I implored her and she relented. We went out. She was dating someone new. Someone she didn't even like. I asked her if I still had a chance. She didn't answer. Two weeks later she was single again. Single and free. And I had my answer.
***
To play in that garden would have been trespassing.
Here was the one who was made for me but having now been bought and called by Another it would no longer do. Through the long night and into the morning my old wound hurt.
"It will never work," she said.
The destruction cannot be undone. It can only groan until it is redeemed.
Yet once redeemed, the scars remain.
They are always visible.
And because it is a broken body that is resurrected there are some delights that must still be denied to it. Some glories that are lost to eternity.
Yes, I made a wrong turn back at that fork in the road. The one near the pillar of salt.
***
Last night, I felt a hand on mine. I was still peaking through the garden gate. Her hand was gentle and warm. She removed my hand from the latch and pointed me toward the pathway.
She stood there, looking at me, her fingers playing nervously in her golden hair. Then she looked past me. Out into the distance.
"Go build the cathedral," she said softly, fading away with each word until she was gone.
And so I set myself back on The Way.
####